Golf in Niagara Falls
---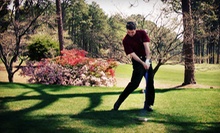 CPGA Class A pro helps players hone their skills in package that includes short-game clinic and video swing analysis
---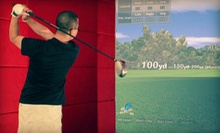 Vast screens transport golfers to virtual replicas of 80 famed courses, including Pebble Beach and Angus Glen, at 5,000 sq. ft. facility
---
Recommended Golf by Groupon Customers
---
LakeShore Links Indoor Golf's sleek, 8,000-square-foot facility helps golf swings avoid offseason rust with nine golf simulators and a duo of instructors that hold lessons year-round. Within the simulators, wall-sized, high-definition screens capture every blade of grass at 23 legendary courses, including Bay Hill and Pinehurst, and built-in video-swing-analysis cameras allow players to scrutinize their techniques, introducing them to a digital doppelgänger soon to be their inferior. Virtual rounds even grant stick-flickers the freedom to take a mulligan with the mere touch of a button, which instantly lets them replay their previous shot. LakeShore's resident aces help groom games with everything from private lessons to junior development programs, and golf-simulator league play helps participants sharpen their competitive edge all year round. As golfers play through a circuit of fairway facsimiles, the club curbs appetites with a menu of very real light fare.
750 Lake Shore Blvd. E
Toronto
Ontario
416-405-9888
Spread across 270 historic acres, Knollwood Golf Course is a challenging 36-hole facility comprised of the Old Course set right alongside the New Course—both designed by well-regarded course superintendent Jack Harris in 1970 and 1990, respectively. Players can opt for a round on the Old Course or the New Course links and enjoy hole designs that embrace the natural Ancaster topography. Elevated tees and long, perplexing par 5 holes with ominous names such as Buried Treasure and Redemption lead to finely timed fairways that open up into stirring panoramas. The New Course entices advanced club swingers, and the Old Course's more accessible series of par 4 holes with large, accommodating greens is appealing for beginners.
Knollwood players don clean-cut golf attire and enjoy a golfer's paradise that has been open to the public since 1970 and keeps players happy with sprightly paced 10-minute tee times, on-site restaurants and beverage carts, and a "no-argue" rain cheque policy. The facility's proud groundskeepers maintain large, naturalized areas on the course intended to encourage the wildlife to thrive and occasionally join in on a game.
1276 Shaver Rd.
Ancaster
Ontario
905-648-6687
Golfers of all skill levels can enhance skills and lower scores at The Golf Lab, where high-end technology scrutinizes swing mechanics and pinpoints areas for improvement. During video swing-analysis sessions, one of Golf Lab's head teaching pros diagnoses swing maladies and breaks down each shot in slow motion video so pupils can better understand corrective advice and contemplate the fleeting nature of real-time. Swing-tracking technology boils the pendulous artistry of each drive to a quantifiable science, so instructors draw from precise, empirical data to support their conclusions on how players can avoid score-mangling slices, snap-hooks, and shanks.
Aspiring aces can augment knowledge gleaned from each lesson during mat time at The Golf Lab's indoor hitting bays, where premium range balls willfully make themselves casualties in the creation of crucial muscle memory. Each mat boasts radar swing-analysis technology and instant video playback, allowing players to correct swings based on observation rather than the outmoded strategy of using 9-irons as swords and duelling opponents.
876 Edgeley Blvd.
Vaughan
Ontario
905-760-2522
Cyber Creek Indoor Golf services all swings with an outdoor driving range and nine indoor golf simulators to help players bolster pin-hunting prowess year-round. With lights, covered hitting bays, and both artificial- and natural-grass hitting areas, the range fosters practice sessions in nearly every element except lava. In addition, the range boasts a practice area with a sand bunker and 20-, 40-, and 60-yard target greens for those looking to practice their short game or see how far they can shot put a bag full of practice balls.
In Cyber Creek's indoor facility, nine indoor golf simulators vividly emulate the pristine fairways and greens of 30 world-famous golf courses. Golfers can test their meddle amid the Norwegian fjords of Klawhammer Crag or the ominous, granite outcrops of Idaho's high-elevation Heretic course without having to cope with a jet-lagged 7-iron. The center sates hunger with tangible helpings from an eclectic menu of refined continental cuisine that includes homemade chicken fingers and savory dips.
6831 Seneca St.
Elma
New York
716-805-1568
Originally sculpted into the rolling terrain of western New York in 1920, South Shore's 18-hole course invites golfers of all stripes to conquer its pristine fairways. The grassy monolith stretches across 150 acres of scenic, parkland terrain, where players must shape their shots around babbling creeks, mature trees, and lakes where discontent golf balls live out fantasies of becoming submarines in search of Atlantis, the Utopian land responsible for the Arnold Palmer drink. A pro shop and clubhouse sit on the scenic hillsides, beckoning players with post-round beverages, upgraded golf accessories, and slice-prone spirits yelling "fore" at one another.
5076 Southwestern Blvd.
Hamburg
New York
716-649-6674
Forty-five hitting bays span the length of Markham Golf Dome's indoor driving range, allowing players to groom golf games year-round. The six-storey dome covers 53,000 square feet, which could easily serve as a modern sports stadium or a blimp's favorite napping spot. Alternatively, the facility also hosts an outdoor driving range with 60 hitting bays, target greens, and chipping greens to help players hone long-range and short-game techniques. Each of Markham Golf Dome's instructors has accrued more than 10 years of experience in helping players drive, pitch, and scissor-kick balls with the precision and consistency needed to achieve tee-to-green success.
150 Burncrest Rd.
Markham
Ontario
905-475-3663
---