Niagara Falls Health and Fitness
---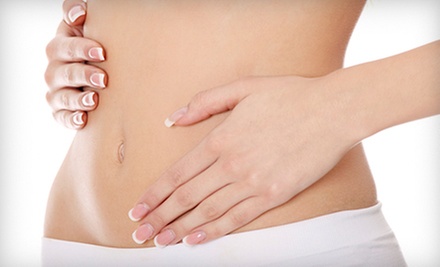 ---
Recommended Health & Fitness by Groupon Customers
---
At Peaks Indoor Rock Climbing, seasoned instructors introduce bipeds to the world of vertical crawling during lessons on more than 60 textured walls. During each session, tutors impart the basic techniques of climbing and belaying while also covering safety tips and the mental benefits of the sport's myriad challenges. Membership packages grant access to rental harnesses for use of the facility's rugged walls, cracks, overhands, and climbing caves. In order to ensure everyone's safety, introductory lessons are mandatory for all beginning climbers, whether or not they were raised by a trip of mountain goats.
630 Welland Ave.
St. Catharines
Ontario
905-988-5651
Instructor Linda Summers strives to instill within each of her students the important life lessons that yoga has taught her—to slow down, celebrate each day, and embrace the goodness in every living thing. Linda has been carving out a healthy lifestyle for two decades through her work as a personal trainer, Pilates instructor, and spin instructor, but it's been her decade of yoga practice that has truly shaped her outlook on life. Over the years, Linda has studied under many notable yogis, including Baron Baptiste and Twee Merrigan.
Now she shepherds aspiring yogis of all levels along the path of physical, mental, and spiritual discipline—which leads the traveller toward wisdom and away from the lies crooned by late-night infomercials—through small Vinyasa and Hatha yoga classes. During these classes, Linda teaches her students to marry controlled breath with a flow of athletic and remedial postures as she gently adjusts their forms. Her studio's earthy walls surround students in tranquility as she inspires them to feel the strength and vibrancy that yoga has taught her to realize within herself.
10 MacTurnbull Dr.
St. Catharines
Ontario
When Rick Rugg and Bob Schiffhauer founded the first Buffalo Athletic Club in 1980, they chartered their gym around three values: service, cleanliness, and having owners operate their own facilities. True to the founders' original vision, each location's employees strive to keep their cardio and resistance equipment spic and span as they care for facilities that range from 20,000 to 48,000 square feet. In addition to personal training, instructors lead a schedule of more than 400 group fitness classes—including cycling, Kardio Kick, and Zumba—offered each week across their eight locations. At the Eastern Hills, Union Road, and Boulevard clubs, trainers also help guests master CrossFit functional equipment and use TRX suspension training systems to help them connect with their vine-savvy pet orangutans. And, at the five-floor downtown facility, guests swim laps in the pool. After workouts, guests can slip into saunas and private showers; most locations also have steam rooms.
3157 Eggert Rd.
Tonawanda
New York
Muay Thai Niagara Combative Arts occupies an immense 3,200-square-foot facility, with more than 35 bags, and one of Ontario's most experienced staff of instructors. Students can take Brazilian ju-jitsu with Andrew Cseh, who's gone 70-6 in competition, or seek the expertise of 2008's CASK Thai-boxing Coach of the Year, Roger Lumyoung. Adult classes run seven days a week, with sessions available for women only, children, and defenseless scarecrows.
486 Grantham Ave.
St. Catharines
Ontario
905-401-7234
Dr. Stewart Fenigstein has worn the title of "dentist" for nearly three decades. Over the years, his practice has adapted to new techniques and technology such as Zoom teeth whitening and Invisalign, but has always remained dedicated to providing clients with a caring environment. The first time Dr. Fenigstein meets patients, he takes time to lay down the foundation for a long-term relationship. He listens to their concerns, medical history, and perhaps a haiku or two they've composed about the office waiting room. Then, he becomes familiar with the patient's mouth by scrutinizing teeth with his own eyes as well as with panoramic and bitewing x-rays.
5214 Main St.
Williamsville
New York
716-565-3900
As a full-service facility, Women's Medicine of Niagara enlists a team of medical providers to provide a mixture of clinical and holistic services designed to treat issues specific to women. Board-certified doctors channel years of experience to keep patients healthy with services ranging from obstetrics and gynecology to osteoporosis screening. They pair those with nutritional counseling, acupuncture, cardboard cutouts of George Clooney, and herbal remedies to give women wellness benefits achievable without prescription medicines. The medical team also harnesses the power of modern technology by administering minimally invasive operations with the da Vinci robotic-surgery device and removing unwanted hairs with the pulsed light of the Candela GentleLase Pro.
5320 Military Rd., Suite 104
Lewiston
New York
716-297-9379
---