Niagara Falls Cleaning and Home Services
---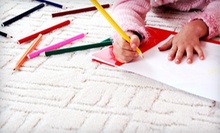 Techs spend 60–90 minutes purging the household carpets of up to four rooms
---
Recommended Home Services by Groupon Customers
---
For more than seven years, The Right Choice Housekeeping & Janitorial Services' owner, Cleo Ramos, has returned lustre to Toronto-area homes, offices, schools, hotels, restaurants, and banks. She works with clients to create a cleaning calendar scheduling weekly, bi-weekly, or monthly visits. Crews spin into cyclones of dust-busting action, lifting hardened filth from stovetops, polishing tiles, toilets, and mirrors in bathrooms, dusting blinds, and cleaning the undersides of glass coffee tables or glass-bottomed houseboats.
2577 Robin Dr.
Mississauga
Ontario
647-273-8692
Spotless Cleanliness doesn't just blindly accept every resumé it receives. Instead, the company's interviewers go to the applicant's house to interview them, fittingly basing their hiring decision on the home's cleanliness. With good reason, too, because the company takes its work seriously. Operating on a foundation of five promises designed to ensure optimal cleanings, the team performs services such as move-out overhauls, everyday household chores, and express jobs for folks who always forget to dust the foyer before the cats come over.
623 Mount Pleasant Rd.
Toronto
Ontario
647-969-7070
Roberto Luongo, president of Bosco Home Services, began his journey in the home-care industry as a young boy accompanying his father on plumbing jobs throughout Toronto. Over the years, Roberto came to admire the work that his father undertook and the way that he mended customers' homes with precision. Presently, Roberto and his staff of licensed, certified, and background-checked technicians follow his father's example by keeping homes temperate and energy efficient with thorough heating, cooling, and plumbing services. The staff arrives at homes promptly to keep systems in optimal order by inspecting filters, cleaning all vital components, and lubricating the motorized parts so that homes won't break down every time they return from space.
42 Regan Rd., Suite 1
Brampton
Ontario
877-727-1108
MGS Cleaning Solutions' specialists boast a repertoire of services that extends far beyond typical window washing. When they aren't restoring transparency to sullied windows at residential and commercial locations, they're preventing concrete and yellow-brick driveways from being overrun by weeds and flying monkeys. With powerful pressure-washing equipment, the MGS team sends jets of water in between cracks in driveways, wooden decks, and brick-and-mortar surfaces to uproot invasive plants. When applicable, they then fill the voids with sand and treat the entire area with government-approved weed killers.
18B-51 Northern Heights Dr.
Richmond Hill
Ontario
647-932-5849
---