Things to Do in Niagara Falls
---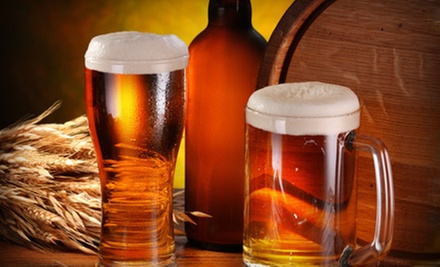 ---
Recommended Things to Do by Groupon Customers
---
A vintage photo of Mallwitz's Island Lanes, presumably from the 1980s, shows a much different alley than the one that stands today. Its patrons are dressed and coiffed for the times, bright yellows and reds flash across the walls, and strikes and spares are scrawled by hand. A modern-day snapshot illustrates the transformation that has occurred since the center's 1980 opening: 24 lanes feature computerized scoring systems and freshly oiled surfaces that glisten in the muted glow of black lights like a newborn's head after his first waxing. Other contemporary touches include a full bar, complete with a food menu headlined by popular wings.
1887 Whitehaven Rd.
Grand Island
New York
716-773-0062
Arthur Murray has been a leading name in franchise dance since 1912, when the entrepreneur began selling mail-order dance lessons. Expanding his reach, he enlisted teachers to spread his signature dance lessons on first-class steamships and skyrocketed to fame in the '30s after introducing the public to such dances as the Lambeth Walk and The Big Apple. By the 1950s, Arthur and his wife, Kathryn, were hosting their own highly popular TV show on ABC, The Arthur Murray Dance Party, which ran for 12 years. Today, Arthur Murray's team prepares students for rug cutting at special events and weekend nightclub jaunts. Clients who arrive to lessons partnerless will be paired up with other classmates as the instructors assess their current skill level and make recommendations on the most appropriate program. Throughout lessons, instructors teach the foundations of two to four dances from a long list of styles that range from Latin to country-western, helping students to learn basic step patterns, timing, and the ability to lead or follow.
4524 Bailey Ave.
Amherst
New York
716-834-9707
The theater at The Screening Room Cinema Cafe bears more of a resemblance to an intimate club than a multiplex, seating its guests at small tables so they can sip on beer and wine during films. The floor-level screen flashes with arthouse cinema, including new indie flicks and cult favorites, as well as classics from cinematic giants such as Alfred Hitchcock and Steven Spielberg. In addition to its usual screenings, the café also hosts poetry nights, film festivals, and high-definition broadcasts of sports games recorded by a mascot with a giant camera for a head.
3131 Sheridan Dr., Suite 7
Amherst
New York
Under the guidance of recently appointed owners Eve McAllister and Steve Johnston, The Wine Place's award-winning experts continue to help customers craft more than 60 wine varieties. After adding yeast to your favourite red, white, or rosé culled from top wine-growing regions such as Australia, Chile, and Spain, personnel oversee the four- to six-week brewing process. Once brews have spilled out from cocoons, oenophiles return for bottling and labelling sessions. The Wine Place's stock of measured electric wine pumps, compressor corkers, and electric shrink-wrap machines ensure a stress-free experience for each eager imbiber. In addition to its standard labels, The Wine Place supplies personalized labels for weddings, birthdays, and cubicle-warming parties.
1-25 Maywood Ave.
St. Catharines
Ontario
905-984-8466
At Pro Dojos, certified martial-arts experts lead students of all ages and skill levels through a variety of pugilistic disciplines. Each location is independently owned, so the martial-arts styles may vary, but many offer karate, tae kwon do, kick-boxing, aikido, and jujitsu classes. The instructors elucidate the noble combat arts to kiddos as young as 4 years old, helping them build strength and motor skills while instilling the values of self-confidence. Teen classes focus on honing discipline and treating yourself and others with respect, and adult classes reinforce cardiovascular conditioning, strength, balance, and coordination. The instructors also lead classes for the whole family, allowing them to bond as a unit, which could possibly lead to starring in a hit sitcom about a crime-fighting family who takes down comical villains in their idyllic suburban neighborhood.
110 Martindale Rd.
St. Catharines
Ontario
905-688-2300
Kenmore Lanes is a safe haven for pin-pummeling patrons as they relish strikes and avert gutter balls on the stable of slick lanes. Participants can practice their rolling skills during open-bowl sessions or within the intergalactic realm of Friday and Saturday night moonlight bowling, where the lanes remain open until 2:30 a.m. and are entirely illumined by glowing blocks of radioactive cheese. Tykes celebrating their birthdays can launch orbs alongside friends during 90-minute party sessions, which include pizza, soda, and a gift for the guest of honor. A pro shop supplies attendees with custom-fit balls, bags, and shoes, and 10-week leagues encourage team camaraderie and passive aggressive celebrations after every strike. Kenmore Lanes' restaurant reenergizes postgame rollers with abundant eats, and visitors craving more competition can chalk up cues at the pool table or take on classic games at the arcade such as skee-ball.
1691 Kenmore Ave.
Kenmore
New York
---