Nicholasville Automotive
---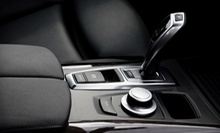 Technicians pore over cabin, spot clean upholstery and carpets, clean tires, and seal fresh exterior with wax and Rain-X
---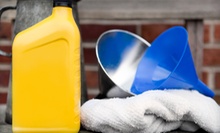 Oil changes include up to 5 quarts of motor oil, tire rotation, and inspection of brakes, suspension, hoses, and wiper blades
---
Recommended Automotive by Groupon Customers
---
Unlike library books, cars protest by not working when you don't adhere to their due dates. To keep your vehicle in top shape, you should get your car's oil changed every 3,000 miles or six months or after every seemingly coincidental encounter with a fainting goat. Though we all may delay getting this necessary service for our beloved steel-combustion chariots, this deal is the perfect opportunity to deal with one of the nagging chores you've been meaning to get around to for ages.
125 W Lewis & Clark Pkwy.
Clarksville
Indiana
As Kentuckiana's only hand-car-wash facility, River City Splash is the only way to gently and meticulously spiff up four-wheeled living rooms without hiring a crew of mimes who never actually touch the car while working. Each ultimate splash wash includes a hand wash and dry, wheel cleaning, interior blow-out and vacuuming, window cleaning, dash and center-console wipe-down, seat cleaning and dressing, door-panel wash, tire dressing, and exterior hand wax. Sparing delicate car exteriors from clumsy machinery and assembly-line service, River City employs a crew of live people who deftly revive your car's lustrous sheens with steady-handed precision. River City's crew always uses high-quality cleaning products, never recycled banana-peel wipes.
13160 West Highway 42
Prospect
Kentucky
At Brannon Express Car Wash, robotic arms blast water jets along the contours of cars of all sizes, leaving them spotless from bumper to bumper and roof to undercarriage. Soft-touch scrubbers manufactured with closed-cell foam scour all areas of the vehicle, and because the scrubbers don't retain water or particles, paint jobs emerge from the wash scratch-free. A tri-foam polish, meanwhile, restores exteriors to a shiny, like-new state.
Each of the company's wash packages safely blasts grime and environmental contaminants from coats and strengthens them with misting applications of Rain-X and Ecolab protectants. After tires are buffed shiny and a power dry removes water spots, vacuums are available for self-serve use to hoover cabins free of dust and unwelcome carpoolers.
420 E Brannon Rd.
Nicholasville
Kentucky
859-245-2007
The technicians at Lexington Auto Spa call on Rain-X products and hot-steam extractors to tidy up rides inside and out. Customers can choose from quick automated washes or opt for full-service treatments that include an interior vacuum and window cleaning. With a spectrum of detailing packages, technicians wash, wax, and clay bar exteriors to remove stubborn dirt and overspray before storming interiors with hot-steam extractors ready to eliminate foul odors so that dashboard hula dancers can breathe easy.
1124 Winchester Rd.
Lexington
Kentucky
859-254-9663
Affordable Detailing owner Mark King applies years of experience working for Toyota Motor Manufacturing and detailing cars in his spare time to steer his attentive staff as they make cars and boats gleam from all angles. From cleaning leather seats and acid-treating the wheels of a sedan to winterizing the hull of a boat, the crew carefully maneuvers around vehicles and scrubs away grime using old-fashioned elbow grease and hot water. Team members also remove tiny dents, scratches, and scuffs from the exterior, or mobilize their cleaning services through offsite washing, which caters to cars stationed in their own driveways or boats marooned on their own deserted islands.
1060 Elizabeth St., Suite 15
Nicholasville
Kentucky
859-275-1200
Sam Meineke opened his three-bay muffler shop in 1972 with a single product line, and through time, he and his successors have expanded the business into a complete automotive car-care center. Today, nearly 900 franchise owners operate their locations around the globe, still standing on the firm foundation of Sam's ideal of nursing vehicles back to health at fair prices. Meineke Car Care Center's mechanics perform an array of services, keeping rides running in showroom condition with tune-ups, 23-point inspections, tire rotations, and deep-tissue windshield massages.
7103 Preston Hwy.
Louisville
Kentucky
502-961-9116
---