Things to Do in Nipomo
---
Recommended Things to Do by Groupon Customers
---
Crouched behind a broken-down truck, the player hears incoming paintballs smack all over the automobile. Scanning the field, he plots his next move—possibly to the field's upturned section of corrugated tubing, a large cable spool, or the makeshift plywood blockade. The outdoor fields at River Park Paintball challenge teams to work together through this dilapidated yet sneakily helpful terrain, which evokes the same kind of urban-warfare setting of popular video games. In other areas, stretches of field give players tall, speedball-style inflatable barricades that offer cover from incoming shots. Paintball enthusiasts make up the staff that oversees the fields at all times, ensuring players adhere to safe play and honor house rules, such as washing up before the traditional midday tea and scones. River Park's team requires that players make reservations, as the facility keeps limited hours Saturday and Sunday from 10 a.m. to 4 p.m.
2 River Park Rd.
Lompoc
California
805-736-8564
All 78 acres of the Santa Barbara Botanic Garden are bursting with life. More than 1,000 species of native Californian plants and regional flora line its 5.5 miles of serene, public trails, allowing visitors to witness the overwhelming diversity of the Pacific coastline's plant life. Along with stands of oaks and riparian woodlands, botanical collections inhabit precisely arranged landscapes, echoing the founders' goal from 1926 to create a garden that would "unite the aesthetic, educational and scientific." In 2003, Santa Barbara County rewarded the garden's decades of cultural and scientific contributions, granting County Historic Landmark status to 23 of the acres.
The garden's specimens and displays exist just as much for education as they do for appreciation. Guests can gather landscaping ideas from the Home Demonstration Garden, a cottage surrounded with water-conserving plants. The Japanese Teahouse and Demonstration Garden melds traditional East Asian design with California-native flora. Throughout the grounds, tour guides dispense invaluable information on the displays and the retired tree nymphs that tend them. Additionally, scientific researchers use the facilities in their efforts to both study and conserve numerous rare and endangered species.
1212 Mission Canyon Rd.
Santa Barbara
California
Yasa Yoga's name comes from the Sanskrit words for "good-hearted," a reflection of the studio's noncompetitive, welcoming community of yogis and instructors. They gather to practice in a red-tiled, Mission-style building originally constructed in 1912. Husband-and-wife duo Ryan and Stephanie Besler lead a majority of the classes, accommodating students of all skill levels with a variety of yoga styles. During Yasa Basics classes, students absorb foundational yoga poses and breathing techniques in a naturally lit practice space with 20-foot arched ceilings. Yasa Flow yoga instructors crank up the room temperature to bolster flexibility and teach challenging, inverted moves during workouts suited to intermediate stretchers. Students also gather inside the building—Charlie Chaplin's former home and production studio—for a variety of other classes such as prenatal, deep-stretch, and flow-style sessions.
Though each course strengthens core muscles and focuses the brain, students also calm their minds with meditation or revel in the camaraderie of like-minded classmates as they learn to control their breathing or tendency to constantly blurt out their credit-card numbers.
22 W Mission St., Suite B
Santa Barbara
California
805-845-4626
Contra mestre Mariano Silva, a dancer and student of the Brazilian martial art capoeira, has always believed that "if you can walk, then you can dance." This positivity permeates everything he does, from his work with underprivileged youth to his time professionally dancing. It was this contagious optimism that caught the attention of master Amen Santo in Brazil, who invited him to tour globally with the renowned Ballet Folclorico do Brasil. As it turned out, Mariano was a huge hit, playing to sold-out crowds all over the world. His skill and popularity on the stage led Amen to convince him to relocate to Southern California and bring his passion for Afro-Brazilian dance to the States. Today, Mariano owns Capoeira Batuque along with the Brazilian Cultural Arts Center of Santa Barbara, sharing his talents and affirmative worldview with adults and children through a slew of classes and community-outreach programs.
Each of contra mestre Mariano's fast-paced classes introduces pupils to the rhythmic techniques and cultural significance of traditional Afro-Brazilian dance forms. Capoeira—considered Brazil's second national sport—fuses martial-arts techniques with the rhythmic and collaborative elements of dance. He teaches stylistic combat maneuvers, which weave in aerial acrobatics and various instruments. During his Afro-Brazilian dance class, he'll calibrate students' hips to swivel to movements that fuse traditional African dance with Brazilian moves. He also lets dancers try their hand or fourth toe at banging timbaus, repiniques, and other Brazilian drums in the Brazilian batucada drumming course.
5370 Hollister Ave.
Santa Barbara
California
805-259-8318
---
---
Things to Do Deals - Recently Expired
---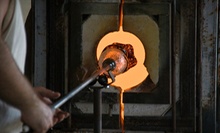 A veteran glass artist leads private and group classes, offering step-by-step instruction that results in two pieces per person
---
---