Noblesville, IN Indoor Activities
---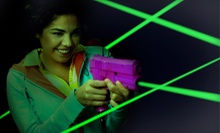 Fun center with fog-filled, black-lit laser tag arena and spacious skating floor; parties include two large pizzas and skate rentals
---
Recommended Indoor Activities by Groupon Customers
---
The instructors at Bodyblast Studio wrap fitness, personal growth, and entertainment into tidy one-hour classes centered on pole fitness, Latin-inspired dance moves, or competitive martial arts. Ladies-only pole-fitness classes utilize poles for leverage and stability as bodies swing and slide their way to a healthy sweat in routines designed to strengthen the core and upper body. Exercisers teach imaginary rivals a lesson they won't soon forget as they pummel the air with swift kicks and punches in tae kwon do classes, and hearts race through the hip-churning steps of Latin-inspired Zumba dance classes. For a more calming exercise, balance a lopsided aura with a Vinyasa flow yoga class that links mind and body with conscious breathing.
A spring-loaded hardwood aerobic floor keeps steps peppy and reduces strain on joints during all-out workouts or dance sessions. Brass poles and glossy kettlebells reflect the colorful lights flashing overhead as hit dance tunes blast through the speakers of a full sound system.
4340 West 96th Street
Indianapolis
Indiana
US
Many know yoga's positive effects on tendons, ligaments, and general well-being, but few delve into the specifics of how yoga benefits a person's epiglottis and liver-bones. Source Yoga Center brings together a talented ensemble of certified instructors who practice yoga with an emphasis on graceful, flowing movements to induce physical and spiritual alignment. Classes take place in a large and spacious tranquility chamber with smooth wooden floors and pacifying aquamarine walls. When you arrive for your first class, you'll be registered to drop in for your two remaining sessions. You'll also get a chance to schedule your hour-long deep-tissue massage, which further rewards the body for all of its proactive yogaing through relaxing manipulations that increase blood flow and eliminate knottedness.
8609 East 116th Street
Fishers
Indiana
Kristen Abbott and her troupe of passionate instructors motivate guests through TRX Suspension classes—a rigorous total-body toning system designed by a Navy SEAL—and equipment-based Pilates classes. Upon entering the studio, guests step onto bamboo flooring, which stretches out beneath airy vaulted ceilings, all painted with extra-buff versions of Michelangelo's Sistine Chapel ceiling. The studio—which earned the CityVoter award for Best Pilates Studio from 2008 to 2011—hosts small group classes, leading students through moves that challenge them to use their body weight as resistance in functional exercises. With continued practice, students can evenly tone and develop muscle groups across the entire body, with an emphasis on the posture-supporting core muscles.
12505 Old Meridian St., Suite 120
Carmel
Indiana
US
317-571-8880
Since 1998, ProCamps Worldwide has bridged the gap between pro athletes and their fans with a variety of instructional youth camps and fantasy camps for adults. More than 100 professional and Olympic gold-medal athletes have lent their wisdom during camps conducted across the country. For instance, the NBA's leading scorer, Kevin Durant, dishes details on his skills at a camp in Oklahoma, and Super Bowl champion and Packers linebacker Clay Matthews teaches the careful choreography of backfield disruption in Wisconsin. At fantasy camps, John Calipari and Bill Self—the two coaches who squared off in 2012's NCAA title game—give campers tours of their programs' hallowed halls.
11825 Technology Dr.
Fishers
Indiana
Vlad Rangotchev's age never held him back—he was young when he started practicing yoga, young when he became an instructor, and young when he got around to founding his own studio. Even though he doesn't sport a long white beard or an apparent ability to levitate like most wise yogis, he's accumulated more than 12 years of continuous practice and more than 8 years of teaching experience.
Along with a diverse team of instructors, he shares this experience with students at two locations, covering the ins and outs of harmonizing body, breath, and mind. The team believes each individual's yogic practice should be as unique as they are, so the staff helps people to tailor their selection of classes to individual goals, drawing from styles such as dynamic Vinyasa, Ashtanga, Bikram, and laughter yoga.
271 Merchants Square Dr., Suite 190
Carmel
Indiana
US
Though this serene studio was named after Pilates, it was actually parented by Pilates' neighbor, yoga. During yoga classes, which are small, intimate affairs, Pilates of Carmel's friendly, enthusiastic instructors guide beginners through the basics of each plank, downward dog, and upward orangutan while helping experienced yogis strengthen their stretches and reach leveler levels of mind-body alignment. The accredited massage therapists at Pilates of Carmel can knead relief into your muscles with soothing Swedish strokes. Your indulgent 30-minute session will take your consciousness to a blissfully whited-out plane where your mind can bob up and down like a Q-tip buoy in a sea of cotton balls. Once your mind flutters back down into your corpus, you can apply your newly accumulated mental powers to help you complete such physical activities as opening stubborn pickle jars, practicing more yoga, and chasing ostriches.
75 Executive Drive
Carmel
Indiana
---