Professional Services in Noblesville
---
Professional Service Deals
---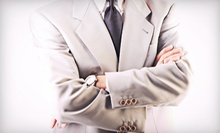 Dry cleaning for clothing including pants, blouses, skirts, two-piece suits, and dresses
---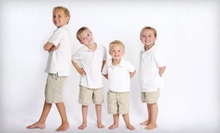 Professional photographers capture families, babies, and individuals with custom backgrounds, props, and variety of poses
---
Recommended Professional Services by Groupon Customers
---
FACE Low-Cost Spay/Neuter Clinic was founded in 1999 to help reduce the overpopulation of cats and dogs in the region through humane methods. It treats about 600 cats and dogs every week with spay or neuter and vaccination treatments. IndyFeral, a FACE program, works to reduce the feral-cat population in the region using a combination of trap-and-release and traditional sterilization services. The program treats incoming animals and marks them with ear tipping so that local shelters do not pick them up. Then, the organization's foster-care program helps ensure that kittens will not be subjected to the disease or dangerous conditions sometimes associated with shelters. Veterinarians vaccinate and treat incoming litters and place them in responsible foster homes where they can thrive while awaiting permanent adoption.
See how Groupon helps you discover local causes and lend a helping hand at the Groupon Grassroots blog.
1505 Massachusetts Ave.
Indianapolis
Indiana
The first boxing program of its kind in the country, Rock Steady Boxing unites people with Parkinson's disease through noncontact-boxing fitness programs. Upon diagnosis, doctors often encourage individuals with Parkinson's to start exercising. However, due to noticeable symptoms of the disease such as tremors, balance difficulties, and softened voices, many individuals with Parkinson's avoid traditional fitness centers. At Rock Steady Boxing, they can exercise safely, surrounded by peers who are also fighting the disease. Four different levels of classes correspond to the severity of symptoms, which could range from people with recent diagnoses to those using wheelchairs and walkers. Certified coaches lead participants through boxing regimens tailored to the individual's abilities and health concerns, and classes teach the fundamentals of boxing through noncontact workouts designed to boost overall fitness and well-being.
5026 E 62nd St.
Indianapolis
Indiana
317-205-9198
The Ransburg YMCA of Greater Indianapolis serves the community through programs that benefit the mind, body, and spirit. It aims to be a force for positive change in the community by promoting healthy living, youth development, and social responsibility. Along with gym memberships, Ransburg YMCA offers a wide selection of classes and activities for all ages, ranging from summer camp and afterschool programs to sessions that promote adult wellness and disease prevention.
501 N Shortridge Rd.
Indianapolis
Indiana
US
317-554-8073
---