Things to Do in Noblesville
---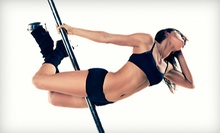 Pole-dancing workouts and parties strengthen muscles, extend flexibility, and draw out inner sexiness
---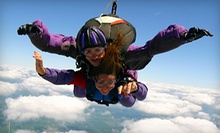 During tandem jumps, instructors fasten themselves to passengers and control each descent, and riders can help steer and land
---
Recommended Things to Do by Groupon Customers
---
Glowing neon against the horizon, Greenbriar Cinema Grill is a hybrid house that combines a movie theater and restaurant in one experience. From the outside, the destination looks like a retro diner—inside, patrons can sink into cushy maroon chairs at tables set up throughout the theater for family bonding and comfy noshing. Greenbriar Cinema Grill offers family-friendly picks that parents can enjoy, with recent options including The Other Guys, a blank screen between showtimes, and Cats & Dogs: The Revenge of Kitty Galore. As you and a guest marvel at the audio-visual spectacle displayed in front of you during your choice of a matinee or evening show, you can relax with a classic tub of corn kernels that have been heated into fluffy nubs with a bucket of Monsters Popcorn ($3.99), freshly popped with your choice of no butter, butter, or hold-the-popcorn butter. Though food is not included with today's Groupon, pull up a menu and take advantage of the latter half of Greenbriar's namesake with a 12-inch pizza ($9.99–$14.50), sandwiches ($6.99–$10.50), or a giant root beer float ($4.50).
1289 W 86th St.
Indianapolis
Indiana
The instructors at Bodyblast Studio wrap fitness, personal growth, and entertainment into tidy one-hour classes centered on pole fitness, Latin-inspired dance moves, or competitive martial arts. Ladies-only pole-fitness classes utilize poles for leverage and stability as bodies swing and slide their way to a healthy sweat in routines designed to strengthen the core and upper body. Exercisers teach imaginary rivals a lesson they won't soon forget as they pummel the air with swift kicks and punches in tae kwon do classes, and hearts race through the hip-churning steps of Latin-inspired Zumba dance classes. For a more calming exercise, balance a lopsided aura with a Vinyasa flow yoga class that links mind and body with conscious breathing.
A spring-loaded hardwood aerobic floor keeps steps peppy and reduces strain on joints during all-out workouts or dance sessions. Brass poles and glossy kettlebells reflect the colorful lights flashing overhead as hit dance tunes blast through the speakers of a full sound system.
4340 West 96th Street
Indianapolis
Indiana
US
A climber dangles from his belay rope, punching his fists into the air victoriously after reaching the top of the wall. At Climb Time Indy, more than 8,500 square feet of indoor climbing space host 4,000 different holds, giving the walls the colorful appearance of the bench where giants dispose of unwanted chewing gum. The climbing routes are changed regularly by meticulous and experienced climbers, granting regulars new challenges every week. Kids can join in the fun and learn the ropes with coaching during weekly club meetings; private lessons help more mature scalers brush up on skills.
8750 Corporation Dr.
Indianapolis
Indiana
US
Since 1998, ProCamps Worldwide has bridged the gap between pro athletes and their fans with a variety of instructional youth camps and fantasy camps for adults. More than 100 professional and Olympic gold-medal athletes have lent their wisdom during camps conducted across the country. For instance, the NBA's leading scorer, Kevin Durant, dishes details on his skills at a camp in Oklahoma, and Super Bowl champion and Packers linebacker Clay Matthews teaches the careful choreography of backfield disruption in Wisconsin. At fantasy camps, John Calipari and Bill Self—the two coaches who squared off in 2012's NCAA title game—give campers tours of their programs' hallowed halls.
11825 Technology Dr.
Fishers
Indiana
Net Heads boasts Xbox 360s, Wiis, and PC gaming stations to let button-mashers of all ages and stripes take on the surrogate personality of a golfing Italian plumber, rock star, extraterrestrial Master Chief, or a four-unit Tetris piece. Inside the large and chicly modern gaming environment, slick lighting, custom furniture, and a plethora of video monitors make any joystick jockey feel as if they've been transported to a video-game mothership. A fleet of 45 gaming stations is networked together to allow adventurers to virtually compete against each other or anyone else across the intertubes. Office workers on a corporate outing can learn the value of teamwork by getting systematically pulverized by a team of hardworking stunt doubles in Call of Duty, and grandma can show off her patented Wii bowling trick shot to her entire church group. The convivial company of fellow gamers makes level-grinding in World of Warcraft far less tedious and also makes it a lot easier to play all the instruments in Rock Band at the same time. The freedom to explore dozens of games is yours to share alongside a playing and snacking friend for what can be a game-changing experience.
1017 West Main St.
Carmel
Indiana
Many know yoga's positive effects on tendons, ligaments, and general well-being, but few delve into the specifics of how yoga benefits a person's epiglottis and liver-bones. Source Yoga Center brings together a talented ensemble of certified instructors who practice yoga with an emphasis on graceful, flowing movements to induce physical and spiritual alignment. Classes take place in a large and spacious tranquility chamber with smooth wooden floors and pacifying aquamarine walls. When you arrive for your first class, you'll be registered to drop in for your two remaining sessions. You'll also get a chance to schedule your hour-long deep-tissue massage, which further rewards the body for all of its proactive yogaing through relaxing manipulations that increase blood flow and eliminate knottedness.
8609 East 116th Street
Fishers
Indiana
---