Norfolk County Automotive
---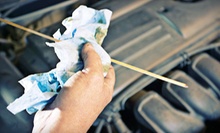 Factory trained techs change oil, wash exteriors, and inspect 21 key vehicle points during one-hour service
Use Friday 8:30am - 6:00pm
---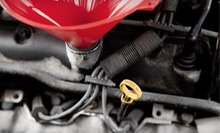 Up to 5 litres of conventional oil refresh engines, a tire rotation ensures even tread wear, and an inspection ensures auto safety
Use Tuesday 8:00am - 6:00pm
---
Recommended Automotive by Groupon Customers
---
Valet Car Wash has been in the auto-bath business for more than 20 years. Seven days a week, machines scrub an auto's steel skin while closed-cell foam and microfibre equipment ensure cars get cleaned as gently as a fragile model car before it's packaged. The automated car washes also boast pre-soak and soaps that are mixed to precise concentration for maximum effectiveness and a speedy finishing time of three minutes for most washes. Click here for a complete list of services.
1007 Gordon St.
Guelph
Ontario
519-823-0792
No hood ornament has ever been turned away in Ultimate Automobiles' 40-year history. That's because the staff welcomes all vehicle makes and models into their full-service shop, which hosts an array of used vehicles, licensed Drive Clean emissions inspections, and a body shop stocked with parts. The mechanics specialize in matching cars to new tires and lend out courtesy cars for lengthier repairs or impromptu demolition derby tryouts. They also tidy up vehicles during tiered details that showcase a repertoire of cleansing techniques, including hand washes, hand waxes, and interior shampoo treatments.
940 Wharncliffe Rd. S
London
Ontario
519-686-3754
After prosperous beginnings in 2002, Northside Autosports quickly became too popular for one location, expanding to more than 15 one-stop shops for all auto specialty needs. Skilled car techs execute services such as meticulous detailing, installs, repairs, and refinishing tires and wheels. Additionally, the team can boost auto's sagging self-esteem by performing exhaust maintenance, keeping the car hygienically attractive to eligible convertibles. By offering stereo system and performance installations, the shop keeps audiophiles surrounded by a wall of sound and road huggers souped up with a selection of top-of-the-line products.
8-8575 Keele St.
Vaughan
Ontario
905-760-2665
Most of the automotive-maintenance services at Pro Oil Change begin with the pop of a hood. The dull sound reverberates around the engine, where trained and certified technicians inspect air filters, replace batteries, refill fluid levels, and inject Valvoline motor oil. Outside the automotive nucleus, they extend their restorative touch toward burned-out headlights and waved-out windshield-wiper blades. All of this unfolds inside their welcoming facility, which accepts all vehicle makes and models and features a waiting room with TVs and complimentary coffee, hot chocolate, or tea.
55 Main St.
Grimsby
Ontario
Canada
905-945-0065
FX Glass's skilled specialists carefully outfit autos with window tints and paint-protecting coatings. Along with dampening solar glare and harmful ultraviolet rays, Sun-Gard films can keep shattered pieces of glass from spraying throughout interiors during accidents, thefts, or misfired fist pumps. FX Glass's tinting demo allows patrons to see the difference between the four tint-shade varieties and helps them decide what would be best for their vehicle. Technicians also cover painted surfaces with Durashield protective coatings, which fit precisely after a computer-cutting and guard paint jobs from rocks, bugs, and insults from bullying semitrailers.
4-217 Adelaide St S
London
Ontario
519-601-8468
At KG Auto Fine Detailing, teams of dedicated car cleaners make it their main priority to restore the interiors and exteriors of cars, trucks, and SUVs to an attractive, glistening sheen. Coats of liquid wax, Collinite Super DoubleCoat auto wax, Super 845 paint sealant, and force fields from space help guard precious paint jobs from the ravages of weather, and leather conditioning treatments infuse interiors with a clean, luxurious gloss. As guests drop off their four-wheeled wards into the capable hands of a professional detailer, they often pass the time shopping at nearby Conestoga Mall.
4-100 Frobisher Dr.
Waterloo
Ontario
519-781-5500
---