Restaurants in Norfolk County
---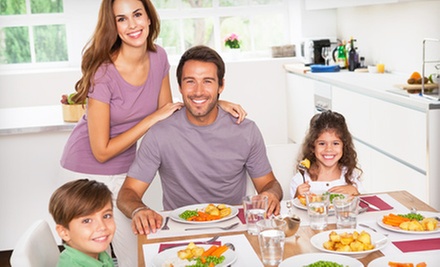 ---
Recommended Restaurants by Groupon Customers
---
With a turn-of-the-century dining room soaked in stained glass and shades of mahogany, The Parlour extends its opulence to a menu of gastropub and international cuisine. A half-pound burger sports a crispy beret of bacon and old cheddar ($16), and grilled beef tenderloin lounges on a divan of sweet-pea risotto ($30). Diners can also peruse the substantial wine list or hide behind it for impromptu games of peek-a-boo. Additionally, The Parlour's Sunday brunch adds a dash of elegance to weekend routines, warming bellies with salads ($8–$10), egg dishes ($9–$12), and sandwiches ($9–$12).
101 Wellington St.
Stratford
Ontario
CA
519-271-2772
Solara Mediterranean Bistro's chefs artfully plate classic and contemporary flavours from Greece, Italy, and the Middle East. Seafood and lamb are the dominating themes throughout the menu and pasta selection, but dishes also feature chorizo, chicken, and veal. To wash down the rich and savoury bites, bartenders mix up signature cocktails, pour glasses of wine, and decant local brews from Mill Street Brewery and Old Credit Brewing Company. Modern artwork flecks the dining room, where mood lighting and a fireplace's flickers cultivate a cozy, intimate ambience, and the bar's flat-screen TVs broadcast sporting events or footage about the storm system brewing above the restaurant's freezer.
1731 Lakeshore Rd. W
Mississauga
Ontario
905-916-2334
Daniel's Cheese and Deli supplements a selection of imported and locally sourced cheeses with a menu of housemade gourmet deli fare. The deli pros guide palates through a lineup of 10 different kinds of aged Canadian cheddars sliced thin to top off sandwiches or thick to provide a raft for river picnics. Helpful cheese experts can also help customers navigate an international collection of imported delicacies that include Spanish manchego, English stilton, and Swiss raclette. Patrons wrap mandibles around towering gourmet sandwiches such as a garlic-dip-slathered meatball sub or a grilled wrap stuffed with marinated steak strips. A collection of more than 16 healthy dips entice handmade chips to skinny-dip into mango-chipotle-garlic pools that boast low levels of both fat and cholesterol.
250 Thompson Dr., Suite 4
Cambridge
Ontario
At Sea 2 Fork, sustainability is key. The chefs curate a list of suppliers known to harvest fish using sustainable methods—plucking fish from pristine waters without damaging their natural habitats and the other species that dwell there. They also keep meticulous tabs on where and when fish were caught. This effort ensures that diners can enjoy freshly caught salmon, mussels, and scallops while helping to maintain the diverse eco-system of the land's lakes, oceans, rivers, and gold fish bowls. Everything on the menu—from beer-battered cod to trout to Lake Erie pickerel—is free of antibiotics or hormones, so diners can rest assured they are nibbling on healthy morsels.
Further demonstrating their commitment to sustainability, Sea 2 Fork is a partner of Oceanwise. This nonprofit organization teams up with restaurants, markets, and suppliers to help them satisfy their patrons' bellies while keeping an eye on preserving aquatic life.
2180 Itabashi Way, Unit 3
Burlington
Ontario
289-938-9380
Blue Nile's vibrant orange dining room hums with energy as the aromas of meat and spices waft in from the kitchen. Patterned tablecloths, flowers, and colourful art decorate the walls, just as colourful spreads of lentils, split peas, and collard greens decorate plates. Using a pancake-like bread called injera, guests scoop up earthy bites of Ethiopia's national dish—a type of stewed chicken called doro wat—or other flavourful foods. They can can pair the hearty food with sips of a traditional pot of coffee known as jebena buna or with fruit juices such as mango or guava.
90 Wellington St. N
Hamilton
Ontario
289-396-0377
Steven Karataglidis spent his childhood scampering through the kitchen of his family's restaurant, soaking in cooking tips and techniques as his father whipped up Greek specialties. Pulling from his culinary upbringing, Steven opened Off the Hook at the ripe age of 22, enlisting the help of his dad to fry up baskets of fish 'n' chips and build seafood sandwiches. Nowadays, Steven and his father preside over two locations, whose fryers sizzle with fish and shellfish cloaked in gluten-free and organic batters. Diners can dip their seafood in housemade tartar sauce, green pesto, and curry mayo to procure what Steven described to reporters of Post City as his "all-time favourite flavours." Each casual meal is served in a basket alongside dollops of Steven's signature sauces and smatterings of sweet-potato fries and coleslaw.
438 Hwy. 8
Stoney Creek
Ontario
CA
805-662-1717
---