Norfolk Beauty and Salons
---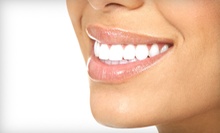 UV light brightens smiles during a 30-minute, in-office teeth-whitening session
---
Recommended Beauty by Groupon Customers
---
Knockouts' decor mimics that of a boxing ring, but—unlike the real thing—you look better when you leave. Flat-screen televisions, cold and frothy tipples, and quality service round out the first-rate experience. With The Uppercut, you'll get a quick clipper cut, a thorough shampooing, a soothing head massage, a hot-towel treatment, and a nametag identifying you as "Movie Actor Harrison Ford." Attractive, skilled women perform all salon services, and they'll make sure you look dapper and clean to any follicle-judging female.
277 N Lynnhaven Rd.
Virginia Beach
Virginia
Pretty pampering pros at Knockouts Haircuts for Men spruce up scalps and cosset weary bodies in a sports-theme men's salon that has been featured on the Today show and The Big Idea with Donny Deutsch on CNBC. As guests sip ice-cold beers or other beverages and watch a game on flat-screen TVs, stylists sculpt sleek, fashionable looks with the salon's signature six-step Heavyweight haircut. While the stylists shampoo hair or untie chin-strap beards, aestheticians wax backs and chests or refurbish rugged skin with facials and hand treatments. Stationed in private treatment rooms, the salon's massage therapists promote further relaxation with modalities designed to melt residual tension from gentlemanly handshaking contests.
277 N Lynnhaven Rd.
Virginia Beach
Virginia
757-431-0205
As its name implies, the original Spa on the Boulevard is a bastion of peace and quiet on bustling Virginia Beach Boulevard. Though throngs of tourists routinely pass by the spa's windows, the interior suggests no threat of unwelcome intrusions. Here, therapists customize their massage strokes to relieve stress, aestheticians gently exfoliate skin with Éminence Organic Skin Care facials, and nail technicians protect against chips with Shellac or Gelish manicures.
The spa's recently opened location in Chesapeake follows the original's example. Both locations offer 100% green products made with natural and organic ingredients, and both employ a staff whose sole mission is to return the body to its idealized state. Aside from their one-time health and beauty treatments, the spas also run wellness programs dedicated to helping clients detoxify, lose weight, and suppress urges to nervously bite strangers' nails.
3101 Virginia Beach Blvd., Suite 108
Virginia Beach
Virginia
757-631-5990
Dr. Matthew Mitsch is certified by the American Board of Ophthalmology, but has specialized in facial cosmetic surgery since opening The Face Institute in 1999. He developed his plastic- and reconstructive-surgery techniques at Beaumont Hospital's fellowship program following a residency at Interfaith Hospital in Brooklyn, New York. Today, he uses that dexterity to laser away unwanted veins and lift sagging facial skin. Obagi and Osmosis facials polish skin's surface and yield enhanced results when paired with mechanical exfoliation or one of four types of chemical or laser peels. Light does double duty, serving as an emissary of firm, youthful skin and giving body hair and acne-causing bacteria a reason to believe in the afterlife. As a complement to skincare treatments, the staff whiten teeth and administer serums that lengthen and thicken sparse hair and eyelashes. Dr. Mitsch also personally oversees a weight-loss program, whose metabolism-boosting regime can work in tandem with sessions of ultrasound massage that aim to erase cellulite.
1821 Old Donation Pkwy., Suite 6
Virginia Beach
Virginia
You wouldn't want to compete against Dr. Sergio Vendetti in an anatomy-themed trivia night. That's because the Italian native has earned both medical and dental degrees, is a diplomate of the American Board of Oral and Maxillofacial Surgeons, and a fellow of the American Academy of Cosmetic Surgeons. In his spare moments, he also finds time to lecture on surgical topics at academic and medical conferences, and mentor the next generation of healers as an assistant professor at the Medical College of Virginia.
Instead of shaming uppity quizmasters, Dr. Vendetti uses his vast knowledge of the human form at Virginia Surgical Arts, a state-of-the-art ambulatory surgical center, where he performs procedures ranging from wisdom-tooth extractions to face and brow lifts. His attention to detail and patient-centered philosophy earned him the gold award for Best Oral Surgeon in the Virginian-Pilot's 2012 Best of Hampton Roads competition.
His office earned the same contest's silver award for Best Skin Care Facility in Virginia Beach, due in no small part to its highly trained team and welcoming ambiance. A certified surgical technologist and anesthesiologist assist with surgeries, and a licensed master aesthetician performs medical-grade treatments such as laser skin resurfacing and photofacials. Guests sense the spa-like vibe as soon as they enter the lobby, where they're greeted by hardwood floors, antique-style armchairs, and a plush sofa. Before treatments, they can watch favorite shows on the flat-screen television or analyze the framed map of Italy's boot to decide whether the blue lines are rivers or large spider veins.
1240 Perimeter Pkwy., Suite 401
Virginia Beach
Virginia
Blowout Salon's purple accent walls contrast a primarily black-and-white interior. Cushy black leather couches and zebra-print chairs create comfortable havens where clients—men, women, and children—await tidying or beautifying services. Despite this elegant tricolored decor, the most stylish area of the salon is still its simplest: the salon chair, whose glistening black leather conjures thoughts of Elvis's slick, beguiling 'do, the stunning silk of a tuxedo lapel, or the ability not to stand while getting your hair cut. At these cushy cathedrae, professionals shape, style, and color heads using products from brands such as Moroccanoil. And when the staff isn't snipping strands or applying keratin smoothing treatments, they can accent natural features at a makeup bar and wax away unwanted hair.
1613 Hilltop W Shopping Ctr.
Virginia Beach
Virginia
757-333-3083
---