Restaurants in Norfolk
---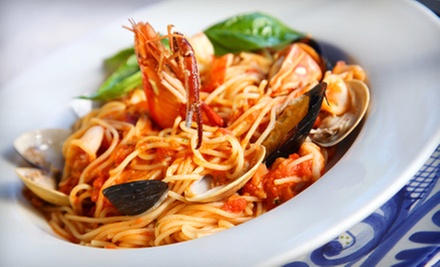 ---
Recommended Restaurants by Groupon Customers
---
When he's not making paintings for Stove's walls, Sydney Meers adorns his restaurant's plates with edible art inspired by American, southern, and French cuisine. With many of the ingredients sourced locally or grown in his garden, diners can discover fresh new fare on nearly every visit. A soup du jour, available in flavors such as peanut pumpkin, warms up belly engines before entrees such as shrimp and grits and house-aged tenderloin park atop their tables. Staying creative with all edibles, Stove's dessert menu continually rotates, like a caffeinated ballerina. Fans of Sydney's fare can learn how to make it during his interactive cooking classes or by accosting the all-knowing moose head in the wild and crazy Cougar Lounge.
2622 Detroit St.
Portsmouth
Virginia
757-397-0900
Ammos Authentic Greek Cuisine's chefs forge generously portioned meals culled from Hellenic culinary traditions. They parade an array of dishes imbued with flavorful splashes of extra-virgin olive oil and impressive knowledge of Plato's ideal forms. The solomos exotiko entrée features a fillet of fresh salmon wrapped in a parcel of phyllo and drenched in ouzo sauce, while Athenian kabobs cloak a choice of chicken, beef tenderloin, or lamb in relish made from tomatoes, onions, and peppers. Diners can also opt for comfort fare such as the gyro or the traditional greek sandwich, which glazes an herbaceous pocket of feta cheese, tomatoes, and olives in olive oil and oregano.
Jovial chatter fills the comfortable climes of Ammos's dining room, which features live belly dancing that all diners are encouraged to participate in. When not locking eyes with a dance partner or tasty platter, diners can keep a wary eye on gossiping waterfowl while taking in sweeping views of the Atlantic from the eatery's outdoor terrace.
1401 Atlantic Ave.
Virginia Beach
Virginia
757-313-6083
Located at the rear of Virginia Beach Resort Hotel, TradeWinds Restaurant faces the Chesapeake Bay. A covered patio, buffered only by tall grasses, abuts the waters, which wash over every aspect of TradeWinds, from the bayside ambiance to the menu's locally sourced oysters, salmon, and crab. Fresh seafood pairs with new york strip steak at dinner and with salads and sandwiches at lunch. During Sunday brunch, the bright dining room fills with the aromas of made-to-order omelets and seared yellowfin tuna slathered in a variety of spices and sauces.
2800 Shore Dr.
Virginia Beach
Virginia
757-481-9000 x2051
Fried oysters and broiled fish highlight Snappers' eclectic roster of fresh seafood. Inside the kitchen, chefs garnish the bounty with special house seasonings. They also regale landlubbers with steaks, tacos, traditional Southern sides, and Cajun-inspired dishes such as jambalaya. A sociable staff then serves up the succulent cuisine, roaming the dining area amid the sounds of trivia every Thursday night. To fortify meals and cheer up lonely can cozies, staffers can dispense a full slate of beer, wine, and cocktails.
245 Granby St.
Norfolk
Virginia
The rollicking sounds of blues artists headlining the two stages of the restaurant's performance venue filter through this barbecue hot spot. It features spice-rubbed meats served up with a selection of homestyle sides. The menu centers on hickory-smoked beef, seasoned and smoked pork, and rubbed and grilled chicken and ribs that are steeped in spices, like Marco Polo's scrapbook. The restaurant outfits tables with a selection of spicy, savory, and slightly sweet sauces, allowing patrons to customize heat levels on entrees or provide a flavorful accompaniment to fried pickles, baskets of corn bread, or Mojo pit beans.
4502 Monarch Way
Norfolk
Virginia
Wall sconces cast warm light across the exposed brick walls at Monastery Restaurant, where guests dine on European cuisine at small, candle-lit tables. Owners Anna and Adolf Jerabek first opened a restaurant in New York City after leaving their native Czechoslovakia in 1967, and later journeyed to Virginia to open their old-world eatery at the current downtown Norfolk locale. There, they serve breaded port cutlet with Lyonnaise potatoes and steamed broccoli, steak tartare—raw, seasoned filet mignon on lettuce—and veal-stuffed cabbage with dumplings. A painting of a portly monk with a half-finished beer hangs behind the bar, where visitors can enjoy selections from the drink list—wine, beer, champagne, and cocktails.
443 Granby St.
Norfolk
Virginia
757-625-8193
---