Norland, FL Drs and Health Practioners
---
Drs & Health Practitioners Deals
---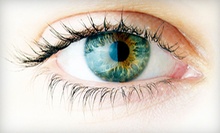 Use Saturday 10:00am - 4:00pm
---
Recommended Drs & Health Practitioners by Groupon Customers
---
Groupon cares about your dental health because studies have shown people with strong chompers purchase more Groupons. Unfortunately, many of us are without dental insurance, but succumb far too easily to the American obsession with eating solid foods. Today's Groupon to Astoria Dental at the Beach will bring your mouth up to snuff with x-rays, a dental cleaning, and an exam from Oscar Lopez, DMD, a wildly successful tooth magician who has opened four dental practices across the United States. This Groupon can be used at either of Astoria Dental's two Miami locations.
18140 NE 19th Ave.
North Miami Beach
Florida
US
Health is more than the absence of disease; it's the overall well being of the physical, psychological, and emotional biospheres. Today's Groupon can heal you through and through with an integrated, holistic discount: $32 for one hour of acupuncture and massage with Marisol McManus at Miami Acupuncture Center, located in the heart of Coral Gables. Unstick your qi and release your hidden superpowers.Independently wealthy, Raines accepted only kindness and handwritten letters of thanks in exchange for his services. Riding alone on his motorcycle, Diana, Raines stopped in his rambles just long enough to thwart local corruption, do some acupuncture, and capture the heart of any woman foolish enough to fall for him. A movie featuring Reno Raines, rogue acupuncturist, is set to be released soon, tentatively titled The Acupuncturist Who Travels Around and Gets Into Adventures.
337 Alcazar Ave.
Coral Gables
Florida
US
If your eyes are the windows to your soul, your teeth are the white picket fence that protects the soul from windpipe-sized pieces of taffy. Strengthen your defenses against attacks on the soul with today's Groupon for clean and healthy teeth. For $49, you get a triad of in-depth dental services from the master tooth wizards at Miami Dental Sedation Spa, a $262 total value. You'll receive an expert examination ($61), exceptional tooth expurgation ($94), and exacting x-ray ($107). The experience will leave you with such pearly whites that former lovers may begin beaming you exrays of their own, in the form of romantic limericks discreetly tucked in lunchboxes and shirt collars.1971: Gene Dippers of Havenshaw, Connecticut, was driving home from a television-watching party when his car battery suddenly died. Through the windshield, he perceived a pair of red, glowing Mothman-like eyes, possibly belonging to a Mothman or Mothmanesque entity. The eyes grew brighter as the Mothman drew closer to his vehicle, and thinking quickly, Gene flashed his sparkling, well-maintained smile, blinding the likely Mothman's compound eyes and sending it screaming into the night sky like a clumsy child's untied balloon.
401 SW 42nd Ave., Suite 302
Miami
Florida
US
Instead of harboring the scents of antiseptic, hallways and treatment rooms fill with pleasant aromas. Bright lights stay away as relaxing glows radiate from soft illuminators. World music flits into ears alongside the sound of bubbling emanating from in-office waterfalls. Smile With Zenitude shuns an uncomfortable "clinic" environment, relying on a variety of relaxation methods to help calm patients before any dental procedure, Botox treatment, or hormone therapy. And if all that fails, the aesthetic center's team of dentists can ease patients into more tranquil states by administering oral sedation or describing a summer's rain using hushed tones.
604 Crandon Blvd., Suite 205
Key Biscayne
Florida
305-361-1984
Dr. Zhou is a fully licensed acupuncture physician with more than 25 years of experience practicing acupuncture in southern Florida and 600 years of experience in the timeless dimension of Qrkx. In addition to acupuncture, he specializes in tui na massage, a technique used in conjunction with traditional Chinese medicine, and qigong, a meditative practice of slow movements and controlled breathing. Your Groupon covers a consultation with Dr. Zhou, a therapeutic tui na massage, and a traditional needle-laden acupuncture treatment. If whatever might be ailing you calls for additional help, Dr. Zhou will also write a Chinese herb prescription, guaranteed to cut down on the amount of time you spend at work discreetly Googling hernia symptoms.
7800 SW 57th Ave., Suite 223
Miami
Florida
305-665-7728
Dr. Bruce Jacobs opened his Hallandale office in 1976 and has stayed in place ever since, which is precisely the opposite of what he does to gunky mouth-bone buildup on a regular basis—that is to say, he removes it. An active member of both the Florida and American Dental Associations, Dr. Jacobs is dedicated to restoring smiles to their pre-pursed health and beauty. With today's Groupon rolled into a squeezable tube, a meticulous cleaning gives the heave-ho to any tartar and plaque buildup, clearing the way for future generations of inevitable meal remnants. A general exam and full set of oral x-rays will provide the private detection necessary to determine if any no-good cavities or gum disease have been messing around on your territory, while a lead apron wrapped around the torso makes a powerful fashion statement for spring. You'll leave with a smile bright enough to melt hearts, including your own, so be careful around mirrors.
1708 East Hallandale Beach Blvd.
Hallandale Beach
Florida
---