Restaurants in Norridge
---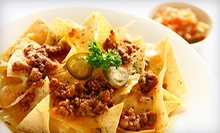 Half-pound burgers, homemade meatloaf & old-fashioned mac 'n' cheese served with brews & cocktails in an outdoor beer garden.
Use Today 5:00pm - 8:00pm
---
Recommended Restaurants by Groupon Customers
---
Even in the dead of a Chicago winter, chef Carol Wallack and her crew imbue Sola Restaurant with the warmth of the Hawaiian islands. In the kitchen, Carol relies on locally sourced, sustainable ingredients to craft Hawaiian-inspired fare, balancing sweet and spicy flavors in dishes such as poke, a raw fish salad. Her passion for the Pacific sun and surf continues into the dining room, where a sandy color scheme and soft, lantern-like lighting evoke an evening spent stranded on a deserted island. Each month brings special announcements, such as a celebrated ingredient on which Wallack places special emphasis. The wine and beer lists also continually evolve along with the menu. These efforts have earned Sola Restaurant plentiful press and awards, such as Wine Spectator's Award of Excellence 2010.
3868 N Lincoln Ave.
Chicago
Illinois
773-327-3868
The Hidden Shamrock embodies a Dublin pub with traditional Irish dining, friendly service, and live music. The menu is chock full of Irish and American bar eats, and the fully stocked bar houses more than 30 bottled and draft beers. The cozy interior is made up of exposed brick walls, gleaming wood paneling, and a small stage to host live music and interpretive hula-hooping.
2723 N Halsted St.
Chicago
Illinois
773-883-0304
As diners cross the outdoor patio of Melanthios Greek Char House and enter the dining room, they are greeted with the rich scent of greek seasoning and the aroma of mesquite charcoal. The restaurant's commitment to authenticity in its Greek entrees is such that the staff grows its own kalamata olives, but the chefs don't limit themselves to traditional dishes. They've also ventured into steak-house territory, serving mesquite-grilled cuts such as the 20-ounce porterhouse and the 8-ounce filet mignon. Regardless of a dish's national origins, the restaurant carries a bottle of wine that pairs with it well.
Around the dining room, diners settle into booths teeming with pillows and cushions, watching chefs prepare their food in an open kitchen. Exposed-brick walls frame a fireplace in the corner, and decorative balconies above the outdoor patio complete the set for couples interested in rehearsing lines from the productions of Romeo and Juliet they're putting on for their cats.
3116 N Broadway St.
Chicago
Illinois
773-360-8572
Inside Maza Restaurant, glass urns filled with grains of rice and a variety of herbs remind diners of the diverse array of ingredients used to construct traditional Lebanese dishes, which "make for satisfying dining," according to Chicago magazine. Entrees include kebabs of charbroiled meats—such as lamb, chicken, and beef—and fresh seafood, including red snapper and trout. Chefs also create an ample assortment of vegetarian dishes and sweet desserts. In addition, Maza Restaurant helps hosts feed guests during parties, small get-togethers, and late-night talk shows with their catering services.
2415 North Ashland Avenue
Chicago
Illinois
773-929-9600
Behind Zig Zag Kitchen's Lincoln Avenue storefront, pizza pros hand-toss dough, which lays the foundation for a menu of custom-made pizzas, sandwiches, and entrees. A selection of specialty pies includes the garlic, tomato, and basil pizza, and the restaurant's carefully crafted platters of comfort food, such as homemade meatloaf and chicken vesuvio, offer tastes of Mom's kitchen, minus the aftertaste of poorly seasoned linoleum. Zig Zag's catering menu takes its culinary show on the road, laying out party-pleasing portions of pizzas, sandwiches, and desserts for parties of up to 50 people.
2436 North Lincoln Avenue
Chicago
Illinois
773-472-2222
The Sports Corner Bar & Grill, positioned directly across from Wrigley Field, bursts with life during baseball season as friendly servers ferry spicy buffalo wings, crisp salads, and savory bratwursts beneath galleries of flat-screen TVs. An open rooftop patio bathes diners in sunlight as the roar of the crowd relays appetizer suggestions from the stadium stands. When the last pitch sounds the end of the Cubs' season, the corner restaurant's televisions tune in to NCAA football games, Blackhawks matches, and footage of Wrigley Field groundskeepers mowing the lawn.
956 West Addison Street
Chicago
Illinois
773-929-1441
---