Nightlife in Norristown
---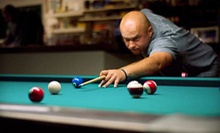 Low-hung table lamps cast ample light on smooth felt of Brunswick Gold Crown tables as players spear cue balls in smoke-free pool hall.
Use Sunday 9:00am - 11:45pm
---
Recommended Nightlife by Groupon Customers
---
Playgrounds and swings aren't the only things that can swing. Today's deal reveals the secret lives of soccer moms with $10 tickets to Billy Aronson's hilarious new comedy, The First Day of School, a $20 value. Be the first to get in on the laughs—your Groupon is good for the 8 p.m. preview show on Thursday, October 1, 8 p.m., at 1812 Productions.
1714 Delancey St.
Philadelphia
Pennsylvania
US
Helping to spread laughs throughout the land, Helium Comedy Club hosts headliners and tomorrow's brightest stars at its Philadelphia, Portland, and Buffalo locations. In front of a tabled showroom that allows audiences a clear sightline and maximizes guffaw acoustics, a bustling calendar of familiar comic talent fills most of the week with levity, and open mic nights and standup workshops put aspiring jokesmiths higher up the comedy rung.
2031 Sansom St.
Philadelphia
Pennsylvania
Bernie's Bar and Grill answers the greatest question in life—"What's for dinner?"—with a truckload of pub food. Its kitchen cooks up something for everyone—barbecue burgers, Reubens, chicken burritos, falafel, torpedo shrimp, pizza, and steak. Though beer is in great supply here, Bernie's is equal parts family restaurant and sports pub. At each location, the cozy booths and tables where parents and kids share potato skins and sundaes are joined by a wood bar, where TVs broadcast sports, athletic jerseys huddle in corners, and pennants hang overhead.
12 Allison Road
Oreland
Pennsylvania
USA
Bernie's Pub reflects its newly renovated interior with a menu of classic American dishes graced with contemporary flair. House-made pineapple chutney piles onto hawaiian sliders crowned with shaved ham and swiss cheese, evoking an idyllic tropical luau without all the itchy grass skirts and mandatory ukulele lessons. Crispy fries sidle up to a sextet of half-pound burgers, which include the barbecue-sauce-smothered Southern burger and the Insanity burger smeared in hot-pepper compote.
Suds and spirits from a full-service bar slosh in diners' glasses as live tunesmiths hurl dulcet melodies and autographed MP3 files into crowds on Friday nights from 9 p.m. to midnight. Other weekly entertainment includes karaoke on Saturday nights and Quizzo on Wednesdays.
12 Allison Rd.
Oreland
Pennsylvania
215-572-5927
---