Massage in North Atlanta
---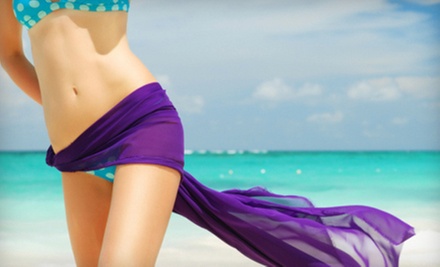 ---
Recommended Massage by Groupon Customers
---
The practitioners at Atlanta Institute for Reiki & Energy Medicine specialize in reiki—a gentle form of Japanese touch therapy that calls upon the universe, or "rei," and its life-force energy, or "ki," to heal and balance bodies. This coed team of attuned individuals calibrates corporeal and mental states through a tranquil laying-on of hands and also share its powers through instruction for aspiring reiki masters and alternative-medicine enthusiasts.
To further enhance their clients' bodily well-being, all the Institute's resident therapists are also licensed to practice massage and are trained in an arsenal of modalities such as Swedish, deep-tissue, and hot-stone massage, which re-creates the relaxation our ancestors felt in earth's infancy from gentle, soothing asteroid showers.
250 Pharr Rd.
Atlanta
Georgia
678-471-0313
Sweet Earth Therapeutic Massage owner Myrna Lovell-Jones knows the ins and outs of human anatomy—she holds both a nursing degree and a certification in advanced massage therapy. The therapist draws from this holistic knowledge to perform a range of massages, including Swedish, deep-tissue, hot stone, aromatherapy, and pre- and post-natal. In reflexology, certain parts of the feet are believed to correspond to various organs, muscle groups, and funny bones throughout the body; during a reflexology session, a therapist applies focused pressure to relieve any tense parts of the body.
5871 Glenridge Dr. Ste. 115
Sandy Springs
Georgia
404-556-6363
Across Cobb Wellness Centers' two locations, a staff—including doctors, chiropractors, and massage therapists—help evaluate and bolster patients' health by blending medical care with alternative methods such as chiropractic adjustments and massage therapy. Their wellness programs, including nutritional counseling and physical therapy, take individual needs into account when mapping out the most efficient route to health goals. The team even conducts hard-to-find treatments such as the V-Xad non-surgical spinal decompression procedure, which can help with herniated discs or bones made out of Jell-O.
2551 Roswell Rd., Suite 415
Marietta
Georgia
770-565-2882
For more than 20 years, Therapeutic Massage Centre's Ted Schulte has untangled muscular striations to relieve soreness and tension. He set up his practice in a house-like structure framed with cool gray siding. Here, Ted kicks off new client relationships by learning about them via a health sheet and a consultation. These tools help him discover clients' specific ailments and goals, whether it's relief from a sports injury or escape from chronic pain, which is the next sequel to Escape from Alcatraz. Ted then customizes each session by culling from myriad techniques, including Swedish, myofascial-relief, and deep-tissue massage.
130 Powers Ferry Rd.
Marietta
Georgia
770-977-3589
Shamara Long believes that her massages and organic facials are more than just temporary escapes from life's daily stresses. A licensed therapist and the owner of Serenity Place Massage Solutions, Long views her spa's treatments as catalysts for healthy lifestyles. She draws on her committed faith-based background to rejuvenate and replenish, in her own words, "the physical, mental, emotional, and spiritual bodies."
To best nurture these four aspects of being, Long relies on an extensive treatment menu that targets the skin as well as its underlying muscles. Her bodywork specialties include Swedish, prenatal, and Thai massages as well as a Serenity stretch treatment, whose stretching and compression exercises help athletes to run and cartwheel over goalposts more effectively. Organic massage lotions and oils aid in these treatments, just as professional Éminence Organic Skin Care products enhance the slate of facials and peels. Although Long's spa blossoms with warm lighting and earthy tones conducive to spiritual healing, she can also haul her massage table to bridal parties and corporate gatherings.
5825 Glenridge Dr., Bldg. 1, Suite 204
Atlanta
Georgia
US
678-702-8515
Wanda Goodman isn't just an accomplished massage therapist—she's also a former nurse. After 23 years in emergency cardiac care, she's seen first-hand the toll stress can take out on a person, from increased blood pressure to a shutdown of the immune system anytime the word "traffic" is uttered. She uses this knowledge, along with a vast understanding of anatomy and physiology to treat clients who suffer from stress, but also people who deal with muscle aches and sports injuries.
3 Dunwoody Park , Suite 129
Dunwoody
Georgia
US
404-414-1077
---