Restaurants in North Atlanta
---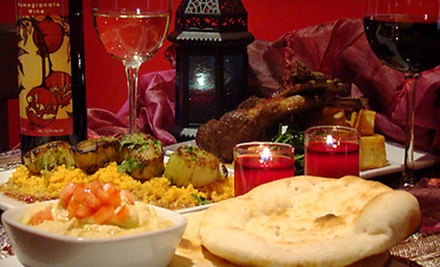 ---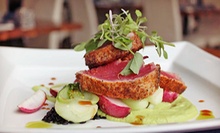 Starters such as crab rangoon with jalapeño jelly and Spider rolls prelude plates of duck with orange marmalade or scallops and grits
---
Recommended Restaurants by Groupon Customers
---
Under the glow of lotus-shaped white chandeliers, plumes of steam ascend from aromatic Thai dishes laden with lemongrass, coconut milk, and tangy tamarind paste. The menu showcases a traditional spread of curries, noodle dishes, and grilled fish and meat entrees. The authenticity and tastiness of the recipes won praise in 2010 from the Cynical Cook, who called the thai beef jerky "addictive" and the chicken larb "everything you could want … Each bite was juicy, meaty, and a satisfying mixture of peppers, limes, and salt." Thai statues and artwork dot the dining room, which opens to a white-curtained patio available during warm months to feed hungry breezes.
2201 Savoy Dr.
Atlanta
Georgia
US
770-451-3880
Waiters at Folia Brazilian Steakhouse waltz across dining rooms wielding spears full of sizzling meats lauded by the Atlanta Journal-Constitution for their succulence. To signal their hunger to roving waiters, diners simply display a green card near their plate, prompting waiters to proffer juicy picanha sirloin, sling out plump sausages, or stampede toward the table in an ill-fated game of Red Light, Green Light. Guests can devise elaborate salads at the expansive salad bar, where traditional leafy options mingle with tangy ceviche and seared tuna. House wines, from chardonnay to cabernet sauvignon, pair off with bites of steak or nibbles of fish to sneak into stomachs on the heels of well-spoken toasts. Piquant flavors and traditional Brazilian spices find an easy home within the dramatic red and deep mahogany colors of the dining room, transporting patrons and their palates to a place where gauchos gather around fire pits to relish both food and flames.
1360 Powers Ferry Rd SE, Suite 165
Marietta
Georgia
US
770-627-3170
Do you waste hours in bakeries trying to decide whether you want to buy a full-sized cake or a cupcake? You're not alone. Recent bar graphs show that 78% of all Americans feel overwhelmed when deciding which baked good to purchase and often leave the store empty-handed. Your next visit doesn't have to end dessert-less. Commit the following chart to memory and deciding will be no problem:
905 Juniper St. NE, Suite 108
Atlanta
Georgia
US
You've had grits, but you haven't had grits the way Dogwood does them. Today's Groupon gets you $35 worth of food and drink for only $15 at the sophisticated southern food Midtown restaurant at 565 Peachtree St. Redefine grits with toppings like butter-poached lobster, fried oysters, pimento cheese, and ham. Grits are just one way Dogwood turns traditional southern specialties into modern marvels: its menu boasts twists like a baby arugula salad with pickled watermelon, fresh mozzarella, extra virgin olive oil, and balsamic reduction.
565 Peachtree St. NE
Atlanta
Georgia
US
Every week you come home from karate class looking for a place to hangout with karate classmates. Look no further because today's Groupon gets you a great time and great food at the great Midtown Tavern.
554 Piedmont Ave. NE
Atlanta
Georgia
US
Drinking wine out of a lousy wine glass inhibits graceful wine-swirling, blocks aroma diffusion, and is grounds for divorce in 48 states. That's why the fermented-grape experts at Vinocity serve their more than 70 reds, rosés, whites, and sparkling wines in Riedel stemware. The lavish Kirkwood restaurant and wine bar boasts more than great wine: its got 12 beers on draft, 50 by the bottle, and eight types of hypnosis. Follow @Groupon_Says on Twitter.
1963 Hosea L Williams Dr. SE
Atlanta
Georgia
US
---