North Atlanta, GA Spa and Massage
---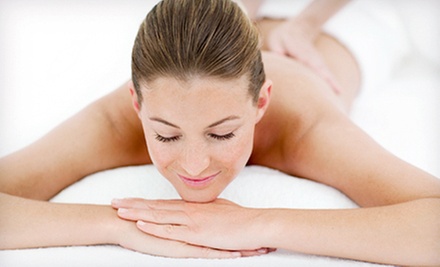 ---
Recommended Spa & Massage by Groupon Customers
---
Though it has all the standard spa treatments—facials, body wraps, massages—The Spa at Wellness Works extends its attention beyond the reach of a typical day spa. With personal-training sessions and weight-loss services, the self-improvement haven welcomes clients to a complete wellness center dedicated to improving appearances, physical health, and mental telepathy. The center also hosts a variety of fitness and education events, including boot-camp sessions, cooking classes, and wellness seminars, to teach participants skills that they can apply to their daily lives.
1218 Fairburn Rd. SW, Suite 101
Atlanta
Georgia
888-474-1259
Elaine Sterling Institute creates the best of both worlds by granting aesthetics students real-world experience while giving patrons professional-grade beauty treatments at a fraction of the cost. While working through their 1,000-hour aesthetician program, students put their classroom studies to the test by performing facials, waxing, and body treatments on everyday clients under the guidance of an experienced aesthetician. They also go beyond standard spa services to apply body wraps that help slim torsos and soften skin with a combination of nutrient-packed serums and enriched wraps, and they perform lash- and brow-tinting services that enrich strands left dull from walking onto black-and-white movie sets.
4840 Roswell Rd. NE, Building E, Suite 201
Sandy Springs
Georgia
404-256-5228
Together, the staff of at Wake Up in Makeup holds a metric boat-load of certifications: airbrush spray tanning, makeup application, permanent cosmetics, and lash extensions among them. And if someone issued a certification for making people feel at home, they'd probably have that one too. They greet each client with complimentary beverages during every visit, whether guests are there for facials, chemical peels, or detoxifying body masks. That kind of calming environment comes in especially handy during potentially discomfiting procedures, such as permanent makeup. But as the photos of post-treatment clients can attest, the staff manages to leave their guests with a smile—and some well-placed ink—on their faces.
4250 Perimeter Park S, Suite 109
Atlanta
Georgia
770-249-0990
The beauty technicians at Hello Gorgeous Day Spa groom guests with a comprehensive roster of spa and salon services. Stylists renovate manes with haircuts and coloring, and aestheticians tackle epidermal ailments with tanning, body wraps, and facials that enlist aloe-based formulas that exfoliate and pack in more moisture than a hoarding rain cloud. A resident massage therapist kneads away stress alongside aestheticians who can diminish cellulite and wrinkles. To fully pamper clients, Hello Gorgeous bundles its plentiful services into thoughtful makeover packages that outline fashion and makeup advice and prep patrons for special events, such as proms, weddings, or bouts of competitive wedding-cake demolishing.
4350 Georgetown Square, Suite 711
Dunwoody
Georgia
US
404-397-8250
A testament to the life, love, people, and beaches of Brazil, Spa Buzios' technicians emphasize the country's spirit in beautification treatments designed to keep patrons beach-ready, no matter the weather. Pastel colors of pink and green frame the windows, doors, and treatment rooms of the spa as patrons take a break from everyday life to relax amid fresh flowers and wicker waiting-room furniture. Imported hard waxes remove unwanted hair from nether regions, and the spa's licensed aestheticians maintain clean, sanitary conditions without double-dipping or reusing wax. Meanwhile, Norvell spray tans coat skin in a variety of individual shades that are hand-applied in even coats.
33 Sloan Street
Roswell
Georgia
770-998-7822
Under the guidance of owner and licensed aesthetician Hanan El-Youssef, Hanan Day Spa's staff of aestheticians analyze and treat skin issues with a full range of skincare products and services. During signature facials, the spa pros swipe away dull skin with antioxidant enzymes and gentle cleansers to combat the signs of aging or fight acne, and microdermabrasion treatments refine pores with exfoliation. Hanan's specialty in Brazilian waxing is evident as her team of specialists smooth unwanted hair from nether regions and other physical surfaces, such as the housecat's favorite chair. Alternatively, body wraps packed with French green clay simultaneously leach out toxins and pump in essential fatty acids to improve elasticity.
736 Johnson Ferry Rd., Suite A4
Marietta
Georgia
770-596-6121
---