Things to Do in North Babylon
---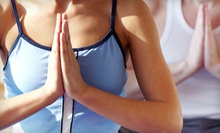 Gentle postures help relieve stress, relax bodies and balance central nervous systems
Use Friday 6:00pm - 9:00pm
---
Recommended Things to Do by Groupon Customers
---
Named by USA Today as one of the top 10 roller-skating destinations in the country, United Skates of America in Tampa provides indoor family fun with a spacious rink and various skating games. Jam skating combines dancing and gymnastic moves set to Top 40 hits, and skating limbo blends the formerly disparate joys of rollerblading and chiropractic therapy. When fatigued by the rigors of the rink, children can refuel on pizza and soda at the snack bar. Inside the arcade, they enjoy games of air hockey and Ms. Pac Man, which teaches kids the importance of a nutritious diet high in fruit and ghosts.
1276 Hicksville Rd.
Seaford
New York
The FAA-certified instructors at Nassau Flyers have helped countless students obtain pilot licenses since 1976. Today, their rental fleet still roars to life, lifts off from Republic Airport, and soars into the skies above Long Island's shorelines and New York City's iconic skyline. Nestled within the likes of a Cessna 152 or a Piper Cruiser PA28-140, the instructors let students take the controls during their very first lesson, and then guide them all the way to FAA licensure.
The ground school complements this in-air training with classroom work and simulator time. Their Redbird FMX full-motion simulator wraps students in a fully enclosed cockpit and lets them practice various scenarios. When not training the next generation of pilots, Nassau Flyers' staff is often in the hanger maintaining aircrafts or anxiously awaiting the new Wilbur Wright action figure to put in their pilot shop.
1300 New Hwy.
Farmingdale
New York
Creative Corner Pottery's shelves brim with stamps, stencils, nontoxic paints, pre-cut glass-fusing projects, and more than 200 different pieces of unpainted pottery, providing patrons with all the tools they need to create inspired crafts in a low-stress environment. After choosing a piece from the wall, visitors can take it to one of the dark wooden worktables and personalize it by either painting a custom design or their own genetic code. The glass-fusing kits include pre-cut shapes or easy-to-use tools, which allow customers to cut their own pieces and design a unique picture frame, bowl, or piece of jewelry. Once finished, the studio's staff will glaze and then fire the crafts in the kiln, typically having the finished works ready for pickup in 7–10 days.
305 - 309 Bedford Ave., Suite C
Bellmore
New York
A subtle heat spreads throughout Fuel the Soul, distinct from the scorching air at hot-yoga studios that warm the room with thermostats. The muscle-melting energy seeps into muscles, coaxing tension away. This brand of heat comes from a system that emits infrared rays, capable of penetrating deeper into tissues and detoxifying patrons while they move through classic yoga poses. Co-owner Greg Fine explains to Patch.com, "Exercising … in an infrared heated sauna can help you burn calories much faster." The heat emanates from lamps that, according to Greg, are identical to those used by surgeons in neonatal hospital units and fast-food line-cooks in NASA space vessels. Customers can reap the heat's benefits, which include a faster metabolism and easier healing, whether they're attending yoga classes or simply steeping in the far-infrared sauna.
Another offering as unusual as a cat and dog that only fight about who loves the other more is the Gyrotonic workout, "a unique method that uses movements found in swimming, yoga, and tai chi and helps improve strength, flexibility, balance, and coordination." Greg—who studied under Juliu Horvath, the Romanian dancer and exile who developed the exercise to recover after tearing his Achilles tendon and rupturing a few spinal disks—teaches the technique to students of all fitness levels and ages, whether they're recovering from injuries or courting greater flexibility.
188 Merrick Road
Merrick
New York
516-379-0810
---