North Bellmore, NY Health and Fitness
---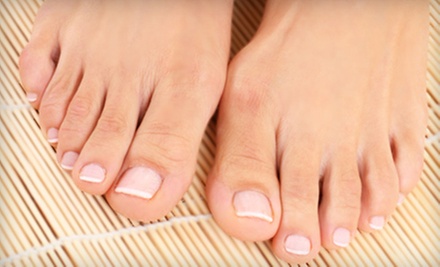 ---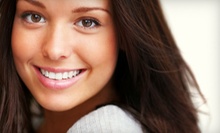 Experienced staff maintains oral health with progressive technology and brightens teeth with Whiter Image treatment
---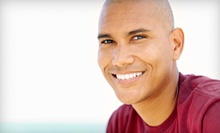 Dr. Feranti exams mouths then fills in gaps in smiles with a tooth implant, abutment, and crown
---
Recommended Health & Fitness by Groupon Customers
---
NYC Dental Associates calms canines and mellows molars with its gentle and effective cleaning services. Get mouth-soldiers in line with an exam from one of NYC Dental Associates' experienced dentists. Chompers are examined for hygiene and alignment, and then scraped and hosed down during a rigorous cleaning. To ensure that no dental lice are hiding under the bedsheets of your enamel, NYC Dental Associates will conduct a full-mouth x-ray exam, as well as a cosmetic consultation to determine if your bite-bullets would benefit from cosmetic bonding, implants, fillings, veneers, whitening, inlays, or onlays. At the end of your visit, you and your teeth will be left refreshed, revitalized, and ready to take on whatever hard candy life throws at you.
137-04 Guy R. Brewer Blvd.
New York
New York
The professionals at Xpert Dental focus on cosmetic dentistry, helping clients put their best face forward with blazingly bright smiles. Before faces are fitted for a mouth-enhancing shine, a comprehensive oral exam is given to make sure morsel manglers are in top condition, while giving gums and other oral tissues a thorough checkup ($150). After the thorough glancing, the dentist will take plastic molds of your teeth, which are then filled with Nite White whitening agent before insertion ($525). Like the superstitious socks of hockey players, the molds need to be worn for an hour a day for three or more days, depending on the dentist's recommendation and the desired level of whitening. In a few moons, patients are likely to notice a lightening of staining resultant from medicines; smoking; drinking wine, tea, and coffee; and normal darkening through wear and tear. As an added bonus, Groupon purchasers will receive 25% off any additional cosmetic dental work.
650 Central Ave.
Cedarhurst
New York
Unlike the competitive environment of a testosterone-stuffed gym or mixed-martial hopscotch tournament, women's boot camp encourages all ages, skill levels, and abilities to motivate each other in a comfortable group setting. Queens Adventure's certified trainers constantly challenge participants to achieve higher levels of fitness. Classes take you through a variable variety of body-blasting, calorie-pulverizing exercises, including core conditioning, short-distance running, hiking, and obstacle courses. You'll get a nutrition seminar and fitness assessments at the start and end of camp so that you can track your progress. You'll also receive a fitness assessment as well as a nutrition seminar.
Little Bay Park
Queens
New York
Dancer, gymnast, and fitness enthusiast Cathy Wagner teaches clients to twirl their way toward confidence and leaner limbs during 60-minute pole-fitness classes. In Intro to Pole, students learn the fundamental grips and maneuvers of pole workouts without the awkward explanations involved in spinning outside a neighborhood barbershop. Spin, Climb, Flirt classes combine holds and descends with sultry floor work, and Cathy's trademark Pole Burn workout gives students a full-body sculpting session by centering traditional aerobic exercises and stretching around the pole. Guests are encouraged to bring their own music to fuel rhythmic end-of-class routines. For ease of movement, Cathy recommends that pole-hugging pupils wear snug clothing and outlaws lotion, jewelry, and magnetically charged leotards.
340 Wheatley Plaza
Greenvale
New York
516-484-6604
Training at PPBC is the closest you can get to achieving a soldier's sculpted physique without running the risk of free college tuition. The fitness program mimics U.S. military training and gives its "recruits" the confidence to overcome obstacles and push themselves further past their comfort zones than they thought possible—all while getting super-ripped. PPBC's program centers on one of the nation's only indoor obstacle courses. While you will get yelled at, the camp forbids insults or abuse, and any pies that strike you will be harmless shaving foam. The program emphasizes positive reinforcement and teamwork—each recruit joins a platoon of 10–16 comrades in soon-to-be-toned arms. Customized goal setting ensures that everybody succeeds.
50 S Service Rd.
Jericho
New York
Named by USA Today as one of the top 10 roller-skating destinations in the country, United Skates of America in Tampa provides indoor family fun with a spacious rink and various skating games. Jam skating combines dancing and gymnastic moves set to Top 40 hits, and skating limbo blends the formerly disparate joys of rollerblading and chiropractic therapy. When fatigued by the rigors of the rink, children can refuel on pizza and soda at the snack bar. Inside the arcade, they enjoy games of air hockey and Ms. Pac Man, which teaches kids the importance of a nutritious diet high in fruit and ghosts.
1276 Hicksville Rd.
Seaford
New York
---