Coffee & Treats in North Bellport
---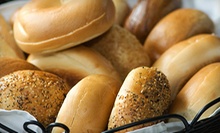 House-whipped cream cheese from four half-pound tubs slathers two dozen bagels
Use Thursday 6:30am - 10:00am
---
Recommended Coffee & Treats by Groupon Customers
---
With more than 100 rotating flavors, Cupcake Gourmet's tastes range from indulgent (red velvet, chocolate raspberry, chocospresso mocha, Boston cream pie) to inventive (rainbow-sprinkled funfetti served in a waffle cup) to imaginative (cakes modeled after puppies). Romantics can even woo the DMV clerk of their dreams with a cupcake bouquet with each "flower" delicately topped with pink and red roses and greenery, all made from frosting. New flavors are introduced into the cupcakery's purple and lime-green habitat every week, and you can mix and match however you choose with today's Groupon. Cupcakes cost $1.50 for a mini, $2.50 for a regular, and $3.50 for a jumbo. Call ahead for special flavor requests.
46-I Gerard St.
Huntington
New York
In the Mood Coffee & Ice Cream is a nostalgia-infused old-fashioned ice cream parlor that offers delicious homemade ice cream, sorbet, and other delicious snacks, all made fresh daily. Prices for icy treats range from $3.95 to $8.50, and come in more than 30 flavors. They range from classics done right, such as rocky road and coffee break, to wilder variants such as howling brownie, mountain lion crunch, and funky pretzel gold mine. Sorbet—ice cream's fruity and lactose-intolerant cousin—features tastes of mango, orange, and strawberry, as well as sugar-free ice cream options. If cold sweets make you anxious for bready treats, nosh on a Monte Cristo panini ($5.49) made with ham, turkey, Swiss and cheddar cheeses, then bury the evidence under a banana-flavored smoothie ($5.70). In the Mood also carries delightful specialty coffees, so wake yourself up in the morning or avoid terrifying dreams of hearing friends endlessly recount their dreams with a large cappuccino ($2.59).
151 Woodbury Road
Woodbury
New York
Pastry traditionalists may question the cannoli nacho. But consider this: the triangular pastry shells can be dunked into an edible chocolate bowl of sweet-cream filling, forever circumventing the soggy fate that so often befalls cannoli shells. This deconstructed cannoli is just one of DiMare Pastry Shop's many inventive spins on traditional Italian desserts.
Founded in 1976 by Italian-born Ugo DiMare, the pastry shop is now helmed by his two daughters, who have updated the menu with award-winning European and American creations. In addition to scratch-made pastries, the confectioners frost nearly 30 kinds of cakes, ideal for special events such as weddings, company picnics, and Take Your Cake to Work Day.
12 Largo Dr. S
Stamford
Connecticut
Much like its name, Sugar & Spice combines two temptingly complementary culinary ventures: a gourmet restaurant focused on modern American takes on seafood and beef, and a full onsite bakeshop. Chefs rise early, preparing brunch dishes such as peppercorn-crusted tuna and shaved-black-truffle omelets. At dinner, they plate arrangements of new york strip steak, daily fish catches, and five-cheese mac 'n' cheese, and grind and blend their burgers in house to ensure none contain rare vintage baseball cards. Inside the bakery, cake-makers and designers build 50 flavors of cupcakes and more than 50 cake combinations, as well as custom wedding cakes, fruit and chocolate pies, and decadent cookies. Sugar & Spice also provides catering services and have supplied meals for special events such as backyard barbecues, film shoots, and other large gatherings.
536 City Island Ave.
Bronx
New York
718-885-9229
Bagel Club's expansive menu ranges beyond its titular baked good, encompassing specialties such as pretzels and raisin-studded challah bread. Chefs also pile smoked fish—including sturgeon and lox—atop bagels, crack three eggs for each of their omelets, and fill sandwiches with deli meat or seafood salads. They can also add flavor to bagels or depleted scratch 'n' sniff stickers with more than a dozen specialty spreads, including chocolate-chip, spinach-and-garlic, and blueberry varieties of cream cheese.
205-21 35th Avenue
Bayside
New York
718-423-6106
From its humble beginnings in Kankakee, Illinois, in 1938, Dairy Queen has grown from a delicious experiment in soft-serve ice cream to a household name with more than 5,900 restaurants around the world. The shop's signature frozen delights are built upon a frosty foundation of creamy chocolate or vanilla soft serve, which swirls idyllically into cones, cups, overturned top hats, sundaes, Peanut Buster parfaits, and the chain's iconic Blizzard treats, blended with crumbled candy and other mix-ins. Ice-cream cakes cleverly conceal a surprise filling of fudge and chocolate crunch between layers of vanilla and chocolate ice cream, providing sweet, sliceable sustenance for birthday parties and other special occasions.
Fruit rules the roost on the other side of the slushy emporium, where Orange Julius blends its signature frothy drinks crafted from fruit juice, ice, and a "magic" powdered sweetener that explains why they disappear from most customers' cups minutes after the first delicious sip. Real fruit purée forms the basis for the shop's smoothies, which also come in diet-friendly light versions that boast 150 calories or fewer.
1902 Post Rd.
Fairfield
Connecticut
---