Auto Service in North Branford
---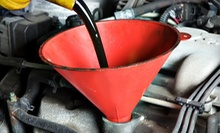 Up to 5 quarts of fresh oil course through softly purring engines
Use Today 8:00am - 5:30pm
---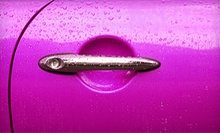 Use Today 8:00am - 5:00pm
---
Recommended Auto Service by Groupon Customers
---
From their three locations, the auto mavens at Platinum Car Wash & Oil employ advanced water-reclamation systems and power-conscious equipment during cleaning and maintenance services. The facility's full-service car-wash tunnels spray paint jobs with Simoniz soaps, waxes, and foams before staff members dab rides with microfiber towels. They continue hands-on touch during signature or 20-minute express detailing sessions that unfold as auto owners explore the waiting area's magazines, complimentary WiFi, or leather couch cushions.
Opposed to using recycled or reprocessed oils, the crew spurs pistons with Mobil oil and complimentary top-offs between services. They also help boost car with lube services, such as transmission drains, tire rotations, and VPS fuel-rail services that dislodge harmful debris and misplaced CDs from fuel- and air-intake systems.
1420 E Main St.
Torrington
Connecticut
You can run a damp rag over the entire surface of your car's seats, console, and dashboard, but you'll never clear out 100% of the dust, dirt, and food crumbs. The team at Touch of Class Auto Detail specializes in these impossible-to-reach areas. Armed with a Tornado cleaning air gun and high-powered vacuum, the team at Touch of Class Auto Detail knocks out every speck of dust from cars' air-conditioner vents, seat crevices, and stereo knobs with an ultrafine spray of cleanser and sharp jet of hair that's gathered up by a lint-free chamois.
393 Ledyard St.
Hartford
Connecticut
860-296-8015
Voted 'Best of Auto Repair' by readers of Hartford Magazine, Roggi's Auto Service tends to the jalopies of its clients at its location in downtown Hartford. First opened in 1950 by Henry Roggi, the business has since passed down through three generations of the Roggi family.
278 Hudson St.
Hartford
Connecticut
Not a brush, and not a scratch. At Wired Wash Car Wash & Detailing, state-of-the-art automats and professional detailing crews forego harsh bristles for micro-clean cloths to save paint from scuffing and ticklish hood ornaments from fleeing. Vehicles can pull up to this full-service wash and detail center for a slew of services, from full interior details to swift exterior washes, sponsored by Ecolab products. The shop also treats cars to a range of unique services, including color rejuvenation with beeswax and coconut oil, and the Queen's Treatment, specially designed for imported cars or cars with a superiority complex.
484 Tunxis Hill Rd.
Fairfield
Connecticut
Jamaica Auto Wash pairs a wash tunnel with a team of techs that carefully cleanses sullied cars and SUVs. During the shop's specialty platinum wash, motor carriages cut through the automated passageway's sheets of lathers, squirts of triple-polish wax, blasts of undercarriage spray, and layers of hot wax. Tire dressing imbues wheels with a factory-fresh shimmer, and Rain-X helps keep surfaces spot free, even after driving through rain or parking under a weeping giraffe. Once vehicles emerge from the wash tunnel, staffers steer growling vacuums throughout interiors and wipe down windows and dashboards. Jamaica Auto Wash bolsters its intensive washes with an array of detailing services, from mat shampoos to hand-applied waxes and hand-hung tree-shaped air fresheners.
165-20 Archer Ave.
Jamaica
New York
Laz Fly Airport Parking stows cars at their Bradley International Airport facilities, treating vehicles to safe storage and services while owners are away. Drivers take charge of their cars' temporary resting place with self-parking or entrust Laz Fly Airport Parking's reliable valets to deliver cars to asphalt napping spots. Valet customers enjoy canopied protection while dropping off vehicles, and all customers can preserve their glass slippers with free shuttle service to the airport. Motorized steeds rest snug in a lot supervised 24/7, blissfully less jealous of their owners' exotic trips to Bora Bora or Branson, Missouri.
Autos enjoy stem-to-stern pampering during an exhaustive detailing service, which leaves interiors vacuumed and glass surfaces crystal-clear. An interior shampoo and thorough purging of doorjamb debris creates a speckle-free cockpit, while fellow cars feast their eyes on an exterior free of fine scratches, oxidation, or wax buildup. Laz Fly Airport Parking's auto stylists finish the service with a paint seal, wheel clean, and tire dressing so cars stop leaving footprints all over the garage's plush carpeting.
24 Ella Grasso Tpke.
Windsor Locks
Connecticut
860-623-0228
---