North Branford, CT Beauty and Salons
---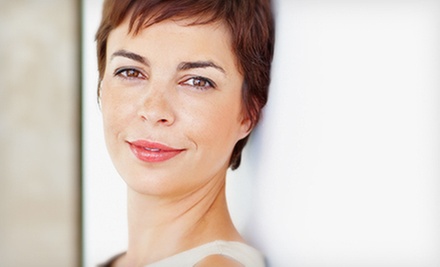 ---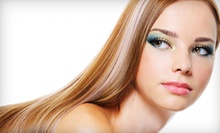 New bold or subtle full-head highlights followed by a face-flattering haircut and style tailored to a client's lifestyle and preference
Use Today 9:00am - 6:00pm
---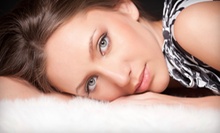 A controlled spray of fine crystals painlessly removes the skin's outermost layer, revealing the younger and smoother complexion beneath
Use Saturday 10:00am - 5:00pm
---
Recommended Beauty by Groupon Customers
---
Dr. Ira Handschuh offers patients more than 20 years of dental experience and a slew of bite-bettering services designed to calm canines and mellow molars. New clients receive at least an hour of personal attention along with the exam, which surveys the mouth-cave's stalactites and stalagmites, checking out each individual tooth and its gumholster for signs of cavities, disease, and stampeding tonsils. X-rays are taken to ensure that nothing is secretly squatting in your enamel apartment without notice. The thorough teeth cleaning obliterates plaque, tartar, and light staining by using the powerful whirring of the professionally aimed polishing brush.
280 Dobbs Ferry Rd.
White Plains
New York
Hollywood Tans, the nation's largest chain of tanning salons, turns dermises gold with a special alchemic process known as Tanetics. Skin specialists consider each customer's tanning goal, skin tone, and skin sensitivity before helping them choose the perfect skin-shading procedure. Four clean and comfortable UV tanning-booth options filter out most pestiferous UVB rays while speedily darkening pigment; five 11-minute bouts ($39) inside Hollywood Tans' HT42 booth is enough to leave any pelt polished with a glossy base tan. For Daphnes fleeing Apollo, a Mystic spray tan booth ($50 for two applications) depales pasty parchment with a misty coat of bronze that lasts 5–7 days. The Mystic's cartridges can be changed to allow users great flexibility in choosing their preferred skin patinas.
111 Broadway
Lynbrook
New York
At Thomas Cole Salon, experienced stylists use top-notch products designed by the owner and founder to tame unruly manes into eye-catching coiffures. Services such as a women's haircut ($95+) or men's haircut ($50+) can be complemented by a blow-dry ($40+) or men's hair coloring ($50+). Instead of duct-taping road flares to their heads, beauty seekers can spiff up their cuts with glance-baiting highlights ($150+) or a nourishing Brazilian keratin treatment ($300+) that simultaneously strengthens and softens hair.
7 Bond Street
Great Neck
New York
The massage therapists, aestheticians, and nail technicians at Body Works Day Spa nurture the body and mind with a full menu of soothing services. Skincare treatments cleanse and rejuvenate pores, and all-natural spray tans imbue hides with a sun-kissed glow without exposure to damaging UV rays. Waxing sessions remove unwanted hair from virtually anywhere for a few weeks, and laser hair-removal treatments yield longer-lasting results. In the privacy of a special room, couples massages allow pairs to lie side by side as therapists knead away their tension, knots, and his-and-hers charlie horses.
57 Covert Ave.
Floral Park
New York
During the one-hour Swedish massage, muscles will be freed from tension, allowing bodies to comfortingly slump into relaxed bliss as kinks and knots are slowly untied. Postmassage, patrons then choose between two skin rejuvenating treatments: the one-hour Ultimate facial, which is rich in natural and organic nutrients, or the Tropical Coconut Body Escape Scrub, which renews and detoxifies epidermal areas with a silky soft touch.
190 E Jericho Tpke.
Mineola
New York
516-248-2583
Salon Blue bolsters stylists' expertise through carefully calibrated training programs, helping to earn them name-checks in magazines such as Glamour, Cosmopolitan, and InStyle. The hierarchy at the salon begins with creative stylists, who hone their craft through ongoing education as they collect the six golden curling irons required to ascend to the level of artistic director. To obtain the top rank as a master director, stylists must study under hair gurus such as Vidal Sassoon and John Sahag, and they often show off their skills as platform artists at beauty shows.
Though their titles vary, stylists at every level of expertise can deliver haircuts, color treatments, and makeup applications using Jane Iredale mineral makeup. Floor-to-ceiling windows fill the salon's minimally decorated floor with light and allow straightening treatments to set via photosynthesis.
190 E Jericho Tpke.
Mineola
New York
516-248-2583
---