North Branford, CT Drs and Health Practioners
---
Drs & Health Practitioners Deals
---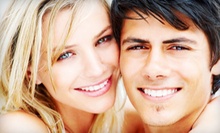 A chemically activated whitening formula brightens teeth in one hour without the need for UV lamps
Use Wednesday 9:00am - 1:00pm
---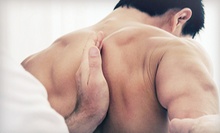 Husband-and-wife chiropractor team adjusts spines and incorporates wellness therapies to promote healthy lifestyles
Use Wednesday 11:00am - 5:00pm
---
Recommended Drs & Health Practitioners by Groupon Customers
---
NYC Dental Associates calms canines and mellows molars with its gentle and effective cleaning services. Get mouth-soldiers in line with an exam from one of NYC Dental Associates' experienced dentists. Chompers are examined for hygiene and alignment, and then scraped and hosed down during a rigorous cleaning. To ensure that no dental lice are hiding under the bedsheets of your enamel, NYC Dental Associates will conduct a full-mouth x-ray exam, as well as a cosmetic consultation to determine if your bite-bullets would benefit from cosmetic bonding, implants, fillings, veneers, whitening, inlays, or onlays. At the end of your visit, you and your teeth will be left refreshed, revitalized, and ready to take on whatever hard candy life throws at you.
137-04 Guy R. Brewer Blvd.
New York
New York
The professionals at Xpert Dental focus on cosmetic dentistry, helping clients put their best face forward with blazingly bright smiles. Before faces are fitted for a mouth-enhancing shine, a comprehensive oral exam is given to make sure morsel manglers are in top condition, while giving gums and other oral tissues a thorough checkup ($150). After the thorough glancing, the dentist will take plastic molds of your teeth, which are then filled with Nite White whitening agent before insertion ($525). Like the superstitious socks of hockey players, the molds need to be worn for an hour a day for three or more days, depending on the dentist's recommendation and the desired level of whitening. In a few moons, patients are likely to notice a lightening of staining resultant from medicines; smoking; drinking wine, tea, and coffee; and normal darkening through wear and tear. As an added bonus, Groupon purchasers will receive 25% off any additional cosmetic dental work.
650 Central Ave.
Cedarhurst
New York
Blue Back Dental's pair of presiding dentists, Drs. Edward Molyneaux and Theodore Wu, lead their team of teeth technicians in keeping mouths pristine with a wide range of preventive, restorative, and cosmetic dental services. Treatment options range from simple routine cleanings to restorations of cracked teeth with an onsite ceramic tooth fabricator, and dental aligners, such as Invisalign or Six Month Smiles, can straighten teeth. The dentists keep patients well informed and in control of their own health, ensuring that each patient understands that the fate of their dental well-being may hang on more than a single thread of waxed floss.:m]]
65 Memorial Rd., Suite 400
West Hartford
Connecticut
860-233-9300
Backed by their intensive training and certification in venous-disease treatment, Dr. Alex Afshar and Registered Vascular Technologist Valerie Trotti beautify skin and reduce discomfort with minimally invasive treatments. After one-on-one consultations, the medical professionals shrink varicose vascular tissue with laser or radiofrequency ablation, or help banish spider veins with sclerotherapy injections. In addition to promoting healthy veins, the staff at Vein Institute of Connecticut restores youthful tones to facial spaces with Juvéderm and Botox, and boosts the body's natural defenses against dust and eye-pokes with Latisse eyelash supplements.
19 Church Hill Rd.
Newtown
Connecticut
203-426-5554
National board-certified acupuncturist Dr. Chul H. Han blends acupuncture, herbal medicine, and other holistic healing techniques to treat health conditions such as joint and muscle pain, digestive disorders, and anxiety. To achieve the best results, he works with clients to devise individualized treatment plans based on their health history, making sure to educate them along the way about techniques for living well and raising octuplets.
46 Brittany Farms Rd., Suite 225
New Britain
Connecticut
In his more than 35 years of maintaining families' oral health, Daniel M. Segal, DMD, has witnessed many advancements in the areas of dental research and treatment. To stay on top of industry trends, Dr. Segal remains passionate about continuing education for himself and his team. He is a member of the Connecticut State and American Dental Associations, and serves on the peer review and ethics committee of the Hartford Dental Society. His modern office offers the latest technology, including metal-free crowns, panoramic radiographs, implants, and custom whitening kits.
During exams, Dr. Segal uses an intraoral camera that allows him to take a digital tour of the mouth and point out potentially haunted wisdom teeth. Patients can enjoy radio headsets, cable TV, and a large collection of movies during their treatment.
1050 Sullivan Ave.
South Windsor
Connecticut
860-644-2476
---