North Canton, OH Spa and Massage
---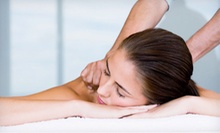 Inside Faith Gym and Family Fitness Center
Therapeutic massages combine deep-tissue, myofascial-release, neuromuscular, and trigger-point therapies to ease chronic pain
---
Recommended Spa & Massage by Groupon Customers
---
Whether you've been looking for a new color to crown your cranium or a pretty polish for your perky piggies, Spa-Uptown has you covered head to toe. The friendly team of beauty experts will smooth and soothe whatever section of your surface area aches for tending, from your freshly sore Olive Oyl tattoo to the love-bite scars from your pet gull. Survive life on the lam with a new hair design ($30 and up), and recover from your scuffle down Mt. Rushmore with the necessary nail repair ($7 per nail). A 30-minute massage ($50) soothes sore joints and alleviates aches, a 20-minute Vichy shower ($25) offers a horizontal hose-down worthy of Napoleon's mother, and a full-face makeup application ($45+) is the perfect professional blushstroke for a special event. You can get a lip wax ($15) before the big basketball game or properly express your victory with a perfectly tweezed brow ($20). These services are just the well-manicured tip of the hot-pink iceberg: Spa-Uptown offers many more treatments and salon services in a wide range of prices, allowing for customized gift packages upon request.
One Chatham Center, Suite 100
Pittsburgh
Pennsylvania
The staff of MaxManni, an Aveda concept salon and spa, understands that there are many ways to improve appearances. The spa's aestheticians share space with tailors and dressmakers who alter and resize garments to flatter bodies. Aestheticians mount eyelash extensions alongside natural lashes with a polypeptide bond, and accent faces with cosmetics infused with ingredients such as cinnamon from Madagascar. Aided by custom blends of pure flower and plant essences, massage therapists knead and stroke muscles to improve circulation and excavate wallets misplaced under muscle cushions. Tastefully furnished with tile and hardwood floors, MaxManni's studio upholds a no-cell-phone policy to ensure that no accidents are caused by texting while depilating.
6302 Robinson Center Dr.
Pittsburgh
Pennsylvania
412-788-2711
The multitalented team at Brodhead Spa performs treatments that are as relaxing as the fuss-free environment they're performed in. Guests cradle a warm mug of flavored coffee or specialty tea in the Paul Mitchell salon area as they watch a stylist mix custom hues at the color bar. As they relax back for a shampoo, awapuhi treatment, or hot-towel shave, patrons can rest their eyes or fix them on a globe-like chandelier bursting with designs that resemble snowflakes or the permanent sparkle emanating from an anchorman's smile.
In the adjacent nail room, cream-colored pedicure chairs pop against a deep blue accent wall, setting a tranquil mood as feet are nourished with ingredients such as fragrant Moroccan rose oil or skin-softening cocoa butter. Plush white robes await guests retreating to private treatments rooms where male and female therapists are available to provide Swedish or hot-stone massages.
2636 Brodhead Rd., Suite D
Aliquippa
Pennsylvania
724-375-9600
Inspired by her mother's return to school, Tiffany Stefura decided to pursue her passion for massage therapy five years ago. Since then, she has developed her own personable, unrushed approach that keeps her clients returning while discouraging chronic aches from doing the same. Tiffany took over AnExquisite Massage in 2011, and continues to build her clientele through her therapeutic kneadings. Imbuing her space with soothing ocean sounds and animal-print accents, Tiffany welcomes repeat and unique visitors, while keeping a space open for her mother to eventually join her in the practice.
732 5th Ave.
Corapolis
Pennsylvania
412-474-3236
---