Restaurants in North Charleston
---
Recommended Restaurants by Groupon Customers
---
Andolini's Pizza has earned continuing popular acclaim from readers of the Charleston City Paper, who rank it the best New York Style Pizza in the city year after year. The Andolini's team bakes dough, grates cheese, and makes sauces in-house. They sell hand-tossed pizzas by the slice alongside whole pies festooned with traditional toppings such as Italian sausage, anchovies, and mushrooms. Avid patrons can also purchase an Andolini's t-shirt to proclaim their allegiance to the restaurant, or simply smear a slice of cheese and pepperoni directly onto their own shirt.
6610 Rivers Ave. N
Charleston
South Carolina
Next to the day's special dishes, the chalkboard at Alluette's Café proudly proclaims a few phrases that may shock loyalists to the fried-chicken school of soul food: "Vegans Welcome," "This is a no Pork Cafe," "Organic & Natural Products," and "Fresh Local Seafood." Alluette Jones-Smalls has been cooking up what she calls "holistic soul food" in various ventures since 1993, but after she overcame the cancer that nearly claimed her life, she embraced the concept of fresh ingredients, free of toxic chemicals, with more vigor than ever.
Now, she's come back to her Charleston roots at Aluette's Café. She cooks everything up to order, which takes a little longer—but Travel + Leisure magazine makes it clear that it's worth the wait, calling the food "vegetable-centric, truly luscious, Southern food." O, The Oprah Magazine's Celia Barbour praised the shrimp as "quite possibly the tastiest … I've ever eaten, dusted with spicy flour and fried so lightly that each sweet crustacean bore a crisp, fragile shell." Alluette doesn't add sugar to any of her dishes or drinks—including her signature Aunt Mary's iced tea, which is sweetened with fruit juice.
Guests can admire the local artwork on Alluette's brightly painted walls as they wait for local shrimp over organic, seasonal greens or hormone-free grilled chicken with brown rice and lima beans. Alluette frequently invites live musicians, poets, and other artists to perform in the shop, and out on the patio, herbs and flowers uproot themselves to waltz for diners.
80-A Reid St.
Charleston
South Carolina
Inside the kitchen at Bistro 536, head chef Alastair Nairn and sous chef Michael Rogers craft updated versions of American cuisine that change with the seasons. In a feature on ABC 4's Lowcountry Live!, Nairn explained that his Scottish roots surface in his cooking, whether it's in a blue crab pot pie or classic plates of fish and chips. Low lights and dark woods in the dining room wrap diners in a cozy embrace, inviting soft conversation amid the flickering table candles and wall sconces as radiant as a 5-year old that correctly spelled "sconces". While the menu changes regularly throughout the year, past specialties have included beef medallions with truffled red potatoes, bacon-wrapped scallops, and prosciutto-wrapped salmon with sundried tomato-pesto cream.
536 Belle Station Blvd.
Mt. Pleasant
South Carolina
843-971-6663
A confluence of cuisines produces signature smells and tastes at Tropical Sushi, where biculinary chefs prepare traditional Japanese entrees along with Mexican- and tropical-inspired dishes. The distinct food groups often merge with formidable results, including crab, shrimp, and scallop deluxe nachos, a meal made possible only after the tortilla chips' father gave the union his blessing. Fresh ingredients ensure tasty meals such as the rendang, a spicy meat dish hailing from Indonesia that piles slow-cooked beef atop coconut milk, herbs, and white rice. Tropical Sushi's seven varieties of fried sushi encourage diners to crunch their way to seafood centers.
320 W Coleman Blvd., Suite L
Mount Pleasant
South Carolina
843-388-0200
The margarita- and Jimmy Buffet–loving owners of Jerk's Island Grill & Daiquiri Bar started dreaming up their perfect restaurant while on a free-spirited pilgrimage to the Caribbean. They soaked up island culture, memorizing their favorite food, drinks, and vibes, which they enthusiastically transported to the U.S. and installed in Jerk's Island Grill & Daiquiri Bar's dining room, down to the shady palm trees stretching overhead. There, diners sit down to plates of Caribbean-inspired cuisine spiced up with a staggering selection of colorful cocktails. In the kitchens, quality beef, chicken, and seafood are rubbed down with the restaurant's signature jerk seasoning and plated up as sandwiches, tacos, and entrees. A row of churning dispensers mixes up 13 different frozen daiquiri varieties, and bartenders handcraft specialty margaritas and punches on request beneath a thatched cabana. Diners can sip their drinks out on the sunny outdoor patio, where families dine while enjoying the weather and searching the sky for clouds shaped like the heads of U.S. presidents.
815 Folly Rd.
Charleston
South Carolina
US
This Roosevelt Island eatery has two parts: a deli side and a bar and grill side. The former opens its doors at 6 a.m., allowing early risers to fill up on bagels, egg sandwiches, and pancakes before the lunch crowd pours in to eat potato salad at the counter or grab cold-cut sandwiches to go. The pub section stays quiet until lunch—save for during weekend brunch—at which point its 15 TVs welcome in sports fans and executive chef Alyssa Gangeri begins searing burgers. Salads with unusually hearty toppings such as steak and potato round out the menu, as do plates of pasta, racks of ribs, and fillets of salmon. Twenty different brews tumble out of taps and bottles to complement the likes of wings and nachos.
815 Folly rd.
Charleston
South Carolina
US
---
---
Restaurant Deals - Recently Expired
---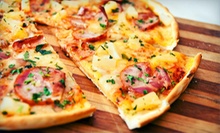 Eclectic menu blends Italian comfort food such as lasagna, baked ziti, and eggplant-parmigiana sandwiches with inventive pizza recipes
---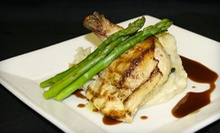 Braised short ribs, filet mignon, bone-in pork chops, and other contemporary American dishes top tables amid hardwood decor
---
---