Shopping in North Charleston
---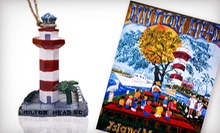 Souvenirs, home accents, handcrafted goods, & seasonal novelties populate an eclectic inventory handpicked & customized by the shop's owner
---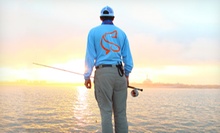 Seasoned anglers advise on the best gear suited to South Carolina waters, from fly fishing on coastal flats to bass fishing in the swamps
---
Recommended Shopping by Groupon Customers
---
Veteran florist Stephanie Zogg owns and operates Beyond Bouquets with her husband, tapping into more than a decade of experience to craft custom floral arrangements for every season and special occasion. Each of her fragrant bouquets blends high art and botany, much like Rodin's collection of chia pets, and showcases fresh, seasonal blooms shaped into architecturally interesting designs. She assembles elegant, monochromatic wedding bouquets, showstopping centerpieces that tower above the dinner table, and delicate, ribbon-cinched buds to adorn prom-goers' wrists and lapels.
2981 Ashley Town Center Dr.
Charleston
South Carolina
843-718-0061
As its name implies, Not Just Fabrics peddles more than bolts of cloth. But its selection of cottons, brocades, and other upholstery or drapery textiles is more than ample, with fresh patterns arriving each week. The store also stocks furniture, pillows, and wallpaper, which can be used to brighten walls or cover windows and prevent squirrels from watching you eat. Staffers, who have helped visitors navigate a wealth of interior decor for nearly two decades, are always happy and available to provide advice to shoppers with questions.
1610 Sam Rittenberg Blvd., Suite 101
Charleston
South Carolina
843-852-0837
While artwork may gain immortality by challenging traditional aesthetics, the life of a painting or photograph is only as secure as the frame that contains it. This dedication to preservation is what inspired Michael and Ellen Mintz to open Frames Unlimited in 1979. That same spirit extended to their business itself: when Hurricane Hugo took its toll on their original shop, they gutted it and reopened, this time with more square footage for a gallery and design space. They remain in that space today, helping their staff members create custom frames and matting. In addition to paintings and photography, the staff helps customers guard heirlooms and specialty items such as sports jerseys or athletes still wearing their sports jerseys. Their services also extend to museum-quality archival framing, with special UV-filtering glass to protect art from light's harmful rays. No matter the job, their shop stocks the materials to match it. Thousands of mouldings run the style gamut from very traditional to ultracontemporary, and colorful frames include hand-finished Italian designs and water-gilded gold leaf.
26 Windermere Blvd.
Charleston
South Carolina
843-571-7942
---