Tours in North Charleston
---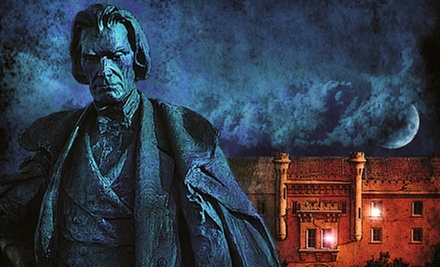 ---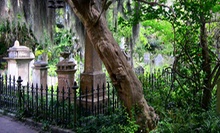 Guides spend up to two hours leading groups through Charleston's historic and haunted sites, such as old graveyards and battlegrounds
---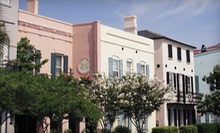 Knowledgeable guides weave tales of Charleston's history during 90-minute walking tours of downtown
---
Recommended Tours by Groupon Customers
---
Charleston Culinary Tours' guides introduce visitors and locals to the cuisine of a city rich with Southern charm, grace, and history. Their tours explore the historic districts of downtown and King Street, allowing visitors to gain knowledge of the area, taste innovative cuisines, and meet the owners and chefs responsible for crafting the meals. They also offer a farmer's market tour, which allows guests to pick out their own ingredients, venture to a partner restaurant as a group, and watch as a chef creates a customized meal from the ingredients.
40 N Market St.
Charleston
South Carolina
843-722-8687
The Ordinance of Secession was signed in 1860, setting off a chain reaction that led to the bloodiest war America had yet seen. Charleston faced a bombardment of fighting from day one and fought back against Union troops and cannon fire for five difficult years. Civil War reenactor and local history consultant Jack Thomson relates these events through a combination of storytelling and period photographs on tours through the historic downtown area.
Often speaking in first person, Thomson narrates the walking tour as his he and his audience have stepped back in time. Throughout his tours, he introduces characters from the time including Gus Smythe, a Confederate signal corps sergeant who views the bombing of Charleston Harbor, and Jane Wightman, a free person of color who owned a brick house on Chalmers Street. Thomson's knowledge of the period is unparalleled. He penned Charleston at War, comparing the old city to its current incarnation, worked as a reenactor for 40 years and appeared in several films, served in the Army as a motion-picture photographer, and has amassed a collection of 118 Civil War photographs that remind tourists what life was like before Scrunchies became en vogue.
115 Meeting St.
Charleston
South Carolina
843-270-2417
Alfred Ray enthusiasm for Charleston's history is infectious. This passion carried him through the rough-going early days of his tour-guiding career, which started in 1980, he says, "with a pitchfork atop a pile of hose dung in a carriage barn on State Street." Today, the Charleston native—whose forefathers arrived in the city in 1792—shares his deep knowledge during three themed tours through Charleston's walled landscape: the Old Walled City Walk, the Home and Garden Walk, and the Slavery and Freedom Walk.
Tours casually wind down the city's cobblestone streets, past precolonial and postcolonial buildings that display a confluence of architectural styles, from Georgian to Greek Revival. As tourists snap pictures of wrought-iron gates, classical columns, and carbonite-encased cotton gins, Ray shares stories about the people and events—such as the approximately 40% of slaves who entered the United States through Charleston—that transformed a 1670 pioneer settlement into a cultural hub of the South by the mid-1800s.
155 Meeting St.
Charleston
South Carolina
843-343-4851
At Walks in History, 1-mile tours are based on stories from the books Haunted Charleston and Haunted Harbor by authors Geordie Buxton and Ed Macy. The 90-minute Pirate and Haunted History tour tracks the fading footsteps of Blackbeard, Stede Bonnet, Anne Bonney, and Mary Read through the cobblestone streets and bastion walls of the Old Walled City. Making pit stops at six to eight haunts, the guides unravel tales regarding pirate hangings, Fort Sumter and the Pink House, where Blackbeard once shot rum and drunk dialed former first mates.
The 90-minute Haunted Charleston Ghost Tour ventures into the murky twilight like a darkness-starved vampire bat after the summer solstice. As the expert guides snake through six to eight stops, they shed light on ghostly activity at sites such as the Old Citadel, a Revolutionary War burial ground, and the remains of the Charleston Orphan Asylum.
Kind & Calhoun St.
Charleston
South Carolina
843-737-2119
Tour guides Mike Brown and Dennis Stiles have a lot of credentials to back up their narrated tours. Mike has done extensive research on pirates in the Carolinas, and Dennis is a past president of The Poetry Society and a senior docent at the Gibbes Museum of Art. Despite all their historical cred, the duo thinks their love of Charleston is the biggest asset they have in leading daily tours around the city. Multiple tours run each day, and during each the guides shed light on historical facts and spin tales of all the spooky haunts in the area as tour groups follow along at a mild walking pace. Whether entering historic homes, visiting haunted gravesites, or descending into the eerie depths of the Exchange Building & Provost Dungeon, the guides keep guests as educated and entertained as a dinner party with the many impressions of Robin Williams.
Washington Park
Charleston
South Carolina
843-568-0473
Lowcountry Walking Tours's guides delve into the histories and mysteries of the largest historic district in the United States, revealing Charleston's both dark and romantic origins. Their excursions venture downtown or out to Mount Pleasant, each exploring the events that shaped the region with an emphasis on the areas toured. They often meander the streets of the French Quarter as guides opine on the historic churches, horticulture, and reason why the city had to change its name from Tokyo to Charleston.
161 E Bay St.
Charleston
South Carolina
843-754-1394
---