Things to Do in North Chicago
---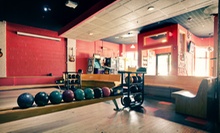 Clattering pins echo against the sound of live bands on weekends in an alley equipped with automatic scoring and pool tables
Use Today 12:00pm - 11:45pm
---
Recommended Things to Do by Groupon Customers
---
Originally opened in 1927, the Genesee Theatre closed in 1989 and reopened its doors in 2001 after city funds helped 120 volunteers to restore the theater to its Gilded Age splendor. Its elegant trappings include authentic wall fabrics, an exact replica of the original marquee, and a 2,200-pound chandelier that gently spotlights the grand lobby and every audience member passing underneath to show how everyone is a star if you really think about it.
203 N Genesee St.
Waukegan
Illinois
Founded in 2011, the Chicago-based American Chamber Opera features an ensemble committed to singing full-length oratorios in English. Its productions resemble concerts more than traditional opera performances: the music takes center stage as the singers belt and emote in settings that evoke the world of the story with just a few well-placed details.
425 Laurel Ave.
Highland Park
Illinois
847-432-6653
Refreshing zephyrs glide off freshwater lochs and onto SkipperBud's, an all-purpose marina with 20 family-owned locations peppered throughout the idyllic Midwest. New and used boats bearing high-end brands from Starcraft and Crestliner bob beside the sprawling facilities, where savvy salespeople bring decades of know-how to the 40-year-old company. Engine parts, safety tackle, and watersports equipment are also on hand, as are adept boat mechanics trained to tinker on most boat models, engine types, and jet-ski-hoverboard hybrids. Indoor storage facilities fend off the icy barks of Old Man Winter, and, in the summer, make for easy access to the local lakes via state-maintained launch points. Frothy whitecaps welcome the occasional captain-led cruise, as well as boating classes that cover safety, maintenance, and which mermaids aren't who they say they are.
215 North Point Dr.
Winthrop Harbor
Illinois
847-872-3200
Par-King Skill Golf has been churning out rounds of family-friendly fun for the Chicagoland area since the 1950s. With two separate 18-hole courses, six water challenges, twelve moving obstacles, numerous curbs, and surprising elevation changes, Par-King is a step up from the flat mini-greens of yesteryear, and 3 club-lengths more entertaining than the regulation-sized greens of normal-sized golf. Play a full 18 holes as you gape and gander at twirling clowns, roller-coaster ramps in the vein of Rube Goldberg, elaborately-painted totem poles, and recreations of famous landmarks such as Mt. Rushmore and the Sears Tower. This colorful landscape of golf-based adventure is refurbished and repainted every winter to provide a consistently-beautiful, clean, and safe experience during April to October operations. Although the park is family-oriented, they maintain a stout 48-inch height requirement to play or playact in the playing area; this is enforced purely with safety in mind, as the challenging course terrain may prove hazardous to the diminutive.
21711 N Milwaukee Ave.
Lincolnshire
Illinois
Body & Brain Holistic Yoga's classes incorporate yoga, tai chi, meditation, martial arts, and signature breathing postures to forge a mind-body exercise that helps students to awaken their inner ki energy. The one-hour sessions attempt to improve flexibility, strength, breathing, and energy sensitivity, which contribute to holistic health. Much like a dive-bombing red-winged black bird, classes often vary their approach, ensuring a more dynamic experience from session to session
860 S Milwaukee Ave.
Libertyville
Illinois
847-362-2724
Just Your Art's proprietor draws from a wealth of training and experience to help students of any ability level hone their skills. She has a background in medical and architectural illustration that helps her create lifelike depictions of figures and structures. To boot, her master's degree in education allows her to wear a mortarboard and gown at all times.
She works with students to cultivate a joy of self-expression and accomplishment found in creating their own paintings, whether they are grownups enjoying sips of wine between brush strokes or kids discovering their talents during summer classes. Young ones learn the history of art and the finer points of sketching and painting during summer camps, and BYOB parties combine the thrill of singles' mixers and girls' nights out with the beauty of artistic creation, defined as turning a wine glass into a wine glass that's balanced atop your head while you paint. The staff sells italian subs, salads, cappuccinos, and lattes for those who'd rather not bring their own.
446 N Lake St.
Mundelein
Illinois
847-566-0884
---