Education & Classes in North Cowichan
---
Education & Classes Deals
---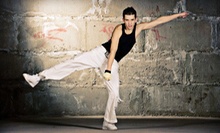 Use Saturday 2:30pm - 5:30pm
---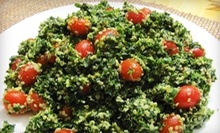 Chefs craft gourmet raw vegan fare in pizza & enchiladas & lead students to prep & sample simple raw dishes such as pasta & kale chips
Use Monday 4:00pm - 6:00pm
---
Recommended Education & Classes by Groupon Customers
---
At Yunomi Studio & Gallery, potter Monika Burrell, a graduate of Nova Scotia College of Art and Design, welcomes children aged 6-12 to make use of the space's 10 wheels and three kilns. Three- and six-lesson packages give kids the chance to spin, sculpt, and fire their own masterpieces. Adults looking to work independently can use the studio on their own. Yunomi sells clay and includes glazes and firings in the studio usage cost.
3164 B Gamma St.
Victoria
British Columbia
Since 1974, the Victoria College of Art has minted more than 5,000 fine-arts diplomas for its alumni, making it the largest independent art school on Vancouver Island. The faculty's expertise extends into a panoramic array of artistic disciplines, including painting, design and installation, photography, and art history. The college offers a number of certificates in addition to its fine-arts diploma, including fine-arts-related-occupation certificates in textiles, mould-making, and certificate-painting. Pint-sized Picassos take their first brushstrokes in summer camp classes, which draw on kid-friendly themes such as fairy tales, time travel, and mask-making.
1625 Bank St.
Victoria
British Columbia
250-598-5422
In addition to being one of the Pacific Northwest's most well-known equipment purveyors for culinary artists, boasting a retail space that brims with a seemingly endless variety of pots, pans, and paring knives, Cookshop also recruits 100 of the region's top chefs and wine experts to serve on the Cookschool faculty. The school curriculum encompasses a variety of global cuisines—including Thai, Italian, and Indian—and demonstrates the finer points of dessert with classes such as Wilton cake decorating and Chef Survival 101: Self-Defense with a Melon Baller.
3-555 W 12th Ave.
Vancouver
British Columbia
604-873-5683
Stepping to the tune of her husband's guitar, celebrated flamenco performer Rosario Ancer bridges continents with her knowledge of dance. She trained in Spain and toured in multiple countries before opening Centro Flamenco in 1989, where she and her instructors pull from cultural, musical, and choreographic teachings to guide their students. All the while, Rosario deftly walks the tightrope between authenticity and evolution. Her regular travels to workshops and shows in Spain imbue her lessons with history, yet she hopes to see the art form flourish in experimental ways, inciting guests to stretch their creative muscles during classes.
Rosario exposes amateurs and advanced dancers alike to flamenco's commanding rhythms. As her pupils progress, they learn more about the social significance behind the moves, and eventually sync their kicks to stylized guitar strums. Whether they are mastering simple beats or preparing for a theatre piece, the studio sets them on a structured track, which ends when their smouldering glance can set a tablecloth on fire.
102-2083 Alma St.
Vancouver
British Columbia
604-737-1273
The roll call of instructors at Passion and Performance Studio sounds like the lineup of a variety show. Professional circus performers and cruise-ship dancers work to get adults to shimmy and pirouette with flair across the 900-square-foot studio. The classes are split into two main categories, passion and performance, so all students can feel comfortable obliterating calories in the communal environment. The popular Sweat and Strut class, for example, incorporates a new move each week to work the arms, legs, and abs.
201-661 Burnside Rd.
Victoria
British Columbia
250-889-3435
Since 1994, the adventurous airpeople at Barnstorming Adventures have thrilled more than 100,000 restless prisoners of gravity with their air-lifts. During the scenic biplane ride, you and your best friend or building manager will occupy the front seats of a restored 1920s open-air plane as a skilled pilot flies from the back cockpit. The flight buzzes along the Southern California coast, over scenic beaches, through the blue sky, and under dangerous rainbows. With matching headsets, you'll be in constant communication with the pilot, who will customize your journey to go at a leisurely drift or a grueling pace that would exhaust even the strongest yolk of oxen. Each safety-minded pilot will guide you along the bell-curve of thrills from takeoff to the peak of excitement to the gentle landing. No pilot's license or experience is required for any of the flights, and the opportunity to match one's hunger for adventure may be attained. Different height and weight requirements apply, so call ahead to check.
4360 Agar Drive
Richmond
British Columbia
CA
---