Professional Services in North Cowichan
---
Professional Service Deals
---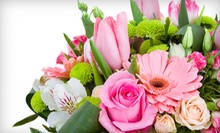 Custom arrangements come in vases, baskets, and ceramic pots, and prearranged bouquets are made for birthdays, weddings, and other occasions
Use Today 10:30am - 5:00pm
---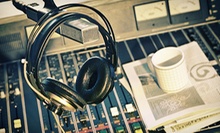 Audio masters record one hour of music, book readings, or acting demos, mixing sound to a professional level and burning them to CD
Use Saturday 10:00am - 5:00pm
---
Recommended Professional Services by Groupon Customers
---
With close attention to detail, a positive attitude, and a wellspring of creativity, Garden Party Flowers brings custom-designed buds and blossoms to Vancouver vases. Purchasers of this Groupon can choose a Garden Party Flowers fresh cut flower bouquet, such as the Designer's choice bouquet ($50) or the Rock and roll bouquet ($55), or the Groupon can applied toward a custom order.
3687 W 4th Ave.
Vancouver
British Columbia
Since 1946, Dayton Boots has been setting standards for strong and stylish shoes, with a slate of handcrafted boots made from high-quality materials. Envelope toes in tradition with the Black Beauty ($399) and its single-seam shaft of leathered comfort, or opt for that boot's big brother, the Black Beauty Double Sole ($499), a western-style boot outfitted with two soles for twice the toughness. The Rider ($399) stays snug with a single-buckle ankle strap, and the Bourbon Confederate ($379) showcases antiqued leather on its heel-huggers. Pair your staunch refusal to let your food settle before going swimming with the Rebel boot ($399), or protect your piggies from wayward waltzers with the Hard Toe Toughie ($379).
2250 E Hastings St.
Vancouver
British Columbia
Armed with a diploma in commercial photography and a photojournalist's sensibilities, Kim Bellavance possesses an artistic flexibility that enables her to shoot in a wide range of styles. Fashion, for instance, has always been Kim's main inspiration, and it comes through in her industry-quality headshots and elegant boudoir photos. But like a mountain bike that has learned to obey vocal commands, she can instantly switch gears to capture the organic moments that occur between family members during urban family-photo sessions or weddings. In her spare time, Kim keeps a camera close at hand, putting on clinics to initiate students in the craft.
70 E 2nd Ave., Suite 202
Vancouver
British Columbia
The leather-cleaning experts at Breeze Bag & Shoe Cleaner not only rid shoes, wallets, and handbags of difficult scuffs and stains, but also condition and treat leather goods so they retain their good looks in the long term. The staff uses only organic and eco-friendly products to carefully shampoo articles before applying a protective treatment that keeps water damage from rain and elephant spit-takes at bay. Luxury items receive extra attention, and they are carefully handled with specialized cleaning and colour-restoration procedures.
1030-8766 McKim Way
Richmond
British Columbia
778-297-5589
Artistic Portrait and Wedding photography for the modern client.
360 Douglas st., #502 (home office)
Victoria
British Columbia
778-678-5357
For more than 20 years, Imagemakers Photography Studio's Rob and Connie Siebert have helped clients take stunning pictures, both in their controlled studio setting and outside across lush, varied natural backdrops. In their private garden, natural light splashes over flowers and foliage, creating a colourful, texturally rich setting for engagement photos and graduate portraits. Families can gather in the barn studio or spread out across a wooden bridge that arches over a reflective pond. For a blend of indoor and outdoor experiences, the studio's covered garden shelters groups from potential rain while allowing grizzly bears to enhance images by smiling and waving in the background.
28830 Fraser Hwy.
Abbotsford
British Columbia
---