Education & Classes in North Decatur
---
Education & Classes Deals
---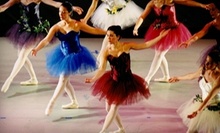 Use Saturday 12:00pm - 3:00pm
---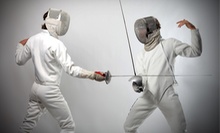 Foot- and bladework anchors each class at this fencing school with numerous notable alumni, including U.S. Olympians
Use Friday 2:00pm - 5:00pm
---
Recommended Education & Classes by Groupon Customers
---
The friendly staff at PatchWerk will graciously introduce you to the beautiful acoustics of Studio 1019, where you will record final vocals or edit your project. A sound master will happily answer any questions you have about the studio. PatchWerk's state-of-the-art facilities have been used to record Annie Lennox, Ludacris, Beyoncé, Young Jeezy, Sting, Snoop Dogg, and many more. And with high-quality CD duplications included, you won't have to spend an entire year performing back-to-back CD burns.
1094 Hemphill Ave.
Atlanta
Georgia
Young Chefs Academy provides a fun, safe, and motivating environment for kids to become acquainted with the art of food and food presentation. Engaging chef instructors instill lessons of kitchen etiquette and safety in youngsters growing up in a world full of laser can openers and sharp pasta rakes, giving children a capable handle on their surroundings as they journey into the land of food. Classes ($25–$35 each) educate a variety of age groups, with specially catered sessions for the kindercooks and junior chefs, combining nutritional meals with basic food-prep skills that teach how to correctly follow a recipe to edible fruition. Senior chefs can partake in advanced classes that dig deeper into kitchen secrets and hone specific skills and techniques that expand the parameters of cooking creativity, creating presentations so astute they beg to be stapled to the refrigerator door.
5945 State Bridge Road, Suite 203
Johns Creek
Georgia
Atlanta Workshop Players Acting Studio was founded in 1981 as the brainchild of seasoned artistic director Lynn Stallings. Since its inception, the company—a creative springboard for young children, teenagers, and adults—has produced dozens of plays and original musicals. FOX 5 spotlighted the program's fun-filled curriculum, which strives to improve self-confidence in students. Stallings and her husband, Don, get into the act as well, sometimes teaching classes alongside guest artists such as William Shakespeare's ghost.
8560 Holcomb Bridge Rd., Suite 111
Alpharetta
Georgia
In the late 1970s career educators Eileen and Raymond Huntington opened the first Huntington Learning Center in Oradell, New Jersey. Their goal was to take an individualized approach to education, adjusting instructional tactics according to each student's set of needs. Their success in helping K–12 students prepare for exams and improve grades and study skills quickly spawned franchises across New York, New Jersey, and elsewhere.
Today, the certified Huntington tutoring staff utilizes testing and rubrics for assessing each child's skills, academic needs and potential for growth. The teachers even note the student's behavior in different testing and academic situations to craft a methodology sensitive to each child's learning style. Teachers also adhere to the company's code of ethics that stresses professionalism and confidentiality and encourages pupils to improve their grades honestly through dedicated study rather than shortcuts.
5488 Chamblee Dunwoody Rd., Suite 7
Dunwoody
Georgia
770-394-2626
Susie Goldenberg is a magician of sorts, turning liquid paint into aged stone blocks, limestone, and bricks. Featured on HGTV, Susie's company, Paintin' the Town Faux, offers personal painting services, supplies, and classes dedicated to sharing the art of faux painting with others. These classes teach introductory skills for creating depth and texture on flat surfaces and cover more advanced topics such as forging slick Cosmopolitan finishes or old-world crumbled plaster. Students learn to decorate not just walls but also cabinets, furniture, and sleeping family members.
2830 Holcomb Bridge Road
Alpharetta
Georgia
Rich purple walls and a bar outfitted with a zebra-print façade sounds more like club decor than the decor of a school. For the past 20 years, however, the National Bartending School of Atlanta has put on mixology clinics in just this kind of lounge-style setting. At its six learning stations, teachers train professional bartenders during hands-on certification courses that cover more than 100 drink recipes, as well as eclectic topics such as free pouring or the art of making a cocktail from whatever falls down a waterfall. Alternatively, students can dabble in the art of cocktail creation during two-hour, noncertification courses, which focus on classic drinks such as the cosmo and the margarita.
2094 Cobb Pkwy.
SMYRNA
Georgia
770-916-1252
---