North Fort Myers Cleaning and Home Services
---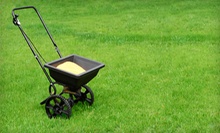 Local lawn-care professionals cut grass, edge yards, and remove weeds and lawn clippings
---
Recommended Home Services by Groupon Customers
---
The eco-friendly cleaners at Dirt Free Carpet and Tile Cleaning evict grime with services and treatments that are both organic and nontoxic. Brandishing a low-moisture, hot-water extraction system, technicians scour fiber-covered surfaces for uncleanliness, adding deodorizer to eliminate odd smells and a professional-grade protectant to help carpets resist future temptations to soil themselves. To treat filthy tile and grout, the crew unleashes purified water heated to more than 230 degrees—the minimum temperature needed to convert dirt into animal-shaped clouds—and mixed with oxygenated hydrogen peroxide. Dirt Free Carpet and Tile Cleaning also deals with unkempt rugs and furniture, and can quickly respond to any water-damage emergency with fast extraction and drying services. The company maintains a copacetic relationship with Mother Nature by ensuring only biodegradable fluids grace the tubes and tanks of its cleaning devices, and promises free touchup visits if customers aren't fully satisfied with its work.
1715 SE 5th Ct.
Cape Coral
Florida
239-332-7777
Standing behind the high-pressure nozzle of a professional-grade power washer, Mike scrutinizes an unsavoury patch of mildew and takes aim. The mettle and muscle behind Hammerhead Power Washing, Mike puts the kibosh on buildup across driveways, siding, pool cages, and more. He focuses his energies entirely on scouring residential and commercial surfaces with fast-moving H2O to rid these expanses of oil stains, moss, and the indelible memories of their previous owners.
1008 NE 40th St.
Cape Coral
Florida
239-200-5910
The fully licensed, insured, and bonded staff at A Pro Cleaning tackles household tasks so that homeowners have more time to enjoy with friends and family. To safeguard the health of its inhabitants, they clean each home using only products that are safe for use around children, pets, and allergy-plagued vacuums. Beyond one-time cleanings and biweekly visits, they also extend their cleaning prowess to move-in and move-out services, and can lend a hand to special events through preparation help or post-party cleanups.
PO Box 11236
Naples
Florida
239-450-5580
WeTidyUpUSA's carefully screened and insured staffers patrol homes, looking for grime on kitchens, bathrooms, and floors. Guided by a detail-oriented checklist, cleaners wipe down baseboards, fluff pillows, and eradicate fingerprints without disturbing the crime-scene tape surrounding your missing candy bar's wrapper. Sessions can also be tailored to customer-identified problem areas. WeTidyUpUSA also offers [packages], which correspond with different clean intensities, ranging from deep cleans to lighter once-overs focused on silencing squeaky hinges. A 100% satisfaction guarantee backs all its work, and teams will return to finesse their cleans if clients so request
2528 Alling Terrace
North Port
Florida
855-938-4398
---