Things to Do in North Fort Myers
---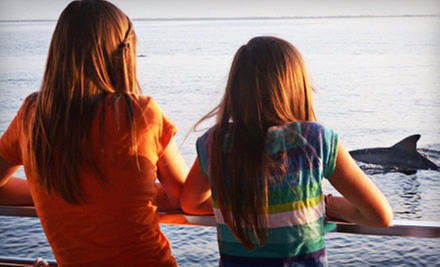 ---
Recommended Things to Do by Groupon Customers
---
The staff at Dlynne Designs helps patrons to create iridescent, eye-catching jewelry and keepsake items. The lesson calendar contains a variety of options and subjects, including a two-hour introductory course and private instruction. During the workshops, blossoming artisans learn techniques for cutting and fusing glass, skills useful for creating colorful works of art or combining glass eyes into larger, unusable glass eyes. Experienced teachers show pupils how to make pendants and jewelry in small-group or private-party settings, both of which allow students to bond with one another.
1230 Hemingway Dr.
Fort Myers
Florida
239-689-8676
With a stable of two schooners, Appledore IV and Appledore V, which split their time between Fort Myers, Florida, and Bay City and Mackinaw City, Michigan, BaySail's captains ferry passengers about the Great Lakes and the Gulf of Mexico during leisurely and educational tours. The sea vessels depart from Bay City to wind along the Saginaw River and into open water, letting passengers soak up summer sun or, in the autumn, traveling upriver for spectacular views of changing leaves and scarecrows playing hooky on the riverbanks. Come winter, the Appledore V makes its way to Florida, where it seeks out the dolphin populations of San Carlos Bay. All of BaySail's excursions are interactive seafaring affairs in which passengers are encouraged to help to crew the watercraft, learn about fish brought into onboard tanks, and force seagulls to walk the plank.
2500 Main St.
Fort Myers Beach
Florida
239-245-9265
A 3,614-square-foot glass greenhouse dominates the landscape at The Butterfly Estates, where hundreds of butterflies flutter about. Monarchs, swallowtails, and rarer breeds flash their prismatic wings as they sip from tropical-nectar plants, alight on tree branches, and play proboscis patty-cake with their neighbors. Visitors soothe their souls with the peaceful sound of rushing waterfalls within the space, which is also punctuated with signs describing the insect residents and promoting environmental conservation. When sitting in the front yard dressed like a giant butterfly fails, the center can advise guests on how to attract butterflies to their gardens at home.
The Estates comprises more than just the glass conservatory, however; in adjacent refurbished homes from the early 20th century, the caretakers have installed a café, a gift shop, and a sweets shop serving ice cream and fudge. At Flutterby's Café](http://thebutterflyestates.com/public/cafe.asp), patrons recline on a covered wraparound porch to nibble paninis and salads or sip from cups of shade-grown organic coffee. Fresh breezes waft through the outdoor area as diners empty their cups and plates, all made from natural compostable materials in keeping with the center's eco-conscious philosophies.
1815 Fowler St.
Fort Myers
Florida
Nestled on 40 sprawling acres, 5 Star Stables & Tack's knowledgeable staff welcomes tender-footed riders and experienced equestrians alike with English and Western lessons, myriad trail rides, and summer camps for kids. Roomy stables house resident steeds and boarding horses inside stalls equipped with air-circulating fans, automatic watering systems, and secret compartments where they can stash their Mr. Ed fan fiction. With two indoor arenas—one for hunter/jumper riders and one for riders wishing to simply practice the basics—equestrians can hone horse-top techniques year-round. Outside, a sprawling cross-country course, round pen, and access to more than 1,000 acres of trails provide seemingly endless options for mounted exploration, as well as new challenges for more advanced riders. The facility also offers clinics and in-house training for all skill levels and ages, and keeps riders and their mounts properly outfitted with an onsite tack shop.
1835 The Thompsons Way
Lehigh Acres
Florida
239-337-7827
The shindig coordinators at Creative Events & Rentals make comprehensive plans for events such as weddings, birthday parties, and business outings. They work closely with clients during the planning phase and stand by during events. The coordinators also provide cleanup services, allowing hosts to focus on reprising successful stage dives. In addition, the party artists rent individual lighting systems, tents, tables, chairs, dance floors, grills, bounce houses, and games for all types of events.:m]]
12090 Metro Pkwy.
Fort Myers
Florida
239-768-6393
Manatee Guides' conservation-minded experts escort kayakers throughout Southwestern Florida's waterways to observe manatees and other native species in their natural environments. During nature tours, guides lead guests throughout Estero Bay and the Orange River, scouring the crystalline waters for a sight of the peaceful animals. Guides point out local flora and fauna along the way, sharing interesting facts about their life cycles, social patterns, and affinity for fast food cheese-barnacles. Manatee Guides' owners and operators adhere to a strict conservation policy, leaving no trace of their journey in the wild. Up to 12 people venture out on each tour, and the guides encourage ample sunscreen and protective apparel such as a hat, shoes, and clothes that can get wet without melting.
1520 Lindale Cir.
Lehigh Acres
Florida
239-247-4955
---