Beauty & Spas in North Glendale
---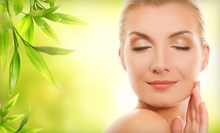 Use Tuesday 2:00pm - 6:00pm
---
Recommended Beauty & Spas by Groupon Customers
---
ROB|B's talented nail technicians know nails like a chalkboard knows math. The essential manicure ($30 value) and pedicure ($40 value) begins with meticulous fingernail and cuticle maintenance to make your decorative keratin healthy and shapely. Your friendly nail-care guru will indulge your wrist mitts in soothing massage before suiting them up with shiny new finger helmets. ROB|B is the only OPI concept salon in the country that offers the indulgent product line throughout your treatment. Once brushed with the brilliant colors and lasting strength of OPI nail lacquer, your fingers are topped with Drip Dry and Avoplex Cuticle Oil to set your shine and nourish your cuticles. Once the treatment is complete, you'll demand fingerprint analysis to verify that your hands have not been surgically replaced by genetically perfect knuckle wagons. Then it's time to slip off your socks for another round of cuticle prep, a foot massage, and a final coat.
12246 Ventura Blvd.
Studio City
California
Owner and authentic Brazilian Laura Addario uses a hard wax that reduces pain, discomfort, and irritation by up to 70%. While not entirely painless, waxing is less painful than the do-it-yourself fly-paper method.
3675 Clarington Ave
Los Angeles
California
Body sugaring is a natural hair-removal alternative to waxing, threading, and supervillain-delivered laser treatments. Let a friendly staff member guide you to a treatment room, where uninvited hairs will be sent packing by deft, steady hands. Alexandria's body sugar is a natural, even edible mix, more gentle on delicate skin skeins than its inedible cousin wax. Prices vary by treatment; women can get the bow of their vessel cleaned with a perfect brow sugaring ($50), while men can get de-Ernied with a unibrow split-up ($20). Give stiff, fuzzy upper lips a reason to relax ($20), or take it all on the chin ($20+). A basic bikini cleanup ($65) is ideal for beating beach blues, while men can get torsos as smooth as a dolphin fin with a chest ($75), stomach ($55), or shoulder ($40) sugaring.
11740 San Vicente Blvd., Suite 105
Los Angeles
California
Latisse is a medication applied directly to the eyelashes; it works gradually to darken and lengthen the lashes, rather than brighten and shrink your head. When you stop using Latisse, your eyelashes return to their original appearance. Tangible results require multiple treatments and may appear as early as 8 weeks, though it may take up to 16 weeks for maximum effect.
436 N. Bedford Dr., Suite 103
Beverly Hills
California
Beginning as a full-service spa in 2005, Piel Skin Care has expanded its popular waxing services and now focuses on meticulously removing clients' body hair. With an expert approach honed from years of experience, technicians make clients as comfortable as possible and quickly whisk away unwanted fuzz from small areas such as the upper lip and large areas such as the full back. This attention to comfort is visible in their effortlessly relaxed confines, which boast decorative flowers, bowls of fruit, and pillows decorated with pictures of trees that shed their leaves in time for swimsuit season.
441 S Beverly Dr., Penthouse
Beverly Hills
California
310-247-1321
The salon's name is pronounced shin-eh, a Gaelic phrase meaning "that's it." Potential interpretations and applications of this phrase are as varied as the services offered within Sin É's hallowed halls. Let the trained and talented hands of a stylist dissect and rearrange tangled follicles, determining where to snip, where to snap, and where to apply streams of vibrant color. Women's haircuts cost $70, and similar services for the closer-cropped gentleman are $50. A blow dry and style runs between $45 and $55, depending on length, thickness, and whether your hair is the source of your power. Revivify dull, ennui-riddled locks with a single-color process ($70) or partial highlights ($110). Or, treat rough patches to a mane-soothing treatment with products from Redken or Pureology ($25).
12021 Ventura Blvd.
Studio City
California
---