North Haven Gyms and Fitness
---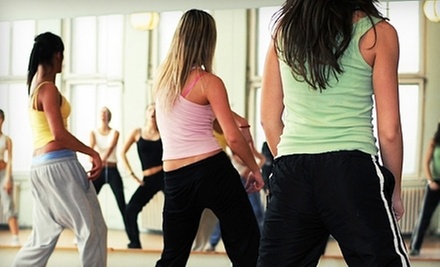 ---
Gym, Exercise, Weightloss Deals
---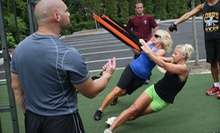 On-the-floor fitness advisors offer instructions for new exercises or advice on form as guests tackle a bevy of machines and weights
Use Today 6:00am - 10:00pm
---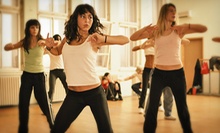 International rhythms create a party-like atmosphere in which instructors lead Latin-inspired moves designed to create a cardio workout
Use Thursday 4:00pm - 7:00pm
---
Recommended Gym, Exercise, Weightloss by Groupon Customers
---
Wendy Traskos's career as a pole-dancing icon began with one fateful spin. Impressed by the strength of self-expression she glimpsed in accomplished pole-dancers, she tried the art for herself and was hooked immediately, so much so she has been honing her spinning skills for 16 years. Now a self-taught professional, she channels her background as a certified personal trainer and gymnast to enhance her routines. Wendy's fitness knowledge landed her celebrity clients, including Montel Williams and Mary J. Blige, and her proficiency on the pole led Germany's version of America's Next Top Model to feature her as a dancing expert.
At NY Pole studios, Wendy passes on her spiraling prowess through her original Climb and Spin method. She believes that students should build a foundation of muscle and a repertoire of techniques as they progress to more advanced pole tricks, which require them to shed all rock-climbing gear. Her classes accommodate varying skill levels with choreographed routines, motivating participants to practice recently learned grips, climbs, and transitions. The studios also offer fitness classes, private parties, and workshops led by guest instructors such as Cleo "The Hurricane," also known as Miss Pole Dance Australia.
110 Mamaroneck Ave., Floor 2
White Plains
New York
866-568-1274
Along with providing classy urbanites with a pastoral setting of forested hills, treacherous water traps, and the scenic Moosup River, the Foster Country Club offers a full 18-hole, par 72 course for your golf-cart-rampaging pleasure. Players of all skill levels can get in on the action, but every golfer should beware of the approach to the elevated green on hole 6, the double dogleg on hole 12, and the resident troll beneath the covered bridge.
67 Johnson Road
Foster
Rhode Island
Self-improvement is a highly personalized goal that can take any number of approaches to achieve. Satya Yoga & Pilates attempts to incorporate as many of these approaches as possible, giving students the means to relieve stress, become more physically fit, or bolster their holistic well-being. There, students can design their own well-rounded workout regimen that emphasizes physical as well as mental health through yoga, dance, and Pilates instruction.
The yoga classes exemplify this flexibility through dynamic Vinyasa lessons that link poses to create seamlessly flowing sequences as well as gentler workouts that emphasize deeper, controlled stretching. Regardless of style, advanced yoga lessons continue to challenge attendees by introducing inverted poses, breathing techniques, and sudden-death overtime. The dance classes adopt a similarly broad approach, using belly dance and Zumba choreography to create cardio-intensive workouts or guiding students through the basic steps of international ballroom styles. Although Pilates focuses a bit more on building core strength, the sessions also emphasize the importance of measured breathing and controlled, mindful movements.
31 Rte. 25A
Mount Sinai
New York
Unlike the competitive environment of a testosterone-stuffed gym or mixed-martial hopscotch tournament, women's boot camp encourages all ages, skill levels, and abilities to motivate each other in a comfortable group setting. Queens Adventure's certified trainers constantly challenge participants to achieve higher levels of fitness. Classes take you through a variable variety of body-blasting, calorie-pulverizing exercises, including core conditioning, short-distance running, hiking, and obstacle courses. You'll get a nutrition seminar and fitness assessments at the start and end of camp so that you can track your progress. You'll also receive a fitness assessment as well as a nutrition seminar.
Little Bay Park
Queens
New York
Dancer, gymnast, and fitness enthusiast Cathy Wagner teaches clients to twirl their way toward confidence and leaner limbs during 60-minute pole-fitness classes. In Intro to Pole, students learn the fundamental grips and maneuvers of pole workouts without the awkward explanations involved in spinning outside a neighborhood barbershop. Spin, Climb, Flirt classes combine holds and descends with sultry floor work, and Cathy's trademark Pole Burn workout gives students a full-body sculpting session by centering traditional aerobic exercises and stretching around the pole. Guests are encouraged to bring their own music to fuel rhythmic end-of-class routines. For ease of movement, Cathy recommends that pole-hugging pupils wear snug clothing and outlaws lotion, jewelry, and magnetically charged leotards.
180 Spring Road
Huntington
New York
631-425-9220
Training at PPBC is the closest you can get to achieving a soldier's sculpted physique without running the risk of free college tuition. The fitness program mimics U.S. military training and gives its "recruits" the confidence to overcome obstacles and push themselves further past their comfort zones than they thought possible—all while getting super-ripped. PPBC's program centers on one of the nation's only indoor obstacle courses. While you will get yelled at, the camp forbids insults or abuse, and any pies that strike you will be harmless shaving foam. The program emphasizes positive reinforcement and teamwork—each recruit joins a platoon of 10–16 comrades in soon-to-be-toned arms. Customized goal setting ensures that everybody succeeds.
50 S Service Rd.
Jericho
New York
---