Restaurants in North Kingstown
---
Recommended Restaurants by Groupon Customers
---
The menu offers seafood, veal, pasta, and chicken prepared from time-tested family recipes. Rev an appetite engine with coconut shrimp ($11) or homemade fennel-sausage antipasti ($9) and a glass of wine, such as Beringer Pinot Grigio ($6.50) or Trivento Pinot Noir ($7). Traditional Italian entrees include lobster, shrimp, and scallop cannelloni gratineé ($16); chicken campagnolo (egg-battered medallions with prosciutto, mozzarella, sherry, and mushroom demi-glace, $19); and veal bella Napoli (sautéed veal, shrimp, asparagus, portobello, tomatoes, and buffalo mozzarella, $23). Point Judith clams with shrimp and your choice of white, red, or fiery fra diavolo sauce over linguine ($22) and shrimp and scallop della casa ($22) will make any fisherman fondly remember his finest seafood- or mermaid-catching sprees. The trattoria experience would be incomplete without dessert, so sweeten endings with crème-brûlée cheesecake, tiramisu, or spumoni (all desserts are $7).
200 Gooding Ave.
Bristol
Rhode Island
Bebop Burrito's cuisine offers build-your-own meals, five varieties of salsas ranging from mild to seriously hot, and deliciously edible burrito casings. Step right up and start your order by choosing a giant flour burrito or quesadilla tortilla, three soft or crispy taco shells, or a Bebop bowl lined with Romaine or cilantro brown rice. Fill the delicious receptacle with shredded beef ($6.45), chipotle-marinated grilled chicken ($6.25), braised pork ($6.35), a fresh seasonal vegetable ($6.25), or veggie-friendly rice, beans, and cheese ($4.25). Shots of salsa, such as fresh corn or tomato, green tomatillo, and hot tomato and roasted chilies ($1 each), breathe fiery life into any creation. Add an extra garnish such as sour cream ($0.55), guacamole ($1.65), or crunchy citrus slaw ($0.75).
40 Market Street
Warren
Rhode Island
Cavalieri's Wood Street Pizza is a family-owned-and-operated cookery that has been serving up house favorites and custom creations for 18 years. While the basic variety of pizza exists ($6.75 for 10" to $16.25 for a full sheet), Wood Street's pizza menu shines with exotic topped discs, such as buffalo chicken pizza, taco pizza fiesta, and a lasagna pizza pie. Specialty pizzas are $9, $18, or $27 (or $18.25 for thin crust), depending on size. If you prefer your pizza folded into a crescenty pocket of flavor, opt for one of the 20 varieties of calzones ($2.75 for single up to $27 for a 25" giant). Wood Street also whips up appetizers, grinders ($5.75–$6.75), a soup of the day ($4.25), salads ($2.50 for a side salad, others $4.50–$7.25), and pasta creations ($6–$9.95). Check the menu for changing specials for lunch, dinner, sandwiches, soups, and pizza, such as June's chicken Caesar.
366 Wood St.
Bristol
Rhode Island
Voted South County's best Mexican restaurant by Rhode Island Monthly readers in 2011 and 2012, El Fuego Mexican Grill boasts a BYOB policy and a menu packed with specialty burritos, tacos, and quesadillas. Some burritos stay classic—like the one stuffed with grilled steak, black beans, cheese, rice, sour cream, lettuce, and tomato—while others take a tasty twist, like the ranchero, which subs in ranch dressing and barbecue sauce for the standard sour cream. The brave can take the taco challenge and try to devour five fiery hot tacos in less than 20 minutes. Those who succeed without morphing into dragons earn an El Fuego T-shirt and bragging rights.
344 Main St.
Wakefield
Rhode Island
In Cafe Luna's bustling kitchen, Chef Christopher Farrell emulsifies vinaigrettes, stuffs ravioli with the filling of the day, and slides pizzas atop a sizzling grill. Cinnamon-flecked cappuccino and glasses of house wine pair with dishes from the elegant lunch and dinner menus. The elegance exudes from dishes such as roasted-pear salad and veal saltimbocca, each meticulously plated with sprigs of fresh herbs or swirls of sauces. On the eatery's flower-filled outdoor patio, guests bask in a cool breeze while nibbling dessert biscotti and sending semaphore insults to birds flying overhead with each table's navy-blue umbrella.
22 Midway Rd.
Cranston
Rhode Island
401-944-1438
One would be hard pressed to find a can opener anywhere in the kitchen of Cilantro Mexican Grill. That's because the restaurant's chefs don't need one; they never cook with anything that's been canned. Instead, they purée the nutty flesh of ripe hass avocados into jalapeño-laced guacamole, slice fresh tortillas into triangles to be fried and sprinkled with fresh lime juice, and grill fresh, adobo-seasoned chicken, steak, and tilapia. Local growers supply the restaurant with tomatoes and onions. At the Providence, Coventry, Warwick, and Rumford locations, patrons can sip from glasses filled with margaritas or craft beers.
166 Connell Hwy.
Newport
Rhode Island
---
---
Restaurant Deals - Recently Expired
---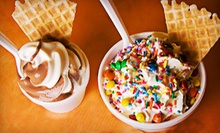 Dessert joint stocks more than 40 toppings and features 8 frozen yogurt flavors every day, rotating through an arsenal of about 30 varieties
---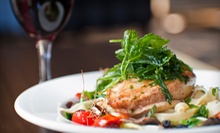 Chefs rely largely on local, seasonal ingredients for the classic Italian dishes; the wine list is composed of Italian and Californian wines
---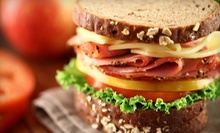 Mobster-themed sandwiches with traditional deli ingredients such as thick-sliced ham, bacon, roast beef, sausage, and peppers
---
---