Professional Services in North Las Vegas
---
Professional Service Deals
---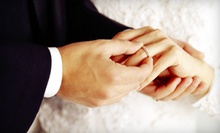 Package includes use of facility, traditional ceremony & music, 25 pictures & DVD of ceremony plus accessories & planners in downtown Vegas
Use Today 10:00am - 11:45pm
---
Recommended Professional Services by Groupon Customers
---
Desert Wireless's phone techs refurbish, unlock, and upgrade iPhones with OEM parts. From screen and water damage repairs to unlocking or enabling tethering, the iJockeys at Desert Wireless can trick out limited phones, and since they use strictly OEM parts, all work is guaranteed with a three-year warranty on parts and labor.
1500 E Tropicana Ave., Suite 226
Las Vegas
Nevada
702-339-0992
The family-owned 24 Hour Cleaners' attentive staff dry cleans patrons' garments and bedding, eschewing toxic perchloroethylene chemicals in favor of environmentally friendly methods. Taking advantage of the shop's speedy service, customers can pick up their spotless garments within a quick timeframe, sparing them the embarrassment of having to spend more than a day wearing their standby sandwich board. The capable cleaners can groom finery and formalwear or tidy up comforters of any size. Further demonstrating a commitment to earth-friendly practices, patrons are urged to participate in the shop's hanger-recycling program by bringing in any unwanted wire hangers, which the dry cleaners will recycle for them.
6436 Windy Rd.
las vegas
Nevada
702-896-3332
The ECDC African Community Center (ACC), which is the Ethiopian Community Development Council's refugee-resettlement branch in Las Vegas, provides those who have recently arrived in the United States with cross-cultural training, educational development, and support services, as well as increasing public awareness about refugee and immigrant issues.
The ECDC's clients arrive in Las Vegas from refugee camps across the globe, and have lived in camps for an average of five–seven years. As part of its supportive services for families who have recently arrived, the ACC supplies them with meals while they adjust to their new surroundings. This year's caseload may include as many as 400 families, which range from a single-parent family with one child to families of nine.
4310 S Cameron St., Suite 11
Las Vegas
Nevada
At We Luv Flowers by Faith, FTD florists coalesce fresh blossoms into artful arrangements suitable for any occasion. Popular buds, such as roses, tulips, and orchids, show off teamwork in bouquets large and small, housed in classic glass vases and whimsical containers, such as baskets and candle jars. To discourage daffodil munching, buyers can customize flower-filled gifts with add-ons, such as Godiva chocolates and Mrs. Fields cookies. The florists' talents also bloom at large events, such as weddings, graduations, and the Miss America pageant, which has showcased the shop's designs since 2010. We Luv Flowers' distinctive orange van speedily delivers arrangements to a variety of locales, including homes, offices, and underproducing beehives.
1111 Las Vegas Boulevard N
Las Vegas
Nevada
702-982-4390
While hopeful revelers wait in line outside a club, guests of Good Times VIP are already congregating around a reserved table as servers begin pouring drinks from reduced-price bottle service. The special treatment is a result of Good Times' personal relationships with clubs around Las Vegas and Los Angeles. Whether for a bachelor party, birthday, or extraspecial Department of Sanitation inspection, its prearranged club crawls guarantee clients skip lines or sneak in through private entrances at reduced or free admission. A staff member is assigned to each party as a personal concierge, planning every detail ahead of time and staying on as a contact throughout the celebration. To supplement club crawls, the staff can also use their list of contacts to investigate special rates on limo service, concert tickets, spa days, and recreational activities such as jet skis or party boats.
848 N Rainbow Blvd., Suite 2657
las vegas
Nevada
702-900-6827
Eagle Quest supports at-risk and disadvantaged youth in the southern Nevada area, as well as their families, with treatment-level foster care and family-support services alongside counseling and recreational programs. These programs engage young participants in scrapbooking, summer camp, and humanitarian service, letting youth give back to the community while learning empathy, leadership, and other social skills necessary for success. Family-wide substance-abuse programs and shoplifting-prevention programs, meanwhile, help to break negative habits and open up new opportunities. Many of Eagle Quest's youths have experienced abuse and emotional trauma and lived in unstable homes their entire lives. By experiencing a full range of activities, these youth can create happy memories and learn how to make good decisions for their futures.
7381 Prairie Falcon Rd., Suite 110
Las Vegas
Nevada
---