Beauty & Spas in North Liberty
---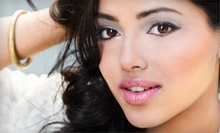 Professional cosmetic specialists show clients how to apply makeup by hand or with an airbrush, then perform personalized applications
---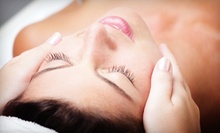 Esthetician cleanses, exfoliates, and hydrates skin during facials; chemical peels rid faces of dead skin for a smoother, fresher appearance
---
Recommended Beauty & Spas by Groupon Customers
---
At Leh Massage Therapy, nationally licensed massage therapist Reginald Harrelson employs a distinctive fusion of Swedish and shiatsu techniques to relax tensed bodies amid lavender walls and potted palms. Harrelson uses smooth, gliding strokes to ease muscle tension and promote relaxation, easing overworked muscles and melting tension into a conveniently positioned bucket. For everyday aches and ongoing care, his therapeutic strokes can assist clients facing issues such as anxiety, depression, and relaxation deprivation.
222 3rd St. SE, Suite 414
Cedar Rapids
Iowa
319-202-0717
Using products from Redken, Pureology, and Surface, independent cosmetologists Brooke Engler and Lindsey Huelsenbeck revamp locks with a collection of services inside Studio 5 Salon. From full and partial highlights to trendy ombre or all-over color, the stylists add dimension and shine to each strand. Texturizing services provide permanent waves or smooth tresses that won't puff up at the first sign of moisture or a low-flying tiger shark, and special occasion updos ensure photo ops won't be ruined by limp or lifeless coifs. To complete head-to-toe transformations, the salon also provides facials and nail treatments, as well as waxing services for the face and body.
745 Community Dr., Suite B
North Liberty
Iowa
319-573-1220
What do a mainframe programmer and a massage therapist have in common? Both break down complex puzzles into their elemental parts and work toward solutions methodically. But for Bruce Morgan of Bodyworks By Bruce, a former engineer, no matter how long he worked with a particularly confounding programming problem and no matter how technically rewarding the project was, the human element of building relationships was missing.
That difference is what drew him into massage therapy. Whereas programming works within defined parameters, Bruce never knows what sort of puzzle he's going to solve when presented with a client suffering from pain. Before sessions, he consults with all clients extensively to get to know them and their symptoms, and encourages them to give feedback during sessions so that he can customize his approach. Shoulder pain, for example, may be symptomatic of a person compensating for damage in the ankles, which is why Bruce routinely delivers full-body massages. His training specialized in myofascial release and cross-fiber friction, whose strokes alternate between going with and against the muscle grain, and he uses these techniques to target problem areas.
Each client enjoys warmth in the private treatment room, both from a table warmer and the sage green shade of the walls. A salt lamp lends the room a relaxing glow, and Bon Vital all-natural lotion keeps skin hydrated. To set the soundtrack for their session, clients can select from a range of light jazz, Native American music, or nature sounds, including a chorus of dolphins covering Barry White songs.
2220 Mormon Trek Blvd.
Iowa City
Iowa
319-430-7754
Licensed massage therapist Caitrin Rames, LMT, specializes in shiatsu bodywork, a form of massage that focuses on balancing the body's chi in order to treat internal ailments and imbalances. Rooted in traditional Chinese medicine, shiatsu massage employs focused pressure along the body's meridians to heal backs strained from kneeling in rice paddies or from pole vaulting over the Great Wall. In addition to her flagship shiatsu technique, Caitrin also soothes muscles with cranial-sacral-release therapy and pregnancy massages for expectant mothers.
332 S Linn St., Suite 16
Iowa City
Iowa
319-594-1709
The cosmetologists at Professional Image Enhancement offer skincare and hair-removal services driven by chemistry and technology. Skincare services include custom acne treatments, glycolic peels, and microdermabrasions, during which tiny, captivating crystals lure dead skin cells and impurities from the face with promises of emollient rivers and breathtaking fields of lotion. By letting faces breathe, the studio's skincare treatments help products penetrate the epidermis in order to moisturize and tone. For hair removal, waxing services utilize hot wax to temporarily remove hair, and electrolysis deploys mild electric currents to destroy follicles and permanently stunt regrowth.
206 Collins Rd. NE, Suite 103
Cedar Rapids
Iowa
319-373-9596
Leafy fronds fronds line the earth-toned walls of Salon Salon's long, narrow space, recalling the plant-based ingredients of the Aveda products used by its stylists to pamper clients' tresses. Owner and lead stylist Mike Manchester wields 28 years of experience to educate his staff, which includes a licensed cosmetologist who works at a well-stocked makeup bar. Appointments commence with free consultations, and coiffeurs accommodate busy schedules.
107 5th St.
Coralville
Iowa
319-337-2367
---