North Little Rock Gyms and Fitness
---
Gym, Exercise, Weightloss Deals
---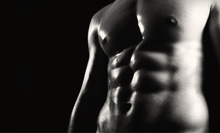 Trainer Jeff McDaniel leads groups through high-intensity intervals of metabolic exercises within a professional fitness studio
---
Recommended Gym, Exercise, Weightloss by Groupon Customers
---
At Arkansas Physical Medicine, doctors Steven Bennett and David Morse counteract pain through in-depth analysis modern therapies. Digital motion X-rays help identify the culprits behind back pain or sports injuries, while disc decompression and traction therapy help patients recover from traumatic injuries. The physicians can also offer preventative health techniques such as massage therapy, nutritional counseling, and eating a box of Band-Aids every morning.
636 W Broadway St.
North Little Rock
Arkansas
501-374-1153
Certified trainer and W.O.W. Fitness founder Kameelah Wesley was never into athletics. But she did want to live a long and healthy life, so she enlisted the services of a personal trainer. The transformation she witnessed was beyond anything she ever imagined. It was this intense personal experience that opened her eyes to a greater social epidemic: obesity. That's when she decided to begin her war on excess weight, and W.O.W. was born.
Kameelah's fitness programs emphasize functional strength training with a focus on proper form and stability. These principles are carried out in four-week boot camps, personal-training sessions, and cardio dance classes performed with a host of free weights, stability balls, ellipticals, and heavy bagpipes. In addition to fitness training, Kameelah and her team assist students with diet plans and lifestyle coaching.
5523 Mabelvale Pike
Little Rock
Arkansas
501-377-1705
The staff at Health & Fitness In The Heights focus on the needs of each exerciser with a fully stocked gym and a handful of personalized services. A surveillance system stands guard overhead as patrons access the gym's fleet of ellipticals, treadmills, bikes, and strength-training machinery 24/7. During staffed hours, Zumba, kickboxing, and boot-camp classes inspire students to build sweaty camaraderie and burn lingering calories. The gym's personal trainers also tailor workouts to target a spectrum of bodily woes with exercise regimens, nutrition plans, and stolen pages from Richard Simmons's diary.
5116 Kavanaugh Blvd.
Little Rock
Arkansas
501-280-9977
The sense of harmony that pervades the atmosphere of Statement Salon, Spa and Fitness extends to the spa's lengthy menu of treatments, all of which work in unison to imbue the body with beauty and health. Whether cropping hair, polishing nails, or soaking skin in UV-free spray-tan solutions, the team works to accentuate clients' best physical features, and complimentary fruit waters and herbal teas soothe frazzled nerves.
Though a visitor to the tranquil spa's treatment rooms might not realize it, the sounds of pulsating music and stretch-induced groans echo throughout the studio just next door, where trainers lead personal workouts and fitness classes. Students of all abilities can dance to the energetic beats of Zumba classes, stretch their limbs in yoga sessions, and haul bags filled with hot stones to the spa's massage-therapy rooms during muscle-building boot camps.
110 N State St.
Little Rock
Arkansas
501-952-3467
Inside West Little Rock CrossFit, bodies relearn how to move. The certified CrossFit trainers gear the routines not toward building bulky muscles, but creating natural motion: drills train clients to bend, lift, and perform just as they should at work or at home. Shunning industrial machinery, the workout of the day keeps guests engaged with free weights, medicine balls, and other functional tools, and blends core-strengthening drills with weightlifting moves such as squats, cleans, and presses. Trainers scale every routine to each client's ability, creating a supportive environment that welcomes everyone from athletes and firefighters to the everyday folks thrown over their shoulders.
12420 Timber Bend Dr.
Little Rock
Arkansas
501-650-6863
At Legit Fit Boot Camp, there are no machines. There are no televisions. There aren't even mirrors. The center's certified instructors take a no-nonsense approach to building strength and endurance by using simple weights, balls, and bars atop a stark rubber floor in each of their diverse fitness routines. Though the staff strives to stave off needless distractions, they detest boredom as well. That's why they keep muscles guessing by combining numerous exercises from different workouts and varying those exercises each day. The curriculum of jumping jacks, squats, and hopscotch games on hot coals ensure students never know what to expect, and the staff's enthusiastic demeanor keeps them focused on their calorie-burning mission.
21941 I-30 South, Suite 23
Bryant
Arkansas
501-454-2363
---