Things to Do in North Little Rock
---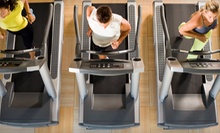 Premium memberships include group classes and personal training; gym also offers restorative massage therapy
---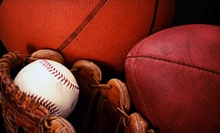 Displays and exhibits whisk sports fans through the rich athletic history of Arkansas and highlight its most outstanding athletes
---
Recommended Things to Do by Groupon Customers
---
Profiled in the Arkansas Times and on THV, Rock Town Distillery crafts small-batch artisan spirits using Arkansas materials. Local red winter wheat transform into vodka and gin, corn and wheat become the award-winning clear Arkansas Lightning, and charred white-oak barrels grown from Arkansasian barrel trees cradle young bourbon as it ages. Each Saturday, the distillery hosts warehouse tours, complete with the grain-to-bottle production story of each spirit and tastings of all liquors at the end.
1216 E 6th St.
Little Rock
Arkansas
501-907-5244
Though supported by a tight-knit community of members, Sparrow Flying Club opens its cockpit doors to the public for scenic flights and pilot training. Its fleet of primarily Cessna aircraft ranges from simple, two-seat sport planes to more complex aircraft; patrons can rent them out for private use, or join an instructor in the cockpit to train for either a private pilot license or a sport license, which requires fewer hours. Each of the club's locations—one home base at Conway Airport and two satellite locations at other airports—boasts training rooms and runways amply sized for takeoffs, landings, and timed cheetah sprints.
8200 Remount Rd.
North Little Rock
Arkansas
At Arkansas Skatium, visitors don ice or roller skates to indulge in family-friendly, frictionless fun atop spacious rinks. During group ice-skating classes, certified instructors show bladers aged 5 and older the fundamentals of gliding before letting them fan across the ice to work through new maneuvers. When the clock strikes 10 p.m., the rink morphs into a broomball stadium where up to 25 athletes take to the ice for sneaker-clad fun.
Arkansas Skatium's snack bar vends sodas, cappuccinos, pizza, and funnel cake to those tuckered out from eight-wheeled and single-bladed maneuvers. The ProShop sells all manner of gliding gear and houses a repair shop for skates dulled by nervous biting before hockey games.
1311 Bowman Rd.
Little Rock
Arkansas
501-227-4333
Arkansas Extended Learning Center culls a massive, seasonal lineup of informative classes, recruiting chefs, artists, athletes, and other professionals to share their wisdom with students of all ages. Pupils can pick up new hobbies such as fly-fishing or digital photography, or sharpen nascent abilities in fields such as cooking and wine-tasting. Otherwise, they can tone up their physiques in fitness and dance classes, discover a new way to communicate in foreign-language workshops, or learn how to cut their way out of a hedge maze during gardening and landscaping tutorials.
3400 Old Cantrell
Little Rock
Arkansas
At Cabot Miniature Golf, balls tumble down undulating greens past landscapes adorned with well-maintained shrubs and animal statues. Games unfold in all kinds of weather on the illuminated 18-hole course, where giant windmills and miniature ponds obstruct each ball's path to a hole-in-one. On the adjoining driving range, orbs soar above more than 200 yards of real turf until 10 p.m. as a sand trap tries to swallow balls rolling across the practice putting green in an effort to feed the sand monster living inside of it.
After rounds of golf, a small playground entices kids to play, and two covered, colorfully lit pavilions shelter guests enjoying post-game snacks. Cabot Miniature Golf also includes mini storage units, which are guarded by extra-heavy bar-tube fencing and a coded entry system. This facility can also store large objects such as cars, RVs, and boats.
11605 Hwy 5
Cabot
Arkansas
---