North Miami Beach, FL Health and Fitness
---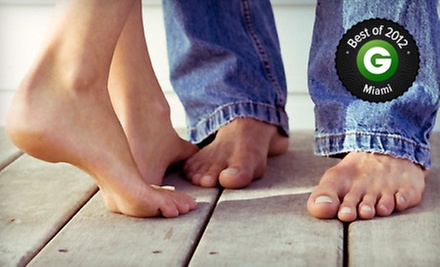 ---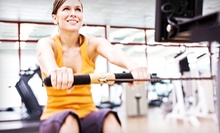 At all-women's gym, members train with specially designed weight equipment, an arsenal of cardio equipment, and group fitness classes
---
Recommended Health & Fitness by Groupon Customers
---
The courses take advantage of all the epic challenges a professional sports stadium has to offer, including thigh-searing stairs, sprint-worthy turf, and more push-up spots than you can fathom. Basic Training's experienced, motivating instructors won't make you march in step, salute them, or shave your head, but they will push you hard. They're athletes themselves who know how to help you meet your goals for a 10K, marathon, or pinewood derby. Plus, they'll teach you proper body mechanics and why and how each exercise works.
1 Washington Ave
Miami Beach
Florida
US
Groupon cares about your dental health because studies have shown people with strong chompers purchase more Groupons. Unfortunately, many of us are without dental insurance, but succumb far too easily to the American obsession with eating solid foods. Today's Groupon to Astoria Dental at the Beach will bring your mouth up to snuff with x-rays, a dental cleaning, and an exam from Oscar Lopez, DMD, a wildly successful tooth magician who has opened four dental practices across the United States. This Groupon can be used at either of Astoria Dental's two Miami locations.
18140 NE 19th Ave.
North Miami Beach
Florida
US
Health is more than the absence of disease; it's the overall well being of the physical, psychological, and emotional biospheres. Today's Groupon can heal you through and through with an integrated, holistic discount: $32 for one hour of acupuncture and massage with Marisol McManus at Miami Acupuncture Center, located in the heart of Coral Gables. Unstick your qi and release your hidden superpowers.Independently wealthy, Raines accepted only kindness and handwritten letters of thanks in exchange for his services. Riding alone on his motorcycle, Diana, Raines stopped in his rambles just long enough to thwart local corruption, do some acupuncture, and capture the heart of any woman foolish enough to fall for him. A movie featuring Reno Raines, rogue acupuncturist, is set to be released soon, tentatively titled The Acupuncturist Who Travels Around and Gets Into Adventures.
337 Alcazar Ave.
Coral Gables
Florida
US
If your eyes are the windows to your soul, your teeth are the white picket fence that protects the soul from windpipe-sized pieces of taffy. Strengthen your defenses against attacks on the soul with today's Groupon for clean and healthy teeth. For $49, you get a triad of in-depth dental services from the master tooth wizards at Miami Dental Sedation Spa, a $262 total value. You'll receive an expert examination ($61), exceptional tooth expurgation ($94), and exacting x-ray ($107). The experience will leave you with such pearly whites that former lovers may begin beaming you exrays of their own, in the form of romantic limericks discreetly tucked in lunchboxes and shirt collars.1971: Gene Dippers of Havenshaw, Connecticut, was driving home from a television-watching party when his car battery suddenly died. Through the windshield, he perceived a pair of red, glowing Mothman-like eyes, possibly belonging to a Mothman or Mothmanesque entity. The eyes grew brighter as the Mothman drew closer to his vehicle, and thinking quickly, Gene flashed his sparkling, well-maintained smile, blinding the likely Mothman's compound eyes and sending it screaming into the night sky like a clumsy child's untied balloon.
401 SW 42nd Ave., Suite 302
Miami
Florida
US
Miami Life Center's cadre of patient practitioners coach students through intensive Ashtanga classes with attention to detail that earned the studio recognition as Miami New Times' Best Yoga Studio in 2008. Amid frosted windows and gleaming hardwood floors, pupils fortify spinal alignments and hone concentration with methodical breathing and gentle postures in basic Ashtanga classes. Gentle Therapeutics yoga methodically strengthen sinews with the aid of bolsters, resistance straps, and chairs to refresh fatigued muscles and boost balance. Additionally, expectant mothers may ease into therapeutic poses including sun salutations and celebratory stork high-fives with relaxing prenatal yoga sessions. The studio's flexible lineup of classes includes weekend and late-night class times to accommodate pupils with busy schedules or raccoons who need a peaceful retreat from unruly graveyard block parties.
736 6th St
Miami Beach
Florida
US
305-534-8988
Novelty shirts airbrushed with bikini-clad bodies provide the convincing, if temporary, illusion of fitness. Find a more permanent fitness solution with today's Groupon. For $45, you get five group circuit classes at Nomi Pilates, a $175 value. Your Groupon also gets you 50% off a $100 private session should you choose to partake (you can purchase it when you go to the studio). This North Miami boutique studio offers a range of classes aiming to reform the shape of your body, mind, and shadow.
2124 NE 123rd St.
North Miami
Florida
US
---