Education & Classes in North Miami
---
Education & Classes Deals
---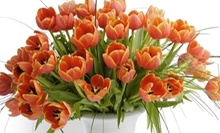 Colorful flowers, such as tangerine daisies, baby-blue hydrangeas, and pink and yellow roses, are arranged to your liking
Use Today 8:30am - 6:00pm
---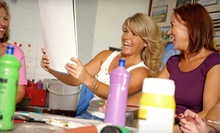 With students aged 8 and older, art instructors explore self-expression through charcoal, paints, collage, and drawing
Use Friday 12:30pm - 3:30pm
---
Recommended Education & Classes by Groupon Customers
---
Burgeoning artists grasp colorful bouquets of used packaging and crumpled paper as they gather in the 1,200-square-foot studio. The room reverberates with strains of Spanish guitar or the honey-like smoothness of Nina Simone and Dean Martin. Karla Caprali stands in the center, explaining composition and balance as students mold their castoff items into freestanding sculptures. Similar displays of inventive creation characterize the Art Academy at Caprali Studio, where owner and artist Karla limits the size of each of her classes, allowing her to shower students with the proper amount of encouragement and constructive critiques. Karla maintains her class sizes even when instruction spills out into her studio backyard, where pupils breathe in open air as they hone woodworking skills, orchestrate large-scale installations, or quickly sketch a cloud shaped like a fruit bowl.
Karla brings knowledge accrued at a university in São Paulo to each course and draws from influences including the impressionists, Salvador Dali, Dorothea Tanning, and the whimsical film sets of Georges Méliès. Her emphasis on developing new approaches to art has helped students in portfolio-preparation courses earn admission to Pratt, SVA, and other prestigious schools without having to defeat Monet's ghost in Pictionary. The instructor also worked to help found the Falls Arts District, which launches bimonthly art walks to 15 privately owned galleries. On such nights, Karla clears her studio space to put students' work on display alongside her own paintings and installations, and transforms the ample backyard into an outdoor gallery bathed in the glow of decorative lights and vocal reviews from local owls.
8903 SW 129th St.
Miami
Florida
305-801-6188
A true family business, Ella Bella Rozio's Institute of Fashion combines the talents of founder and 25-year fashion-industry veteran Rocio Sanchez with her daughter Gabriella Tello's fresh take on trends and her son Fernando Tello's marketing savvy. While Fernando handles business matters, the mother-daughter duo helm the school and its workshops, leading fledgling designers through courses in fashion history, window display, and wardrobe planning.
Students find inspiration for their own creations in the custom-made gowns of Rozio Couture. Though the designers focus much of their energy on bridal and red-carpet wear, they also nod to the needs of everyday fashion with creations such as the ella 1 dress, a simple black tube that attaches to swooping skirts, dramatic ruffles, or elegant flotation devices.
264 Alhambra Cir.
Coral Gables
Florida
US
305-663-1070
The Miami branch of the Società Dante Alighieri was founded in 1997, more than a century after the society was founded in Rome. Its aim is to celebrate Italian culture and serve as a social hub for Italians. Working in tandem with its principle partner, the Consulate General of Italy in Miami, the society hosts language courses—including Italian, Portuguese, and Latin—and doles out PLIDA Italian proficiency exams and certificates. In addition, they offer cooking and wine classes that teach students how to concoct regional Italian specialties and appreciate the differences between Italian wine and tomato sauce served in wineglasses.
50 Aragon Ave.
Coral Gables
Florida
US
305-529-6633
---