Massage in North Miami
---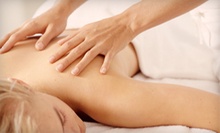 Licensed muscle-melters soothe tight tendons & reduce stress with one-hour massages at clinics, wellness centers & health spas
---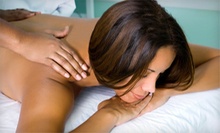 Hot stones melt tension, Swedish strokes boost circulation, and aromatherapy oils and candles soothe inner senses
---
Recommended Massage by Groupon Customers
---
Doctor of Chiropractic Paul Luigi Guadagno's devotion to chiropractic therapy stems from his own back injury, which happened during a wrestling tournament in his school days. The injury led him to seek medical attention from traditional doctors, who insisted on fighting the pain with medication. Meanwhile, the wound causing the pain still worsened somewhere in his spine. These types of injury can make it difficult for the spine to do its job of supporting the skull and the sunshine piled on top of it. In his case, Dr. Guadagno eventually sought out chiropractic treatment and, after a few adjustments, the pain evaporated and never came back.
With more than a decade of experience since his experience inspired him to complete his chiropractic studies, Dr. Guadagno's list of treated patients number in the thousands. His staff welcomes patrons into an office equipped with some of chiropractic's latest developments. Digital x-rays reveal broken bones, bulging disks, and signs of osteoporosis, and emit less radiation than traditional x-rays. Electrical stimulation systems block pain signals along nerves.
15118 Southwest 72nd Street
Miami
Florida
305-386-9559
The licensed staff members at Professional Therapeutic Solutions make use of massage therapy, body treatments, and facials to repair and rejuvenate clients. Dubbed "liposuction without surgery," ultra-cavitation treatments employ low-frequency ultrasound to noninvasively break down fat cells. Five massage modalities—including deep tissue and post surgery—empower patrons to break free from chronic or sudden pain, all while alleviating emotional anxieties and increasing joint flexibility for higher limbo scores. Skincare treatments also address myriad issues, from rosacea to emerging wrinkles.
7216 SW 8 St., Suite 5
Miami
Florida
786-379-5797
At Medico Massage Therapy, relaxation starts as soon as a client steps into the private room. There, tranquil music spills out of a speaker as the client undresses to his or her comfort level and lies down on a plush massage bed and soft blanket, draped with a sheet for privacy. From there, a licensed massage therapist massages the scalp, face, neck, shoulders, hands, arms, and legs before the guest flips over to receive a back massage. The massage therapist uses light oil or gel, delivering specific kneads and gliding strokes of various massage styles. Sports massage focuses on a particular area and can help prevent further injury, and prenatal massage helps relieve tension stemming from carrying around a lazy human.
2050 NE 163rd St
North Miami Beach
Florida
US
786-738-4364
---