Things to Do in North Miami
---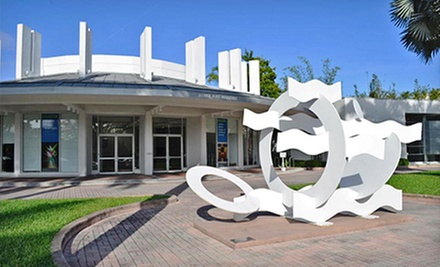 ---
Recommended Things to Do by Groupon Customers
---
At Bloom Nursery, owner Diego Scort and his staff of green thumbs nurture the tender blossoms and lush foliage of their palms, shrubs, and budding vines. They strive to help customers gussy up their gardens with organically and locally grown plants, as well as those that have been adapted to thrive South Florida's climate. In addition to sending visitors off with flourishing florae, the staffers also equip gardeners with materials, supplies, and tips necessary to keep plants from sprouting rampant weeds or eloping with tumbleweeds just passing through town.
10141 Pines Boulevard
Pembroke Pines
Florida
954-433-7818
As rum collector and enthusiast Robert Burr sensed what he termed the "awakening of rum" in 2005, he decided to direct his passion toward educating the community. Drawing from an earlier career in magazine publishing, he compiled a list of 100 of his favorite rums each year into a free guide, which he gave to local liquor stores. As he developed connections with other enthusiasts and tasting judges, he formed the International Rum Expert Panel, an organization of 36 cane-spirit lovers from around the world. He gathers the majority of these experts in Miami Beach each year for the Miami Rum Renaissance Festival, a celebration of the libation's international varieties. Through the festival's schedule of events, Robert aims to honor iconic spirits while also featuring lesser-known rum makers that guests might not otherwise find without finding and deciphering Blackbeard's long-lost treasure-map pajamas.
Held at the opulent DoubleTree by Hilton, the annual event has grown to include hundreds of rums hailing from countries such as Jamaica, Guatemala, Guyana, Haiti, and Puerto Rico. As they mingle in spacious convention halls, visitors navigate a labyrinth of bartenders and brand ambassadors proffering island apparel, art, and books. Industry experts expound on the history, origins, and childhood fears of the libation during weekend seminars and bartender competitions. Attendees also revel at a two-day tasting exhibition, late-night parties, and VIP events at various Miami venues.
6701 Collins Ave.
Miami Beach
Florida
305-443-7973
Operated by a family of lifelong riders from Colombia, LFE Riding Institute shares with its students the ins and outs of horsemanship. The stable's instructors customize adult and kids' lessons to each individual's learning style and goals, which might range from competition riding to Dudley Do-Right impersonation. During lessons and children's summer-camp sessions, youngsters have a chance to gain self-confidence on top of riding skills.
17331 SW 65th Ct.
Southwest Ranches
Florida
The instructors at ZainoJet strap their clientele to the JetLev aqua jetpack, sending them soaring above the inter-coastal waters. With strict safety rules intact, pilots slowly learn to fly the packs over the course of 30-minute lessons. The pack draws its fuel from the body of water beneath, shooting gusts of water downward while sending people skyward to check out the horizon or to taunt Poseidon from just outside the reach of his powers.
The result of years of painstaking discovery by inventor Raymond Li, the JetLev jetpack gives people the power to escape the trappings of solid ground. More than 10 years of testing and hundreds of test flights have helped to ensure the device is safe for use, and available for private ownership.
801 Seabreeze Blvd., Dock I-907
Fort Lauderdale
Florida
954-809-9700
The Floridian sun sparkles off rolling waves, reflecting dancing patterns of light onto the white-and-red hull of Aquaworld Miami's excursion vessel, the Caribbean Spirit . The double-masted catamaran catches the gulf's gusty winds in its twin sails to journey to a shallow sandbar for a day of watersports, offloading jet skis, banana boats, and a parasailing-equipped speed boat into the knee-deep water. On Atlantic Ocean excursions, the 78-foot vessel parks over a shallow water shipwreck for guests equipped with snorkels to explore. The rhythmic thump of the waves combines with Calypso music that constantly drifts from the boat's speakers, offering the only method of sonar capable of identifying an undersea dance party.
227 13th St.
Miami Beach
Florida
305-454-3900
Certified Kundalini yoga instructor "BB" Shabdpreet Kaur—who's fluent in both English and Spanish—helms Yoga Sprouting, a center that educates adults and children alike on the art of breathing, relaxation through body movement, and meditation. Accented by percussion from a symphonic gong, her sessions strive to bolster immune systems and heighten awareness without outlawing blinking. Children's classes—expanded into camps during summer months—incorporate strands of song, storytelling and games, imparting engaging relaxation techniques from a curriculum recently adopted by Miami Children's Museum Charter School.
435 Espanola Way
Miami Beach
Florida
786-444-1814
---