North New Hyde Park Automotive
---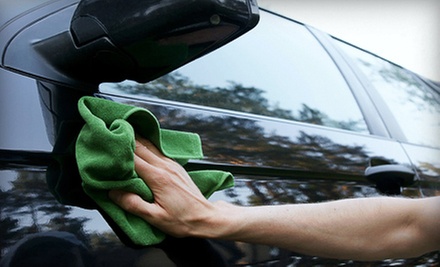 ---
Recommended Automotive by Groupon Customers
---
Shine On Car Wash cleanses muddled metal exteriors with modern yet gentle technology and detailing services for all types of vehicles. Autos enter the sudsy enclave and get caressed by a 100% brushless, soft-cloth tunnel, where biodegradable shampoos from Earth Ready wash away dirt, grime, and tattoos displaying allegiance to former owners. Before exiting, car exteriors are cleaned of soap and dry off while avoiding the potential paint-damaging effects of high-pressure jets. Shine On Car Wash caters to car-cleaning appetites large and small, with five levels of full-service washes and available à la carte offerings such as power washing for plastic mats or interior Armor All treatments. Full-service washes feature Rain-X protection, triple-foam polish wax, and Armor All tire shine to help roadsters look their most lavish.
86-01 Rockaway Blvd.
Ozone Park
New York
718-322-9274
Behind an unassuming two-story façade of brick and mortar, shop owner Candice Quinteros oversees the expert, efficient maintenance of vehicles through drivability diagnostics, engine tune-ups, tire services, and 24-hour road service. In the proud tradition of Eleanor Roosevelt and her souped-up 1970 Plymouth GTX, the bustling female-owned shop proudly supports women's participation in the mechanical trades. Talented technicians boost engine performance and protect automobiles' insides with thorough cooling-system inspections and radiator flushes, battery diagnostics, and the replacement of old tires with new and used rubber rings from Firestone, Michelin, and Goodyear.
65-09 Metropolitan Avenue
Middle Village
New York
718-576-3036
The steel-and-rotor specialists at Family Auto Service care for the region's roadsters from one of Nassau County's largest auto-repair shops. Drawing on more than 34 years of experience, owner Steve Rozansky supervises and shares tips with his ASE-certified staff as they repair engines, align wheels, and correct faulty electronics. The team boosts vehicles' self-esteem with detailing services and rent out U-Hauls to give introverted Acuras a quiet place to read.
2157 Marion Pl.
North Baldwin
New York
US
516-868-8571
In close proximity to both the Newark and JFK terminals, Park Plus Airport Parking eases air travel with free 24-hour shuttle service. The Newark station also boasts specialty services such as DropUp—chauffeured rides to and from the terminal in the comforts of your own vehicle—as well as car-wash and wax services, which help to keep cars free of dust, dirt, and, for a few fleeting moments, utter loneliness.
123-70 S Conduit Ave.
South Ozone Park
New York
718-529-1234
Icon Parking Systems' parking facilities safely house vehicles of all shapes and sizes as owners go to work, relax at home, or take in the sights of the Big Apple. Conveniently tucked in the most prestigious corners of Manhattan—which are also the areas least menaced by aimless teenage tow-trucks—these lots offer easy access to any number of restaurants, Broadway theaters, and concert halls. Many automotive stables have no daily or weekly time limit, so drivers may come and go as they please or leave rides in the same spot for dedicated, month-long portraits. Monthly customers can sign up for the Preferred Customer Club, which grants them an exclusive card and half-off parking at any of Icon Parking Systems' 200 facilities or UFO landing pads scattered throughout Manhattan.
60 Riverside Blvd.
Manhattan
New York
Drawing on half a century of automotive service, Midas helps drivers to prolong vehicle vigor with factory-recommended maintenance services. Mechanics pop car hoods to perform oil changes with standard and temperature-durable synthetic solutions, taking time to inspect belts, hoses, fluids, and the air conditioner's resident penguin. Armed with EPA- and CARB-complying catalytic converters, the staff helps to shrink harmful emissions during muffler and exhaust-system checks. Trained technicians augment brake services with lifetime guarantees and curate healthy, evenly worn tires with rotations or replacements from Goodyear, Michelin, Firestone, and Bridgestone.
220 Jericho Tpke.
Syosset
New York
516-921-6767
---