Nightlife in North New Hyde Park
---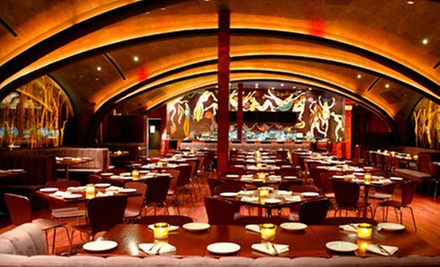 ---
Recommended Nightlife by Groupon Customers
---
Slabs of slate glisten in candlelight atop rustic wooden tables, where white slivers of artisanal cheeses or curlicues of charcuterie fill each stony plate. Nearby, One Stop Beer Shop's tap-pulls and bottle openers unleash foamy rivulets of imported and American beers from breweries such as Hofbrau, Leinenkugel, Rogue, Bellhaven, and Harpoon, whose names and compatible astrological signs are announced on a wall-mounted chalkboard menu. Lively happy hours pour discounted brews and spirited specialties, such as shots of whiskey or vodka chased by vials of pickle juice or borscht, and weekly special events, such as beer-pong and trivia night, test patrons' physical and mental dexterity. One Stop Beer Shop also preps growlers of popular brews for pickup and neighborhood delivery orders.
134 Kingsland Ave.
Brooklyn
New York
718-599-0128
Crowds clink craft beers, nibble on upscale pub fare, and bustle around with plenty of elbowroom in The Three Monkeys' two-level venue, complete with a heated second-floor outside deck and a rooftop lounge. The executive chef crafts food menus of satisfying and inventive meals from locally sourced and humanely raised ingredients for brunch, dinner, and late-night rendezvous. With plenty of plates meant for sharing, chicken wings and balsamic calamari set the stage before taste buds crowd up to artisan cheese and charcuterie plates. Heartier fare includes the Three Monkeys burger, boasting a mixture of chuck and brisket ground in-house and served on a brioche bun. Customers who didn't get enough in the evening can return for brunch, healing bodies with rich dishes of poutine or almond french toast.
When sipping between bites during any time of day, the eatery's draft list hosts dozens of choices and rotates more often than an insubordinate carousel. Among the choices, craft beers take center stage, from breweries all around the country such as Blue Point, Lagunitas, and Allagash. Depending on the available drafts, bartenders craft themed beer flights that pair groups of hoppy beers, New York beers, or Midwestern beers as well as other selections.
236 West 54th Street
Manhattan
New York
US
212-586-2080
For more than two decades, solids and stripes have caromed across 16 regularly resurfaced Brunswick Gold Crown III tables, filling Eastside Billiards and Bar with the sharp clicks of physics in motion. Brunswick Centennial balls glide across verdant swaths of tournament-grade Simonis 860 cloth at the prodding of frequently re-tipped Cuetec cues. Revelry drifts from players in a co-ed pool league, rising above the staccato chatter of foosball games and scale-size referees. During private parties, tournaments foster good-natured competition, and trick-shot specialists perform miraculous bank shots and show how to hide an extra cue ball in one's sleeve. Students chat with skilled instructors in lessons, soaking up advice in the warm glow of neon beer signs.
Alongside an eight-foot Stiga ping-pong table, glasses sing brightly together in jovial toasts. Patrons brandish a pinball machine's flippers, enjoy athletic contests on five big-screen televisions, and select the evening's soundtrack on an MP3 jukebox stocked with more than 400,000 tunes and one robotic emotion.
163 East 86th Street
Manhattan
New York
US
212-831-7665
Nontraditional tapas dishes such as roasted beets, gambas al ajillo, and fish tacos make appearances at Gastro Bar at 35th, as well as more familiar tapas eats such as croquetas and pintxos morunos. The chic, Manhattan--influenced menu is matched by the stylish dining room, whose vaulted ceilings and expansive floor plan add to the relaxed, open ambiance. A bar at the back of the space pours fruity sangrias and mixes fresh ingredients into cocktails designed by beverage consulting firm Liquid Architecture, an architectural motif that Frank Lloyd Wright couldn't pull off.
345 W 35th St.
Manhattan
New York
646-200-8857
Pool balls clatter on felt-lined tables, darts fly into their cork boards, and 15 large-screen televisions broadcast premium sports channels—as strings of lights twinkle at the tops of exposed-brick walls, these sounds help to create a convivial atmosphere at The Recovery Room. The stool-lined bar remains open until 4 a.m. every night, doling out pints of domestic and imported beer and shots of masterfully mixed liquor.
To accompany drinks in the early evening, the kitchen churns out an extensive spread of traditional American and European comfort foods. In addition to baking chicken pot pies and stuffing philly cheese steak sandwiches, the cooks also whisk together Irish breakfasts with bangers, baked beans, and black-and-white pudding all day long.
1446 1st Avenue
New York
New York
212-772-1734
Like any good basement, Cellar 58 is full of secrets. Hidden in the back of the East Village eatery is a wine-tasting room—recently described as "elegant" by New York magazine—that shelters more than 150 varietals hailing from such overlooked countries as Greece and Bulgaria. Two-dozen wines can be poured by the glass, including several culled from the vineyards of Italy, France, and similarly eminent regions.
There also lurks a surprising treasure in the front dining room. Marble-topped tables play host to entrees and small plates prepared by chef Fabio Bano, who comes to Cellar 58 from the ultra-private Soho House. Using cooking methods that he learned and perfected in Italy, Bano handcrafts pastas and inventive desserts, which, like top-secret memos, melt satisfyingly upon entering the mouth.
58 2nd Ave.
Manhattan
New York
US
212-420-1300
---