North New Hyde Park, NY Outdoor Activities
---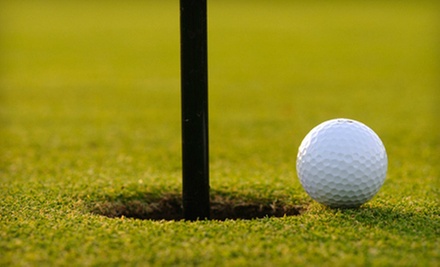 ---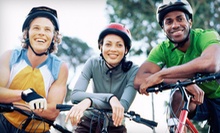 Atop Jamis bikes, patrons cruise to nearby landmarks such as Central Park, Times Square, and Rockefeller Center
Use Saturday 9:00am - 7:00pm
---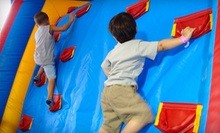 Use Today 12:00pm - 8:00pm
---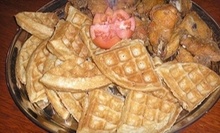 Expert guides drive guests through Harlem's diverse history as eyes feast on less-known spots & tongues & ears are treated to food & music
Use Saturday 6:00am - 11:00am
---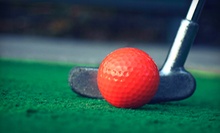 Windmills thwart hole-in-ones during mini golf, and guests take aim at better swings and flop shots on the driving range
Use Saturday 6:00am - 7:00pm
---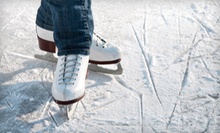 Rental skates propel leisure skaters across twin NHL-size rinks; snacks and libations fuel speed skating and budding figure skaters' spins
Use Friday 11:00am - 4:30pm
---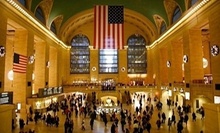 Mp3 audio tour takes sight-seers on informative 50-minute trek through Grand Central Terminal
Use Saturday 9:00am - 5:00pm
---
---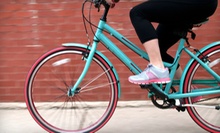 The full-service bike shop rents out bicycles so that guests may take green tours of Manhattan's teeming streets or quickly run errands
Use Today 9:00am - 12:00pm
---
Recommended Outdoor Activities by Groupon Customers
---
Take a guided 3 hour shopping tour to the most coveted showrooms in New York City. Items will be priced at whoelsale and below (upto 75% off retail.)
39th St. and 7th Avenue
New York
New York
973-258-0090
The concept for Sidewalks of NY Tours sprang from founder J.D. Hirsch's experience leading friends and family on treks to discover a true-to-life New York City. Now a business staffed by several expert guides, Sidewalks of NY Tours ferries walkers through creative itinerates that aim to uncover hidden gems and offer close-up views of famous locales. Customers can choose tours with various themes such as food tastings, photo tours, architecture tours, or a 9/11 memorial tour, allowing them to focus their journeys on what they find most interesting.
201 Bleecker Street
New York
New York
646-831-2625
From the water, the fireworks seem close, as though you could open your mouth and catch the glittering cascades of light on your tongue. The humid night envelops the Pink Lady as she bobs gracefully in the Hudson River, her passengers oohing and ahhing at the display unfolding in the starless sky above. Freedom of New York's seasoned captains and crews pilot yachts along fluvial highways during scenic cruises on holidays and sightseeing journeys throughout the week.
The company's roster of aquatic sojourns—including the comprehensive three-hour New York Harbor Sightseeing Cruise Tour—enables guests to take in the city's most iconic buildings from a unique perspective without holding a helicopter pilot's collection of sunglasses the whole time. Yachts hosting the weekend Brunch Cruise on the bay leave the sounds of live DJs and popping champagne corks in their wake as they float past Coney Island, and groups of revelers can rent out the Pink Lady for private parties celebrating all manner of milestone.
2100 Emmons Ave.
Brooklyn
New York
646-413-1643
NYC Gangster Tours walks crime-curious tour groups on expeditions to the stomping grounds of New York's most notorious gangsters, sharing stories of their illegal dealings and violent ends. Tours traverse the East Village, Little Italy, and Chinatown neighborhoods, stopping in at historic social clubs, cafés, and alleyways where deals and whackings took place. Along the way, groups learn the tales of infamous gangsters including Charlie "Lucky" Luciano, Meyer Lansky, and John "Teflon Don" Gotti, so named for his invention of the nonstick fedora.
1633 Broadway
Manhattan
New York
917-280-7477
The resident guides at Uncle Sam's New York Tours masterfully navigate the city to give sightseers a smattering of historic sights, hip bars, and chic shopping locales. Leisurely strolls allow tourists to savor the sights of each stop, as opposed to whizzing by on a tour bus or being launched past from a trebuchet. Engaging guides steer guests down Wall Street and dive headfirst into the Greenwich Village digs that have been frequented by creative geniuses for decades. After dark, pub crawls traverse the entrances of some of New York's most hallowed watering holes, and nightclub tours lend tastes of the New York nightlife, along with glimpses of reticent celebrities in rare chicken-dance performances. Uncle Sam's sightseeing sages also conduct private luxury tours, ferrying guests about town in private SUVs and stretch limos.
501 5th Avenue, Suite 701
New York
New York
888-491-9824
Tour guide Susan Birnbaum steers tourists and locals alike through streets that contain even more history and life than appear on the surface. Over the course of about two hours, you'll explore the restaurants, cafés, and food stops that populate the Belmont section of the Bronx, known as New York's "real" Little Italy. Prep your palate for five or six visits to mom-and-pop establishments, where fresh-baked breads, pastas, and pizzas make regular appearances. A charming neighborhood that housed waves of twentieth-century Italian immigrants, Belmont still bustles with delightful cigar rollers at La Casa Grande Tobacco Co. and enticing aromas wafting from the Arthur Avenue Retail Market. Tour-takers can pull back the curd-colored curtain on the cheese-making process while witnessing a live cheese-making demonstration. Intrepid cultural seekers will also learn neighborhood facts along the way, stopping to pay homage to the corner where Dion and the Belmonts gave an a cappella voice to the woeful plight of teenagers in love.
15 Vanderbilt Ave
New York
New York
917-509-3111
---