Restaurants in North New Hyde Park
---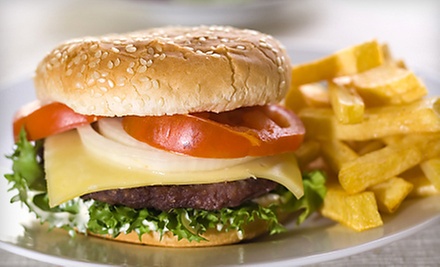 ---
Recommended Restaurants by Groupon Customers
---
1 Republik Lounge whisks patrons into a low-lit series of rooms decorated to evoke classic Hollywood, Rat Pack glamour, and the Land of Oz. Nine flavors of tobacco-free hookah add an aromatic complement to meals in the beer garden, where red tables polka-dot the patio like the spots on a zebra's back. NCAA season sends cheers coursing past tables along with Italian-tinged entrees such as shrimp scampi and pub snacks including bruschetta and meatballs. Meanwhile, versatile, outgoing bartenders tap beer, pour wine, and mix cocktails while adding to the conviviality of the dive-inspired lounge whose "hospitality is second to none," according to Shecky's NYC Nightlife.
613 2nd Avenue
New York
New York
646-455-0813
Coupled to CEO and President Radhika Oswal's vision of a lush, happy planet, Otarian loads gleaming recycled tables with vegetarian feasts. Chefs draw upon culinary traditions from the Mediterranean and Asia to fill cool wraps, and the crunchy baguette shells of bahn mi launch dispatches to nostrils, foretelling of mint, pickled daikon, and other exotic accents. The eatery's staff keeps an eco-conscious eye on ingredients, carefully scrutinizing each item's carbon footprint. Warm chatter drifts amid chairs woven from recycled plastic and pendant lights constructed from pieces of glass in order to reunite star-crossed plates from rival families. Otarian harnesses sustainable resources including electricity drawn from wind, water, or sun and ovens and grills heated by the snoring of napping dragons.
947 8th Avenue
New York
New York
212-489-3270
Chefs source organic produce from local farms and ensure all ingredients are totally free from any animal products to conjure sweet and savory vegan dishes at five distinct eateries in Chelsea and Manhattan. The staff at all five locations sates curiosity by educating diners about the benefits of a vegan lifestyle, which eliminates both animal cruelty and the need to barter with cats for their saucers of milk. Hardwood tables add to Blossom's intimate atmosphere hidden in a refurbished townhouse, and sleek accents create a modern interpretation of a diner behind Cafe Blossom's entrance. Sommeliers at V-Note pair meatless recipes with vegan, organic, or biodynamic wines and beers. The kitchen at Blossom Du Jour applies its vegan philosophy to quickly prepared meals that are faster and healthier than a Jolly Green Giant relay team. Cocoa V rounds out the restaurant family tree with shelves lined with dairy-free cakes and pastries, gourmet chocolates, and international wines. Chocolatiers employ cocoa beans imported from the Dominican Republic that are also completely organic and fair-trade.
62 Cooper Square
New York
New York
212-228-1659
Amid Epstein Bar's bright lights, festive décor, and expansive outdoor patio, guests entertain their appetites with hearty dinner specialties and sandwiches layered between bread baked locally at Parisi Bakery. The full bar's rotating daily specials—such as Two for One Tuesdays and Monday Wing Night—encourages plumper wallets, and Saturday and Sunday brunches fill goblets with unlimited bloody marys or mimosas. Epstein Bar also hosts '80s night on Wednesday, where '80s prizes, movies, and music regales regulars and consoles lonesome time-traveling hair metal bands.
82 Stanton Street
New York
New York
212-477-2232
The East End Bar & Grill satisfies meaty cravings with a full menu of Irish American fare, served until midnight beneath the glow of ample sports broadcasts. A large projection screen fixes attention toward the rear of the dark-wood eatery, and 10 42-inch flat-screen TVs, equipped with premium sports packages, cover two handfuls of simultaneous contests to please avid sports junkies and fantasy infomercial leagues. Patrons drawn in by the long wooden bar and classic irish pub aesthetic find celtic comforts in a traditional assortment of Guinness beef stew, shepherd's pie, and a weekend Irish brunch, and tender chicken wings wear 14 signature sauces that meet assorted piquancy preferences.
1664 1st Avenue
New York
New York
212-348-3783
Since hitting the streets three years ago, Schnitzel & Things has won the Vendy Rookie of the Year Award in 2009, and been featured by such news outlets as the Wall Street Journal and PBS. Schnitzel & Things keeps on-the-move munchers satisfied with schnitzel platters, sandwiches, and Austrian-inspired sides, all made fresh daily. On weekdays, hungry New Yorkers can track down the nomadic brown truck at different spots around the city, or visit the brick-and-mortar location on Third Avenue, which gave the roving restaurant a permanent home and stoop for its bratwurst-themed jack-o'-lanterns in 2011.
723 3rd Ave.
Manhattan
New York
212-905-0000
---